Kitty, Daisy and Lewis brought a heady mix of roots vibes to Leaf, and Getintothis' Paul Fitzgerald jitterbugged his way through the crowd to marvel at the wealth of talent on show.
Leaf was witness to a faultless and flawless spectacle as Kitty, Daisy and Lewis rock 'n' rolled their way down to Liverpool for a night of sheer excellence and good, good times. It would be a cold-hearted man or woman indeed, who couldn't find joy in this band.  The Durham Family of Camden Town, two sisters, their brother and their parents offer a joyous appreciation of the old times, each with the ability to play just about any instrument. And how.
From the minute they took the stage, smiles were raised around the room. Many have been following this band since their beginnings in 2007. Those seasoned Bestival and Glastonbury heads among us were fully aware of what to expect and were joined by a host of curious first-timers, eager to see if it really can be that good.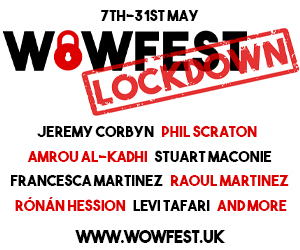 Well,  yes, it can. They bring a heady and infectious mix of Blues, Jazz, Swing, Country and RnB to a very special party, and from the light and easy funk groove of opener Feeling Of Wonder, the audience is on board from the off. Swapping instruments at just about every opportunity, this is a trio of siblings with more than their fair share of ability. The rugged swagger of Don't Make A Fool Out Of Me is a true highlight, and Baby Bye Bye turns the room at Leaf into a full-on honky-tonk hoedown.
A regular guest slot at their gigs is given over to Jamaican trumpet legend Eddie 'Tan Tan' Thornton, who declared his love for Liverpool by announcing that he was a mate of John Lennon. He played on The Beatles' Got To Get You Into My Life, so it's a good shout. His arrival brings the party to new, higher levels of good-time, and the American roots flavours of the earlier part of the set give way to a full-on skanking reggae party under TanTan's direction. All the while, our three rocking siblings take turns on guitar, piano, drums, vocals, constantly moving and always as impressive in their playing as in their sweet and tight harmonies. There's a solid foundation, in more ways than one, provided by their parents, with their father sitting quietly at the back of the stage providing the rhythm guitar, and Ingrid Weiss, or Mum as they call her, on bass.
Meet the judging panel for this years GIT Awards spectacular 
Whiskey is another rollicking barnstormer of a tune, a fine and righteous celebration of all things distilled grain related. While there's obviously a revivalist background to all of this, they never use computers or any digital equipment either live or when recording, there are contemporary themes to discuss. Developer's Disease sees Lewis Durham passionately decrying the gentrification of their hometown of Camden. A great song in its delivery, and in the issues it deals with. Issues we're all too sadly familiar with.
The show ends with a huge, and brilliantly filthy blues battle of drums, harmonica and bottlenecked guitar, and the room is graced with roof lifting, life-affirming joy. Their latest album, KD&LIII, produced by Clash legend Mick Jones, gives some idea of what's on offer, but, analogue or not, it can but only scratch the surface compared to what happens when these three walk on a stage. Good ol' scenes.
Support on the night came from Seattle's Barns Courtney, A one man aural assault of angsty, overdriven acoustic guitar battering, and we do mean battering, and honeyed vocals. At times picking up on hip hop and country influences, he came, he sang and he conquered. More good will undoubtedly follow from this performer if he can only just stop himself from punching his guitar for a while.
Pictures by Getintothis' Tom Adam.
Comments
comments