Getintothis' Zach Jones marvels at the polished performance of Wille and the Bandits but yearns for this four-piece to reveal just a little bit more of themselves less their frantic approach starts to hold them back.
Wille and the Bandits have been swamping the press recently, whether it's with rave reviews in local newspapers or the Telegraph taking a slightly bizarre slant on a group of refugees trying to stow away in the band's tour bus at Calais, the blues four-piece have well and truly been the center of attention.
It's not altogether undeserved either and a buzz gathers inside the picturesque surrounds of Liverpool's Philharmonic Music Rooms as the band takes to the stage with a bravado of hardened tour veterans.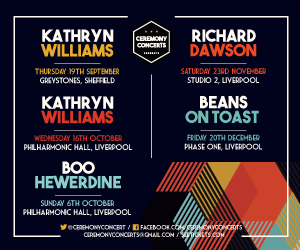 They are eccentric and electric in equal measures but non-the-less talented, swapping effortlessly from more hard hitting varieties of bluesy rock-n-roll to softer simple melodies more reminiscent of samba or Latin music.
Front man Wille Edwards really is the cornerstone of the band, with dreadlocks flowing freely from his top hat he's like the love child of an evil magician and a strange Pokemon, and takes the lead as the band rattle along, storming through the set with little time for the audience to gather themselves. They are a band of an intense work rate, belting along at a frantic pace.  Go to the bar and you've missed three songs, go to the toilet and you're five down.
This is a performance that has been honed through show after show after show. Yet despite the professionalism, something is missing.  I couldn't help but feel the band reached a solid 8 on the awe-stigram (that's a measure we just invented to calculate awe and is definitely not a precise measurement).  They play through tune after tune with a brilliant effort, confidence, and proficiency. But it never seems to become more than that. The swish swash of styles is brilliant for YouTube videos, but at a live show starts to feel like a novelty.
I'd really like to listen to a record and know who Wille and the Bandits are and not just who their musical influences are. They have proven themselves as performers, they have proven themselves as instrumentalists and they have proven themselves to have the ability to tour and put on a solid live show. Now perhaps, it's time to write a record that goes some way to reveal just who they really are.
Pictures by Getintothis' Peter Goodbody
Comments
comments