Adam Green bought his paper mache magic carpet ride to O2 Academy where Getintothis' Vicky Pea got lost in a whole new world. 
For those of you unfamiliar with Adam Green's Aladdin, let us give you the lowdown. After a 4 year labour of love April 2016 saw the former Moldy Peaches man unleash his paper mache/live action alternative to the much loved Disney universe unto the world. Tonight Adam is here to present the soundtrack to what he called "the greatest artistic achievement of his life so far".
We assume you may be unfamiliar with it as tonight started off the way far too many midweek gigs start off, with us walking into a very sparsely populated room. Sometimes you turn up to a venue and the crowd is smaller than it deserves to be and it puts a dampener on the whole night (see Future of the Left's gig last month). But on this night the small crowd mattered not, in fact we'd argue that it added something to the gig.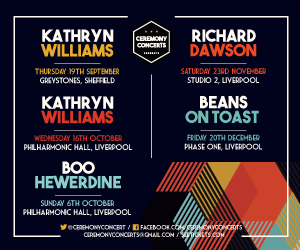 Unlike sold out shows where you have to endure pockets of chatter and tag along mates everyone here was here because they were a fan, and as the band took to the stage, the conversations stopped, just as they should. Due to the intimate nature of the gig we even got two renditions of Birthday Mumbo (that's right, Happy Birthday is dead people, get on the Birthday Mumbo train) personally sung to two attendees turning 23 and 26 respectively, a sign that Adam, who many would say was at the height of his popularity a decade ago, is still finding ways to reach new fans.
The Getintothis' Summer Festival Guide is alive and kicking! 
Now, the thought of a 4 year personal art project with your celebrity mates (Macauley Culkin, Nicole LaLiberte, Natasha Lyonne, Zoe Kravitz to name a few) might sound a little pretentious. But from tonights display, it couldn't be further from the truth. Even for those who attended without having seen the project the music itself is worthy of merit and is positively received by all. It's very much what you'd expect from the man responsible for cult classics such as Emily, Anyone Else But You, We're Not Supposed To Be Lovers and Jessica. Sweet, simple, quirky, honest and presented with a beaming smile.
During two solo sessions Adam takes to the stage alone with his guitar and encourages requests from the crowd. From the hysterical No Legs to the personal Cigarette Burns Forever, the ever endearing Drugs (although really Adam, I think we could tell) he plays like someone who has never forgotten a single note he's ever penned. It all leads to fantastic renditions of the aforesaid Jessica and crowd favourite Who's Got The Crack? 
In the feature film Adam plays Aladdin, although from tonight's combination of hat, waistcoat, flailing arms and constant unrestricted and uncontainable movement we'd argue he was treading on Abu's territory here. Adam is supported by his live band, and support act for the tour, Coming Soon, a delicious French ensemble of accomplished musicians who trade in indie art pop with obvious salutes to French electronica. The five piece are undoubtedly the unsung heroes of the evening and we'll certainly be keeping them on our radar from here on out.
In an impressive feat that we were certain was going to go wrong at any minute, considering the size of the crowd, Aladdin managed two full crowd surfs, being flown around on his personal O2 Academy magic carpet of arms and looked to be loving every moment. The man loves his people and couldn't care if there were 1,000 of them or 4, we're pretty sure he'd have played it the same no matter what.
Strangely however the lasting feeling from tonight's show was of a stolen opportunity. Because in our hearts we couldn't help bringing up the K word. This was a gig destined for the Kazimier. Everything about it belonged in the Kaz, and if it had been we're sure more people would have turned out to be reminded how simple, honest and unpretentious music can be.
There's still a chance to catch Adam Green's Aladdin, we say grab a fez and get on board.
May 27 – Glasgow
May 28 – Newcastle
May 30 – Hull
May 31 – York
June 1 – Birmingham
June 11 – London
June 12 – London (Field Day Festival)
July 30 – Standon (Standon Calling Festival)
Photos by Getintothis' Vicky Pea.
Comments
comments