Bendith is a new project involving members of Welsh bands Colorama and Plu, Getintothis' Cath Bore takes a listen.
Bendith, namely Colorama's Carwyn Ellis, and alternative folk trio Plu, have released their first single, with an album due in the autumn.
Carwyn, a long time collaborator of Sound City 2015 keynote speaker Edwyn Collins, has in the last year co-produced, co-written and arranged St Etienne singer Sarah Cracknell's acclaimed Red Kite album, as well as releasing his own Welsh Music Prize-nominated electronic project Zarelli, featuring the voice of Leonard Nimoy.
Indulge in our extensive Sound City 2016 coverage and reflection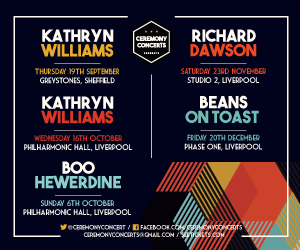 At his Colorama solo show at Liverpool's Baltic Social in November, we were very taken with the Welsh language songs he performed with Plu, who have been twice shortlisted for the Welsh Language Album of the Year.
Bendith is Welsh for 'blessing', and the newly released single, Danybanc, alongside the rest of the songs on the album are concerned with family, home and a sense of place.
In Danybanc, Carwyn recollects fond school holiday memories at his grandparents' house in Carmarthenshire, "I've moved about so much, Danybanc…was the only constant place in my life" as a child. Carwyn's lead vocals, warmed by Plu's harmonies, make this gentle nudge of a song bloody lovely. "I was inspired to write songs about the place as it's so close to my heart," he says.
The Bendith album is out on September 16 via Agati Records, to be followed by a UK tour.
In the meantime, Dere Mewn!, a compilation of Colorama's Welsh language songs, is worth a listen, in addition to Plu's Tir a Golau album released last year on the Sbrigyn Ymborth label.
Comments
comments