The spirit of the recently departed Prince Buster added something special to The Beat's gig at the Magnet as Getintothis' Glyn Ackroyd found out.
Who cares if it's a school night – this crowd are here to party.The Harrington's and DM's, braces and parallels are much in evidence and though many of the audience were obviously there first time around there are a quite a number of youthful faces in the audience.
A fair few of them have made it in early to see support act Broken 3 Ways, for which they are thanked by singer Jay Peers-Bow. The Wirral ska-punk outfit slam straight into their set and have the crowd on their toes instantly. They are tight and full of energy and wear their two-tone musical influences and political leanings ("our new single's out on every communist and socialist media we can find") on their sleeves. The sax and trumpet blend seamlessly, punctuating the bouncy, insistent rhythm, stepping back to allow a series of totally rock'n'roll guitar solos from Scott Hyland and stepping forth to produce some scintillating solos, Jay Aldred's trumpet adding elements of New Orleans and Spain into the mix.
Prince Buster – One Step Beyond: Getintothis' tribute to a true legend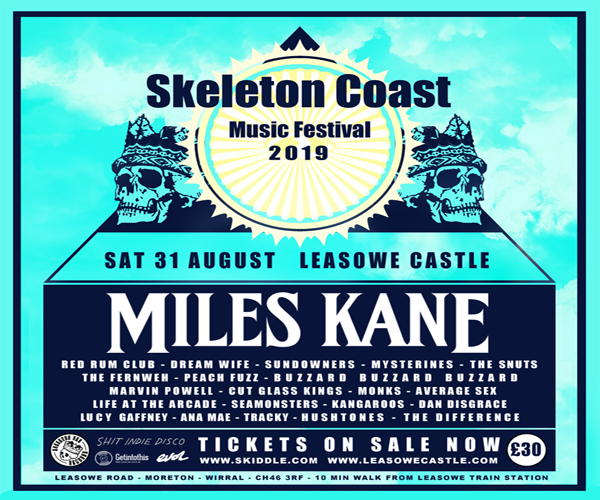 So the crowd are already well in the mood when The Beat hit the stage to the strains of Liquidator, led by Dave Wakeling who straps on his trademark white VOX teardrop and launches them into a delicious cover of Prince Buster's wry and, sexy Rough Rider. Wakeling proves to be an engaging and energetic presence, and appears to be thoroughly enjoying himself from the off. "It wouldn't be a gig if someone didn't ruin a Smokey Robinson song" he quips, before the band serve up their unique version of Motown hit Tears of a Clown. The cross-stick drum sound that characterises so many of their songs is present and correct as is the echoey, spacey saxophone and it's interesting to note how individual a sound The Beat produced. Their song writing has the stamp of well-crafted pop music woven into theska rhythms, as is evidenced by their choice of covers – Smokey and Andy Williams not being your usual rude boy choices -and originals such as Save It For Later, which, along with much of their material, is simply a great pop song. With their sometimes darkly paranoid imagery there was always more to The Beat than met the eye.
Wakeling has his mic set high and sings with his head tilted back, giving an added intensity to his performance. Indeed the whole band play ferociously throughout. There's a lull in the middle when they play a song from their forthcoming album which has an anthemic feel embellished with broad washes of guitar, and which is well received, and a superb cover of The Staples I'll Take You There, its soulful titular refrain lighting up the room as the crowd join in, but in general this is a greatest hits package and what a string of hits they created – Mirror in The Bathroom, Twist and Crawl, Ranking Full Stop, Too Nice To Talk Too, to name but a few and it's not long before the dancefloor is a sea of bobbing heads and waving arms. The crowd virtually sing Rude Boy Skanking for them and King Schasha's livewire toasting provides the perfect counterpoint to Wakeling's plaintive, distinctive vocal.Schasha crams so many rhythmic, rapid-fire syllables into each breath that Wakeling offers a trip to Preston on the tour bus to anyone who can decipher them – no takers, you couldn't get close.
You don't get a dancefloor this loose unless you're this tight. Two keyboards add a rich layer of sound to the mix with both Minh Quan and Kevin Lumm trading licks and, along with Matt Morrish's sax, virtuoso solos, all riding atop drummer Brian Cantrill and bassist Brad Engstrom's crisp, skipping rhythms.
Another tribute to the recently departed Prince Buster comes in the shape of Wine Her, Dine Her and Stand Down Margaret stands the test of time, it's sentiment being easily transposed onto our current overlords. A bravura finale includes Ranking Full Stop and Mirror In The Bathroom drawing huge applause from the adoring, cheering crowd.
Pictures by Getintothis' Gaz Jones
Comments
comments