As Vevo brought their famous Vevo Halloween night to Liverpool for the first time, Getintothis' Jake Marley went down to check out the party.
Halloween in Liverpool throws up its fair share of musical surprises year on year with gigs, parties, and events taking over the city, covering it in a celebratory blanket of colour and uniqueness. This year's big surprise promised to be hugely memorable, with the announcement that Vevo would bring the latest installment of their Vevo Halloween series to Liverpool's stunning Bramley-Moore Dock space.
Boasting a lineup of promising musical talent from a diverse range of genres, a stage-build of gigantic proportions and a general feel in the docklands air that something big was in town.
First off major props to all the Vevo team and everyone involved with the site and stage build as it looked and sounded fantastic all night long, giving the event a glossy overcoat of the unmissable. That coupled with keeping stage times a surprise till a 10-second countdown lifted a curtain with the artist already on stage, really provided a Hollywood effect and meant despite the attractions elsewhere on site, thousands filled the warehouse for each performance.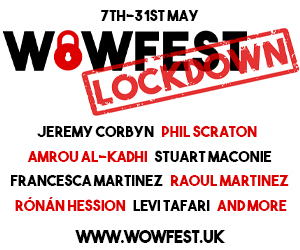 Izzy Bizu kicked off the musical proceedings and benefitted from a night out ready crowd, well and truly prepared for her to bounce into much-loved hit White Tiger. Going on first in a large warehouse environment, even for a festival ready performer can't be easy and her soulful set and killer pair of lungs, never wavered. New single Lost Paradise could easily pick up where White Tiger left off. Sure-fire hit.
After a short interlude, the curtain raised once more to reveal the Scandinavian charms of Aurora, complete with a striking purple backdrop. Her unorthodox stage energy, coupled with the swaying crowd created a rather mystical aura within the colourful and vibrant warehouse surroundings. Utterly wonderful.
Jack Garratt's fanclub were certainly in the house for his set, riding shoulders and singing along as the multi-instrumentalist reeled off tune after tune with unwavering exuberance. Operating as a one-man band does have its flaws though as periods in between songs often fall flat and interrupt the flow somewhat.
Choreography of the night goes to Swede Zara Larsson hands down. Whilst she's also in a close battle with Blossoms lead singer Tom Ogden for outfit of the night. Complete with full band and fabulous dancers, her pure pop power lit up the room with anthems Never Forget You and Ain't My Fault really hitting the sweet spot. Extremely fun.
Like going out? Of course you do! Check out our gig guide to slake your gigging thirst.
Having sneakily kept their outfits secret when meeting us on the red carpet earlier, we were expecting big things from Stockport lads Blossoms. They delivered. The curtain rose to huge cheers and a sneak peek at what a post-apocalypse Blossoms would look like, all bloodied and torn, a truly great effort, especially Tom Ogden who bellowed "Cha'mone motherf***er" dressed as Bo Selecta's spoof Michael Jackson. Tom's charms were in full were in full flow, "we got a curtain raised up on stage everybody, I've always wanted a curtain."
The endlessly groovy quintet wasted no time in giving their ever-loving Liverpool fans what they wanted. Bursting into hits from their number one debut album. What Blossoms do oh so well is calling right on the money when to tone things down to then amp back up, having a crowd eating out the palm of their hands, right into the euphoric sing-a-long to Charlemagne to close. One small criticism is that it didn't go on long enough, they could've played for hours.
It became clearer and clearer throughout the night that Liverpool had truly embraced this event. Halloween is a time of year you can look how you want and dance how you want and no one will bat an eyelid. Two Mexicans complete with sombreros, a group dressed as KISS complete with blow up guitars and face paint that must have took weeks to perfect and even a very realistic Donald Trump giving it large, Vevo Halloween had no boundaries.
The site looked fantastic, the crowd turned out in their thousands, in full on jovial mood and the music although not always at the forefront was a key part in a hugely successful outing for Vevo in Liverpool. Same again next year?
Photos by Getintothis' Tom Adam and Vicky Pea
Comments
comments