We Are Scientists have been touting their fab new album Helter Seltzer around the globe and called in on the Arts Club on the way, Getintothis' Del Pike was there to watch the magic unfold.
It feels like We Are Scientists have been around forever now with their timeless indie pop, formed in 2000 the California band finally broke through in 2006 with their irresistible With Love and Squalor album and have continued to tirelessly entertain ever since.
Vocalist Keith Murray and bassist Chris Cain have been the mainstay of the band who have introduced and seen off seven other members, the long serving duo are now joined by just Keith Carne on drums.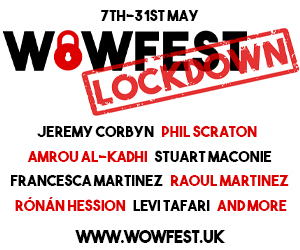 Supporting them are Brooklyn's Beverly, fronted by ex Avan Lava member Drew Citron, a ballsy grrrl with a lot of energy. Wailing guitars accompany a short set of fine vocal-led songs that, despite Citron's New York home, sound very much like Tracy Tracy, the Coventry vocalist who fronted indie darlings The Primitives back in the 80s. The sound is indeed retro, particularly Madora, the standout song in the set. By rights, Beverly should be more widely known as they are pretty damn good and could easily pull off their own headline slot at a similar sized venue with the right publicity.
We Are Scientists are a revelation tonight, so much more in your face than any of their recordings would have you believe. Entering to Lionel Richie's Hello, it immediately becomes clear that Murray and Cain are here to have fun, with tongues firmly in cheek, and the opening explosion of Impatient has the fans fist pumping in seconds.
Murray is an animal, looking like a perfect cross between a young Neil Finn and John Lennon (eerily so at times), but with the guitar attitude of Pete Townshend. His guitar is a blur, constantly being swirled and shook at the amps for maximum feedback, this is not the We are Scientists we were expecting.
Recent single, Buckle is almost unrecognisable as the band attack it with absolute vitriol.
The inter-song banter is at times hilarious, with Cain more often than not the fall guy for Murray's playful barbs. They play up to the geek persona, following in the dweeby footsteps to some extent of Weezer and They Might Be Giants, but with more balls.
Back to the music and Nobody Move, Nobody Get Hurt, the majestic single from With Love and Squalor is a goose bump tingling exercise in the bombastic, unashamedly riffing on Muse and bringing the Arts Club to its knees. I Don't Bite achieves similar.
So much music to enjoy – plan your Liverpool Music Week here…
At one point, Murray embraces the crowd, coming down, joining in selfies and climbing onto the sound deck. He's determined to have the time of his life tonight and as one strapping lad gives him a shoulder ride back to the stage, there's a sense that he's got his wish.
The obligatory praise for Liverpool which has become the staple of visiting Americans is alive and well as Murray thanks us for our musical heritage, focusing particularly on The Wombats. It is tricky to tell if this sentiment is true or not.
There are moments of respite with mellower offerings like Make it Easy, but as predicted the set ends with an ear splitting offering of The Great Escape, easily one of the best songs of 2006. With Murray sounding uncannily like Mansun's Paul Draper, the song drives along and everyone joins in, rejoicing with some volume on the "Fuck That" line.
The inevitable encore turns the volume up even higher and we get a frantic end to the evening, a raucous version of Cash Cow and a surprisingly manic After Hours ensures much moshing and shoulder climbing down the front, and the fitting recent single Too Late closes the set down on a positive.
We Are Scientists delivered a great gig tonight, performing so differently than their recorded work and keeping the room electric from start to finish. It's what gigs should be you know.
Photos by Getintothis' Lucy Mclachlan.
Comments
comments