One of Liverpool's regular party events is waking from its slumber this Christmas and it is going to be a blast, as Getintothis' Gary Lambert unwraps this present.
Every frequent Merseyside gig-goer knows the links between Invisible Wind Factory and the Kazimier, so there is no need to go over old ground, but the Kaz was not just an art house. It was a place to have fun and party too.
10 Bands, 10 Minutes returns, on December 10! With an outstanding lineup featuring inimitable acts like Queen Zee and The Sasstones, Feral Love and Mamatung, it's bound to conjure that Kazimier spirit!
For your entrance fee, you get 10 bands playing for 10 minutes – but each event has a theme running through it which usually means a cover song. Although a ten minute left field electronica track using a series of suitable riffs might not be a traditional cover song. It will be a great night nevertheless.
See Peaches slay Liverpool's Invisible Wind Factory in Getintothis' photo gallery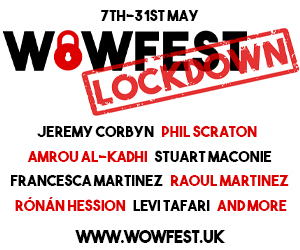 Bring your friends for your Christmas party. Bring people who you actually want to celebrate something with.  Dress up Christmassy. Dance. Get drunk. And if it snows that night, don't worry we will be indoors and warm.
The bands playing are as follows:
Echo Beach
Feral Love
The Formby Band
Mamatung
Married To The Sea
Queen Zee and The Sasstones
Real Terms
Spanish Announce Team
Stadt Skulls
Ste Hudson & The Fiat Pandas
The night goes on from 8pm until 3am on Saturday, December 10.  Obviously the theme is Christmas.  If you didn't guess that, you're going on the naughty list.
Comments
comments