After making music for nearly two decades, Badly Drawn Boy is taking a trip to Liverpool's Arts Club and Getintothis' Lorna Dougherty has the details.
Badly Drawn Boy, christened Damon Michael Gough, released his debut album, The Hour of the Bewilderbeast back in 2000, which saw him win The Mercury Music Prize. After this album received major success and acknowledgement from critics, he was asked to score the film adaptation for About A Boy.
Follwing an extensive tour and time in America, Badly Drawn Boy returned to the UK to record more music; changing his style to a more pop sound with more guitars, and scoring a Top 10 hit in the UK with You Were Right. .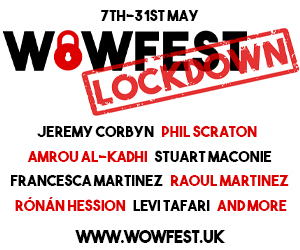 In 2015 Badly Drawn Boy undertook a short UK tour to mark the 15th Anniversary of the debut album. However, despite releasing eight albums since that debut, there's been nothing new since 2012,
Could the one-off show in Liverpool, and the two shows in Dublin mark the return of the Bolton boy?
Badly Drawn Boy plays:

December 15 Liverpool Arts Club
December 18 Bowery Dublin
December 19 Bowery Dublin
Comments
comments