With Bonfire Night about to turn the sky an array of colours, Getintothis Banjo selects ten tracks that you can use to soundtrack your November 5. 
As is usually the case with festivities, that have been going on in Britain for centuries, such as bonfire night, the roots of our national celebrations have a long and sometimes twisted history. Many of these celebrations predate Christianity and link us back to our pagan pasts, before being co-opted by the good Christian Church in an attempt to lure  early Britons to their religion and move the populace away from centuries old paganism. It seems that religions died quicker than traditions, as festivals such as Christmas, Easter and Halloween were recast to replace their earlier, more sacrilegious counterparts.
Bonfire night is no exception to this rule, the practice of lighting bonfires to warm the incoming winter going long back into our history, until Guy Fawkes was attached to it and the date was permanently fixed at the 5th November.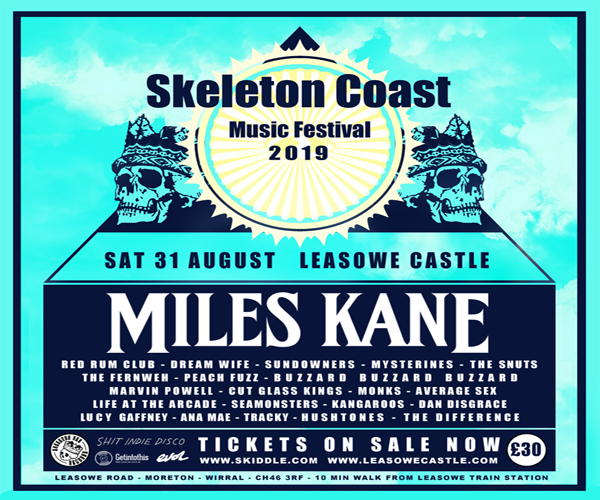 Most of these pagan festivals involved reasonably large amounts of drinking, eating and music. And so, in order to help continue this happy tradition, we here at Getintothis would like to do our bit by providing you with a suitably Bonfire Night themed playlist.  Play loud and play safe.
If you like lists of things, you'll love all of our other lists of things. Click here for more Top 10's.
10. All Sparks (Editors)
Editors' debut album, The Back Room, arrived on the scene in 2005 (can it really be 16 years old already!) to a generally positive critical opinion, although points were deducted for owing too large a debt to Joy Division in places (if we want to put it mildly). Since then, Editors have forged an identity very much their own and their last album, 2015's In Dreams comes highly recommended. The featured song wisely informs us that "all sparks must burn out" – sage advice for the foolhardy amongst us who are tempted to return to a firework after it has been lit, thereby going against years of Public Information films.
9. Catherine Wheel – Sparks are Gonna Fly (Catherine Wheel)

Look at this! Double whammy! A band cruelly overlooked by the passing of time, Catherine Wheel qualify for our playlist on two counts – both the band name and song title ticking boxes for inclusion. If this lights your fuse (or even if it doesn't, we're really not giving you a choice in the matter), do check them out further and you may well be pleasantly surprised.
8. Firework (Katy Perry)
Did you really think we were going to get a Bommy Night top ten without mentioning la Perry? Think again oh foolish ones. The Perry describes this one as a "dance-rock self-empowerment anthem" (whatever you say, Katy, sounds more like meme-level schlock to us!) we just stuck it in because Katy Perry tells us we're a firework and, at this time of the year that's good enough for us! Katy, of course, asks the immortal question; "Do you ever feel like a plastic bag?" Well? Do you?
7. Bonfire (Lamb)
Adding an eerie tone to Bonfire Night, the mighty Lamb with a track from their Fear of Fours album. A bit of a treat this one. Mostly associated with the Trip Hop genre, Lamb lean fairly heavily towards the jazzier end of the electronic spectrum. A band cruelly ignored by the masses, perhaps being too angular, too awkward and too intelligent for mass acclaim.
6. Sacrificial Bonfire (XTC)
From their ninth album, the Todd Rundgren produced Skylarking, XTC add another moment of calm to the evening's proceedings. The band and Rundgren clashed during recording, with the band recalling that Rundgren had sarcasm down to a "cruel art",  but came up with a rare gem of an album and a charmingly bucolic addition to our playlist. It still regularly shows up on "Great Album Ever" lists (pfft – who reads lists? Are we right?). Though the original cover art – which, alas, is on the video below – is something we'd suggest steering clear of.
5. Sparklers (Buffalo Tom)
It's not Bonfire Night without some hopeless kid nearly setting themself on fire with a sparkler, is it? It is perhaps hard to imagine the US Grungers writing their name into the chilly night with a packet of sparklers but, once achieved it is an image that is oddly cheering. Buffalo Tom achieved brief fame in the early 90s, their Big Red Letter Day album breaking the top twenty in the UK. this isn't from that album, its from the follow-up Sleepy Eyed. But we thought it was a nice factoid.
4. The Doors – Light my Fire
An obvious choice maybe, but a good one. After all, what good is a fire if there's no-one on hand to light it for you? Probably the best known song on the playlist, The Doors classic must have soundtracked many a bommy night over the years. We've opted to go for the infamous footage of the band on the Ed Sullivan Show when Jim Morrison agreed not to sing the line "Girl, we couldn't get much higher" and replace it with "Girl, we couldn't get much better" (cos, you know, it's so explicit!). True to form, Jimbo sang the line anyway. Take that, the man!
3. Flesh for Lulu – Roman Candle
The full 12" version of Flesh For Lulu's goth classic has to be heard! Hints of Bowie and the Stooges abound over the full seven and a half minutes and a killer riff flows through the song, courtesy of guitarist Rocco. They were dropped shortly after this was released, but floated around different labels until they split at the end of the 80s. They remained influential though, and the band briefly reformed in 2013 until the sad death of lead founding Lulu Nick Marsh in 2016.
2. Siouxsie and the Banshees – Fireworks
The Banshees feature here with one of their classic singles.  Fireworks saw the Banshees use strings on a single for the first time as their songwriting grew in both scope and sound.  Siouxsie said of the song's parent album, A Kiss in the Dreamhouse "Me and Steve have always wanted our music to be performed by the Royal Philharmonic Orchestra.  We've always thought our songs would suit orchestration. Real strings have a very physical sound".
1. Moby – Fireworks
Almost a classical track. A lilting piano line takes the melody and provides the calm before the storm. Moby followed his breakthrough album Play with 18, which this chilled out, almost pastoral number is taken from.  Quite what this has to do with fireworks in unclear, but an excuse to delve into Moby's back catalogue can only be a good thing. Use this as the wind down after all those explosions that sound like the blitz.
Comments
comments