As Glasgow duo turned trio Honeyblood come to Liverpool, Getintothis' Cath Bore reports.
The prospect of seeing Honeyblood tonight has fans giddy and thrilled, some travelling from as far away as Shropshire, so we don't envy Trudy and the Romance, on first.
Early attendees are hard core Honeyblood fans, not idle feet draggers dawdling along at the last minute, on a change of heart spare ticket tag along. But the Liverpool based three piece go down surprisingly and pleasingly well, and playing "new as shit" material, including new single Sandman. Up until tonight, we thought Trudy and the Romance were such nice, clean young blades, until the chorus for My Baby's Gone Away declares 'she's been fucking around', with extra emphasis, glee almost, on the f bomb. Quite frankly, we are shocked.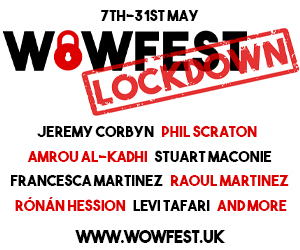 Despite this, bass player Lewis Rollinson with his space ship mic echo unit, and the band's pre-rock era vibe, gets us thinking along very different lines. If Trudy were around in the 1950s, or the cusp of the 60s, legendary manager Larry Parnes would snap them up, give them cheeky yet sinister stage names then ship them off to the equally legendary Joe Meek to work his science fiction production magic.
As we dreamed about what could have been, drummer Brad Mullins took lead vocals on Billy Fury's Don't Jump, from 1960. About a broken hearted boy standing on the edge of a cliff, contemplating.  "Bradley boy, Bradley don't jump", chorused the other two in a timely call and response. It's as camp as hell and bloody brilliant.
Don't jump, Brad. She's not worth it. All will be well.
Read about Trudy and the Romance's 7″ vinyl and craft beer giveaway here
Manchester's PINS on next don't disappoint, singer Faith Vern extending the hand of sisterhood, urging the girls in the audience to come up to the front. Only handful take up her invitation but it's nice to be asked. PINS were intense and sassy and dark, but still with a very real pop sensibility. Such melancholy and anger in punk-pop song delivery works a treat.
Glasgow's Honeyblood play the new album in its entirety, calling Babes Never Die a "real labour of love". They won't be the first band to claim that, and the duo, along with newest member Sebastian, a naughty minded bass machine with his own Twitter account, are "we're no longer a girl band" smiles drummer Cat Myers, sweeping the crowd right along.
It's sweet and clever and everything but we can't help but it feels sometimes like Honeyblood are working to a script, albeit a chatty, friendly one.
Honeyblood have a little fun with Michael Jackson's Billy Jean, and when a fan's mobile is tossed onto stage singer Stina Tweeddale smiles into it and films the crowd, inviting us all to do a Mexican wave, and filming it. Major treat for the fan whose phone it was, now envied by all in the room. And it's easy to see why. These two women are engaging, and imminently likeable, and Honeyblood are shiny and slick, with perfect smiles. Ultimately, they are a really, really good indie pop band, no more and no less.
Photos by Getintothis' Tom Adam.
Comments
comments