Getintothis' Matthew Wood is happily bombarded with a stampede of highly anticipated albums, as well as some phenomenal work going on at Parr Street Studios.
The Sundowners – Great Beauty
Rejoice! The Sundowners have announced their sophomore album titled, Cut The Master, recorded at Parr Street Studios and set for launch on Skeleton Key Records. (The band released this track late last year but here it is again with video accompaniment and a note of great news).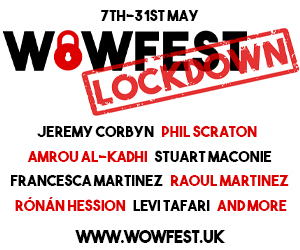 The Liverpool quintet are at their formidable best in this, their premier taster; retaining their wonderfully wonky folk-infused pop, charged with a fierce energy in the form of a fuzzy attack of electric guitar and spooky, baritone backing.
The chorus is outstanding, swelling with rich melody and heavenly synth work. It's phenomenal work like this from James Skelly and co. that is likely to propel this act even further into the mainstream; big things are on the horizon, very big things.
Edgar Jones – Best Thing
Ahead of the release of his latest album, out on Skeleton Key Records April 14, Liverpool-born Edgar Jones marks his return with a number that struts in true soulful 60 and 70's fashion.
A sidestep perhaps from his other projects, this one is more Baby Huey than it is The Stairs; more Womack than it is Weller, as Jones continues to develop as a musician and embrace influence from across the pond.
Simple, striking and somewhat seductive, Best Thing is just an aperitif for what's in store on The Song of Day and Night, and I predict a few treats in store!
Lana Del Rey – Love
Lana Del Rey has a way of transforming the simple aspects of life into the most powerful lyrical motifs, we've had Blue Jeans, getting high by the beach and now she revels in putting on your glad rags and simply being in love.
This is one uplifting track, there's resonance of the spectacular Cigarettes After Sex as Del Rey's vocals percolate into a layer of dark synth and bass blissfully.
Pounding timpani give this one a theatrical edge, accompanying a modern day love story that reaches beyond our atmosphere, where they float carelessly through space in what looks like a Ford Anglia, perhaps Ron Weasley is on board?
PVT – New Spirit
Aussie trio formerly known as Pivot recently dropping the vowels and embracing transition, PVT are well-seasoned veterans in the music world with a colourful past and consistently striving for a better future for themselves and the world around them.
Having occupied various continents, members Dave Miller and brothers Richard & Laurence Pike reunite in their homeland and crafted a political reaction through New Spirit.
It's an unnerving piece of music; dark spoken word pervades glitchy surrounds; synths ascend and descend like machinery and a tribal drum beat offers a unique contrast in old and new worlds combining and moving forward.
Their fifth studio album of the same name is out now!
Marsicans – Friends
Yet another impressive brand of pop hailing from Leeds, this time it's Marsicans creating waves across the music scene. Their punchy pop boasts skill in all departments, pulling no punches with their gritty, gratifying guitar work and the kind of melodic work that draws in fizzing crowds to intimate venues.
Neat harmonies and slippery chords open the track before they burst into a buoyant verse which precedes a nostalgic chorus recalling the early days of alternative pop with the likes of The Maccabees, Peace and The Cribs.
Granted these boys aren't looking to break through any stubborn musical boundaries; they're charging through well-trodden ground but in their own way, and with electric tracks like this one, they're bound to gather a few followers along the way.
The band are currently on tour and you can catch them at Threshold Festival in Liverpool on March 31.
Man & The Echo – The Last Introvert
A Singles Club favourite here, the wonky pop of Man & The Echo continues to please as the Warrington quartet reveal their latest single, The Last Introvert, taken from their eponymous debut album.
Spanning genres in the typical style, this one bobs along on surf-infused backing vocals but is grounded in some quintessentially British guitar work that recalls Johnny Marr and a certain Mr. Gallagher, while a gravelly vocal grounds it further in cobbled streets and bitter days.
Weird Milk – This Close
Sitting comfortably on a bed of shimmering 60's chords, complete with trills and flourishes straight out of the 80's, Weird Milk smoothly intertwine a bunch of influence into their music and the finished product is certainly of note.
This Close shifts tempos and oozes with grooves not so far from the work of Alex Turner and Miles Kane on the latest record, with elements of baroque pop and a slick lyrical duo; with such a sound they can expect to turn some heads in the near future.
Lorne – Bread Alone 
Delight in this crystalline combination of piano and voice in London-based Lorne's latest showing. Minimalist in production, he allows his sustained chords and powerful, versatile vocal to reach and fill the vast chasms of the track, and they do so with astounding vigour.
Sharp strings enter the mix, adding to the sophisticated edge of this track, they compliment Lorne and his Biblical musings as he strives for a sound that is both listenable and spiritual for all.
Tim Darcy – Still Waking Up
Charismatic frontman of astoundingly good post-punk outfit, Ought, Tim Darcy released his debut solo album, Saturday Night on February 17 and up until then, the existence of his solo work had gone beyond my radar. Here's the second single from that album that some of you may have missed, and an inlet into the magnificent mind of a marvellous musician.
'Release the hounds' croons Darcy in his irresistible baritone style over some slack, gritty chords as Still Waking Up breaks us in gently, verses flowing from one to the next as he serenades his lover from her front yard.
Fizzing charismatically throughout but never launching into anything near his politically charged yelps in Ought, it's a slow burning love song that arrests your attention through Darcy's unique blend of songwriting.
Mt. Wolf – The Electric
The last I heard from Mt. Wolf was around 5 months ago when he released the splendid Golden featuring St South. The London-based outfit have recently worked with producer Ken Thomas who boasts sharing brainwaves with the likes of Sigur Ros and M83, and it shows.
The Electric roars with sonic undercurrents creating something deeply moving and emotive, forever building to something colossal. 'Is it too late for me?' wonders Wolf as the track pulsates and grows more and more frantic before a most intense finale explodes in a mushroom cloud.
Comments
comments