April in Manchester is the last chance to stop Ed Sheeran's plan for total world domination and Getintothis' Matt Yarwood has the details.

Edward Christopher Sheeran.  Seemingly there is no escape.
As we've moved through March, young Ed's already significant strangle hold on popular music has tightened to unprecedented proportions.  By mid month, Ed appeared to represent some 98% of radio airplay and was moving rapidly and unmolested across other media platforms, apparently with the aim of monopolising all forms external stimuli.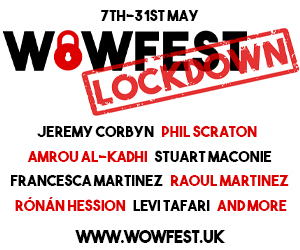 As the month draws to a close, it seems Ed's campaign towards utter domination is in its final stages.  His ubiquitous features now adorn much of the available wall space in our rain soaked metropolis.  Manchester it would appear, is due a visit.
But fear not citizens, in April, our city is fighting back.  Spearheaded by no fewer than three outstanding independent music festivals, exciting artists from across the globe are descending on the cotonopolis to provide an antidote to Ed's sickly sweet balladry and middle class raps.
To see how you can support this noble cause, read on…
Nathan Fake, Soup Kitchen, April 1
Nathan Fake (Photo Credit: Artists Facebook page)
Nathan Fake gets us underway at Soup Kitchen, where he'll take to the boards to showcase his fourth long player Providence, released in March on Ninja Tune to much acclaim. The album, Fake's first for the London label, see's the complex and multilayered song structures that have become his trademark, delivered through more muscular production.
BC Camplight St Michael's Church, April 4
Bella Union's outstanding and eccentric multi-instrumentalist BC Camplight plays the beautiful and haunting surrounding of St Michael's Church, just a canter from the city centre in Ancoats.  The venue, which has recently welcomed Alexis Taylor and Peter Broderick, should prove a fitting backdrop to Brian Christinzio's ballads of self destruction and redemption.
The Amazons, The Deaf Institute, April 6
Reading's bright young things The Amazons look set for a exciting 2017 having been tipped for big things by the likes of NME and BBC Introducing.  Hype is already building ahead of their eponymous debut which is due to drop in the summer on Fiction Records and with a growing reputation for raucous and explosive live shows, this may be one of the few remaining chances to see the band pack out one of the city's smaller venues.
Fat Out Fest, Islington Mill, April 14-16
The first of our trio of festivals comes courtesy of Salford's fiercely independent promoters Fat Out Until You Pass Out.  Fat Out Fest, centred around the city's Islington Mill, stretches an incredibly diverse selection of music and art across it's three day programme.  A chance to see french experimental violinist and composer Agathe Max, Sheffield's exciting post punk outfit Blood Sport , a face off between The Bug and Dylan Carlson  and hotly tipped Pigs Pigs Pigs Pigs Pigs Pigs Pigs represent highlights, but there's plenty of excitement and intrigue across the packed bill.
Cigarettes After Sex, Gorilla, April 18
Brooklyn's noir slowcore foursome Cigarettes After Sex have been generating plenty of excitement over the last couple of years with a slew of quality output as the band build towards the release of their self titled debut, due later this year on Partisan Records.  Expect tender, melancholy tales wrapped in delicate, hazy dream pop.
Manchester Punk Festival, Multiple Venues, April 20-22
Those after something a little more upfront and direct might be better off popping in to Gorilla a few days later to catch some of the bands spearheading the Manchester Punk Festival between the 20 and 22 April.  The festival scatters an exciting international line up across a number of the cites finest venues including Sound Control, Zombie Shack and Retro Bar.  A packed roster provides chances to see hotly tipped acts like Muncie Girls and Brightr, as well as longstanding cult favourites such as Belvedere and Paint It Black.  Local lads Crywank win this month's award for best named band.
Cabbage, The Witchwood, April 26
Routinely touted as the next flag bearers of the Manchester music scene, Mossley outfit Cabbage have been consistently troubling the taste maker's lists of bands to watch out for in 2017.  A marriage of taut post punk and politically driven, satirical subject matter, their high energy live performance should fit brilliantly into the tight confines of Ashton's premier live music boozer.  The band also play Gorilla on the 28, but this is a unique chance to see them in a somewhat more intimate venue.
Sounds from the Other City, Multiple Venues, April 30
We conclude the month in true style with a event that has, over the last decade or so, established a hard earned reputation as one of the country's foremost platforms for new and emerging artists.  SFTOS draws together a blinding array of exciting new artists and disperses them at venues on and around the Chapel St corridor that snakes through the city's interior.  True to form, the quality and breath of the line up is staggering, with Goat Girl, Luxury Death, Flamingods, Amber Arcades, Horsebeach and The Orielles representing just a taste of the top draw talent on offer.
You can get more info on the event, including the full line up in our preview here
Forthcoming:
Providing we survive the battle for Manchester's musical soul, May offers heaps more opportunities to indulge yourself.  US duo Japandroids play Gorilla on May 4, whilst the city's own The Travelling Band visit Band On The Wall on May 5.  The brilliant C Duncan plays the same venue on the May 12.  The outstanding Ducktails play Soup Kitchen on May 8, whilst Metronomy (May 17) and Broken Social Scene (May 23) provide two very good reasons to visit The Albert Hall.  The month concludes in exciting and sinister fashion as SWANS pack out the suitably dark and labyrinthine interior of the Victoria Warehouse.
Comments
comments