Hark and OHHMS bring a heady night of sludgy, stoner mayhem and Getintothis' Mark Davies was present to bear witness.
There aren't many bands in today's metal scene that could pull off a set of co-headline shows as well, or as heavily, as Hark and OHHMS, especially as both are fresh off the back of solid new album releases and raring to showcase their new materials.
Yet, upon hearing both bands one might wonder – because it isn't immediately apparent – how do bands from two sides of metal work together? That is, until you witness both bands in a live situation, and in quick succession.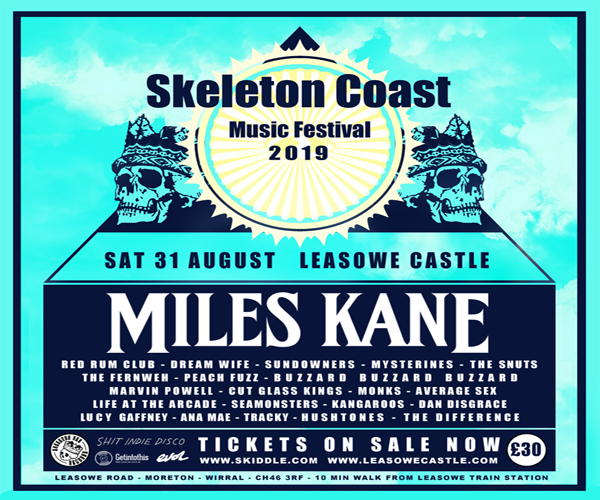 That's when you start to realise the genius behind a co-headline tour. Whilst Hark bring the hooks, OHHMS bring the lures, and as a package, both manage to reel in a much more diverse audience than either might have done alone.
It's the differences between the two acts that allow both to shine that much brighter, two sides of a very monolithic coin, if you'll forgive the clichés.
The first band up of the two, Hark, hailing from Swansea and having formed back in 2010, are a beast to be reckoned with. Sludgy yet progressive riffs remind us of Remission-era Mastodon, with hints of Clutch's Neil Fallon or Baroness' John Baizley in the vocal department, courtesy of Jimbob Isaac with his signature grit.
Match those up with some pants-dropping solos from Isaac and the shred-tastic Joe Harvatt, along with a thunderous rhythm section and you're onto a clear winner. Hark left us supremely satisfied, and looking forward to the next time they make it to Liverpool.
Metal, metal and more metal – check out the storied history of Dysgeusia here
After a much needed beer break and time to rest our ear-drums, it was OHHMS turn to blast us with a healthy overdose of stoned-out, doomy, fuzz-worship. You could feel the fixtures in the cave-like EBGBs rattle for the band's entire set, and it was glorious!
At the beginning of their set the band's vocalist did attempt to explain that he had lost his voice earlier in the day, so he was restricted to screaming only. Something which originally we feared might be a stumbling block, considering their new material has a lot of singing, instead added a new aggressive element to complement the almost-overwhelming rumble of the rest of the band, there's an upshot for you.
Support for the night came from the wonderfully chosen, and recently formed, Welsh trio Gravves, whose blend of punk sensibilities and noise-rock were a welcome warm up for our ear drums. Pounding toms, fuzzed-out bass, and grungy Telecaster riffs all awash with howling feedback, came together in powerful disharmony to blow us away, and you can catch the lovely lads again at this weekend's Wrong Festival on 22 April 2017.
Pictures by Getintothis' Brian Sayle
Comments
comments