Liverpool is absolutely rammed with things to do this May, so here's Getintothis' Janaya Pickett urging you yet again to leave the house and get involved.
Liverpool Tattoo Convention: Adelphi Hotel Liverpool, May 5- 7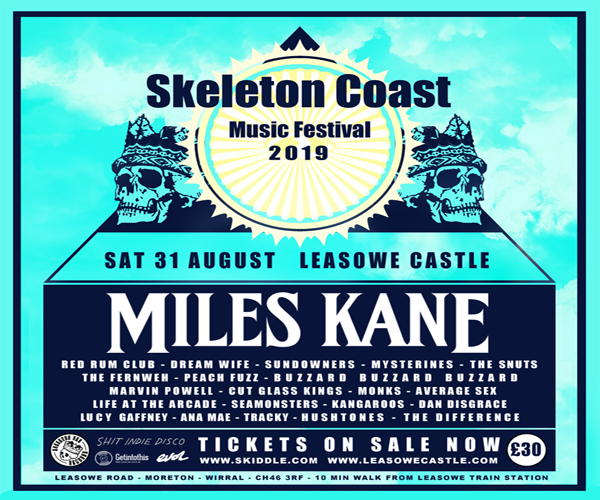 The art of the tattoo has come a long way in the West. Indeed from being associated with sailors, prisoners and even prostitutes to becoming a mainstream sensation from the 90s on – when Chinese lettering, Tweety Pies and dolphins became fashionable (why Tweety Pie, though?).
But what was once seen as an unconventional form of self expression has grown into an industry now reportedly worth some £80 million, with around 20 million UK people admitting to having at least one tattoo.
Liverpool Tattoo Convention has weathered this phenomenological storm and this year celebrates its tenth anniversary. Hosting the 2017 UK Tattoo Awards as well as live music provided by an array of acts including Ovvls and post-punk outfit Luxury Stranger, this looks to be an interesting way to start the month off. Unless you're aichmophobic, of course…
For full details click here.
Eat Me + Preach: Invisible Wind Factory, May 5
Now, this sounds like sooo much fun. Bearded Children have collaborated with Invisible Wind Factory for a triple D evening of drag, dinner and dancing. There'll be a three course gourmet meal to gag over whilst enjoying entertainment from some of the region's most stellar Drag names.
Once you've bitten off more than you can chew the first incarnation of PREACH! will get underway: IWF's very own late night queer disco: "a genderfucking mecca for self expression, regression and exploration… performance art cabaret and music". Yes, please.
If that doesn't whet your whistle then sorry (not sorry). There'll be a confessional booth, dress up box and prizes for best in show. So, gentlefolk, start you engines. Good luck and don't fuck it up. Etc etc.
Details here.
Time For Action: Writing on the Wall Festival 2017, The Black-E, May 6
As part of WoW Fest 2017, this politically charged mammoth event fits right in with their theme this year of Revolution! There's panel discussions all day including 'I'm not racist, but..' with gal-dem.com editor Charlie Brinkhurst-Cuff and Gary Younge, editor at large for The Guardian.
Fake News in a Post-Truth World will be under discussion with journalist and editor in chief of The Canary, Kerry Ann-Mendoza. Brexit Britain is also under review with a panel of esteemed writers and activists including founder member of Stop the War and Counterfire, Chris Nineham.
Award winning documentarion, artist and philosopher Raoul Martinez will be joined by Independent columnist Yasmin Alibhai-Brown talking concepts of freedom through the prism of sociopolitics and economics.
This will be a jam packed day full of food for thought – the kind that's very good for you – and will be topped off by stand-up comedy from Francesca Martinez and a music performance from the man himself, Akala. Buy tickets here.
Bluecoat Presents Pierre Henry:The Liverpool Mass: Liverpool Metropolitan Cathedral, May 13
Liverpool is absolutely packed with landmark anniversaries it seems, from Bluecoat's 300th, Open Eye Gallery's 40th birthday, Sound City's 10th as well as our very own Getintothis reaching its tenth year. Believe me, by the end of this arts diary I'll feel like a childrens' TV presenter with all these honorable mentions..
Well the Liverpool Metropolitan Cathedral of Christ the King (known locally as 'Paddy's Wigwam') is celebrating it's Golden Jubilee, having first opened to the public fifty years ago in 1967.
Acclaimed French composer Pierre Henry was at the time commissioned to write the score for the first inaugural mass, whose theme was heavily influenced by the 'Space Age', an interesting yet timely choice for the opening of this striking structure.
However Henry's composition went unfinished and another composer took his place. But fear not, by the grace of God, Henry has teamed up with the Bluecoat to present a performance of the completed work in the Cathedral on May 13 half a century later. A redemption, if you will.
Henry is known worldwide as an innovator among modern composers and with fans as diverse as Fatboy Slim and The Simpsons creator Matt Groening. Whether you like to bother God or not we reckon this would be a moving retro-futuristic experience. Totally psychedelic. Full details here.
LightNight Liverpool: Citywide, May 19
No self respecting Liverpool arts diary in May would be complete without the mention of LightNight. The hugely successful one-night-only arts festival returns this year with the theme of Time. And time is something that we often grapple with in a city with such a rich history and complex history and uncertain future.
The shear wealth of events on offer this LightNight warrant a feature in itself and we feel sad that we can't be in more than one place at a time. There are gems tucked into every nook and cranny of the city centre from jazz at Open Eye Gallery, to a choreographed light installation at Ropewalks square. There's even a candlelit labyrinth at Northern Lights and we could go on.
It would pay to have a good look through LightNight's website if you're that way inclined or if not just make sure you're in the city centre on the evening of the 19th and your bound to stumble across something wonderful.
There's also an after party at Constellations which you enter 'via the Time Capsule' into 'a live future Polaroid/AV installation meets club project'. Right on. All in all, this really is one event you'll be gutted to miss.
Physical Fest: Various locations, May 23 May – June 3
This sounds like another big bowl of fun soup and was quite the hit last year. Physical Fest is one of its kind in Europe, devoted soley to the celebration of physical theatre. A thesps dream we're sure, there will be performances from world renowned artists as well as workshops and talks across ten days.
On May 29, Williamson Square will be awash with magical happenings as urban astronauts gently explore the streets, dragons fly overhead and warewomen stalk the surrounding area in search of prey. We're not joking. It's Street Theatre Day and the evening ends with entertainment, drinks and food at the Invisible Wind Factory, naturally. Check the website here.
Poetry in the City: Tonight At Noon, various venues, May 25
On the 50th anniversary of the release of the legendary The Mersey Sound anthology, poets will take to the streets in a day long series of public performances as part of the Tonight At Noon poetry festival.
There are scant details on this one, but stumbling across a good bit of free street performance whilst mooching about the city centre is never a bad thing is it?
Full details of the event will be revealed closer to the time so keep your eyes peeled, here.
Sgt. Pepper at 50: Heading for Home: City wide, May 25 – June 16
Sgt. Pepper's Lonely Hearts Club Band, the most famous album from the most famous band, turns fifty at the end of the month. The Fab Four's magnum opus continues to influence and inspire the world over and, of course, Liverpool is going to celebrate.
From Many to June there will  be thirteen events inspired by the thirteen tracks of the forty minute album, including an original dance premiere by the Mark Morris Dance Group at the Royal Court (inspired by the title track) and a large scale mural created by artist Judy Chicago, at Stanley Dock (inspired by Fixing A Hole).
Srgt Pepper at 50 will indeed reach far and wide from events at Aintree (Mr Kite's Musicircus) to Woolton (inspired by Lucy In the Sky With Diamonds and A Day in the Life, respectively). You can find the full list of events on their website here.
Yes, the Pool is positively buzzing with opportunities for artsy fun and frolics this month whatever your ilk. Be sure to get out the house more now, ay, and be grateful. Smile, enjoy the sunshine (fingers crossed) and don't forget the sun screen.

Comments
comments