The summer festival season is in full swing, here Getintothis offers you a complete guide to the best survival tips.
From Glastonbury to Bestival and beyond, the UK has some incredible festivals with musical styles, acts and vibes to suit everyone.
Whether you're a frequent festival goer or not, it's always nice to have a reminder of what to take with you, what to do and what not to do.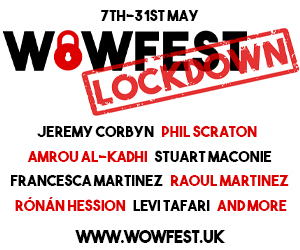 To make sure you're as prepared as you can be for the long awaited season of mud, booze and great tunes, we've put together a little guide on how to survive the great British festival.
Here's what to do…
Turn up as early as you can
Most UK festivals offer early bird tickets allowing you to turn up a day before all the fun kicks off. Camping for an extra night might seem pointless to some, but it gives you time to find a good space to pitch your tent, and lets you scope out the festival site so you know your way around.
Invest in some waterproofs
We all know how unpredictable British weather can be, so don't assume the heavens won't open up to try and spoil your fun at least once. Make sure you get a good pair of wellies and keep a waterproof jacket or mac in your backpack while you're out and about at the festival. Check out Bellfield Clothing for a wide selection of waterproofs, as well as some great men's and women's festival fashion.
Do a trial run with your tent
Struggling to put up your tent in the mud and rain isn't the ideal start to any festival, so do what you can to make things easier for yourself. Find some space in your back garden or take your tent to a local park and do a trial run, checking all the right bits and pieces are there.
What to bring
A portable phone charger
There are loads of portable phone chargers on the market at some reasonable prices – an essential for those who need their smartphones for the weekend.
If you don't want to fuss around with chargers, however, but still need to meet up with friends, get yourself a cheap replacement phone for the festival. The battery will last you for days and it means you won't waste time scrolling through instagram either!
Earplugs
The likelihood of you getting much sleep at the festival is low as it is, but it's made even lower with the blasting noise of dance music and chatty strangers tripping over your tent. If you can't function without at least a few hours sleep, it's well worth getting yourself some earplugs to block out the noise and let yourself recharge for the next day.
Bin bags
Bin bags are probably one of the biggest life saver's ever at a British festival. Until you've been to one, you underestimate just how handy they can be. Clothes got drenched? Throw them in a bin bag. Need to take off your wellies without submerging your hands in a day's worth of mud? Fashion yourself some bin bag gloves. Lent your waterproof to a seemingly trustworthy stranger and never got it back? You know what to do..
A torch
No matter how hard you try, your tent can turn into a mess in no time. A torch is essential for everything from putting up your tent in the dark, to navigating your way around your tent when you need to grab a cosy jumper on a particularly chilly night.
What not to do
Stress about seeing every act
Festivals such as Glastonbury are so big and have so many stages that it's impossible for acts not to clash from time to time.
Work out who you definitely want to see and which acts can be sacrificed. You won't have a good experience if you spend the whole time planning and rushing from stage to stage, so get into the chilled festival spirit and just go with the flow.
Pack things you don't need
That walk from the car or coach into the festival site is a special kind of hell when you have loads of heavy luggage, so make life easier for yourself by packing light. In terms of booze, it might be more practical to bring plastic bottles or pouches filled with spirits, and treating yourself to a nice cold beer or cider from the bar. Unless you're truly strapped for cash, don't bother packing loads of food and snacks, since most festivals offer amazing food options with cuisines to suit everyone.
Snapchat the whole thing
By all means show the world how much fun you're having, but don't spend the whole festival watching your favourite bands from behind a phone screen. Remember to keep your phone away (saves you dropping it in the mud anyway) and stay in the moment as much as possible.
Look down in the long drop loo's
This one needs little explanation. A sure-fire buzz killer – just don't do it, folks…
Sponsored content courtesy of Yoma.
Comments
comments