The region's political voice overlooked in Westminster for another few years, Getintothis' David Hall speaks up for another round of right honourable Merseyside gigs.
Well, that went well, now didn't it? Following a few days of post-election fallout, the country staggers out blinking into the harsh wilderness of a terrifying new dawn this week. But if there's one thing to remind you that the world keeps turning, it's a fresh batch of Liverpool live dates.
That's exactly what this edition of the Gig Guide brings you, with an eclectic smorgasbord of acts, events and festivals to tickle the appetite of those with open-minded tastes. The tight-of-wallet will also find themselves placated this week, with plenty of low-cost and even free events to sample across the city region, from the dive bars to the live scene's usual haunts.
If you're looking to splash the cash however, there are plenty of primo dates to pick from too, in the plush auditoria of Merseyside. Something for every age, pocket and political persuasion then, and if that isn't for the many and not the few, we don't know what is.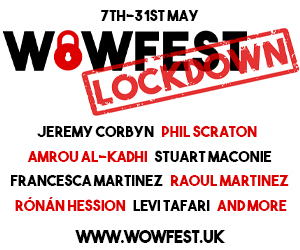 A Disc Jockey Cavalcade in aid of South Liverpool Foodbank: Buyers Club, Thursday June 15
Over 4000 people received emergency food supplies from South Liverpool Food Bank last year. Nice one Teresa May and co. Leave it to Abandon Silence, Bernie Connor, Elliot Ferguson, Jeff O'Toole, Joseph Kaye, Lee Fleming, Lewis Boardman, Liverpool Disco Festival, Melodic Distraction, No Fakin' and Robin Jackson to sort out this mess, who have laid on a fundraising Buyers Club good time.
Bold Management showcase: Studio 2, Parr Street, Thursday June 15
Local talent abounds in Parr Street on Thursday, with free entry to boot! Former Zuton Abi Harding's new outfit AbiChan in the house, heading up a billing of 50ft Warrior, Elijah James and the Nightmares, The Mono LPs, Liz Owen and Penny Mob.
Bat Sabbath: Arts Club, Friday June 16
Canadian metal mob Cancer Bats pull off their party trick of a full set comprised of Black Sabbath covers. They might even hit Liverpool with an encore of their own material if you're lucky. It's bound to get loud, if their past showings in the city are anything to go by.
Casual Sect, Puddin', Bodies On Everest: Drop the Dumbulls, Saturday June 17
A crusty, doomy night of freakish goings on in the offing down in the Ten Streets quarter, as we're definitely not going to start calling it. London fuzz-punks Casual Sect close out following support from Leeds sludgers Puddin' and the insane Bodies on Everest.
Hans Zimmer: Echo Arena, Saturday June 17
The soundtrack maestro brings his big screen compositions to an Echo Arena stage show to remember. An Academy Award winner for Best Original Score, Zimmer has scored The Lion King, Pirates of the Caribbean, Gladiator, The Last Samurai, The Dark Knight trilogy, Interstellar and Inception amongst other well-loved flicks.
Africa Oyé: Sefton Park, Saturday June 17 – Sunday June 18
One of the highlights of Liverpool's bustling festival scene, the always-fun Africa Oyé celebrates its 25th year, and invites the Merseyside gig-going public along to celebrate with a dance-off. The free and kid-friendly Sefton Park shindig welcomes an eclectic host of acts, headlined by Jupiter & Okwess International, Mokoomba and Max Romeo.
Opening of The Bombed Out Church Gardens: St Luke's Church, Saturday June 17
Stratford Upon Avon Festival Orchestra will be on hand to re-open the city centre cultural landmark, with Stratford Upon Avon Festival Choir. After a period of closure for renovation work, the church gardens play host to two orchestral recitals of Sgt. Pepper's Lonely Hearts Club Band, at 1pm and 5pm.
Your gig-going choices still short of a majority? Form a coalition with Getintothis' Gigbites, they'll prop you up.
Electric Pyramid: Studio 2, Parr Street, Tuesday June 13
Joseph J. Jones: Shipping Forecast, Thursday June 15
Jess Glynne: Aintree Racecourse, Friday June 16
Elton John, Jake Isaac: Select Security Stadium Widnes, Sunday June 18
Upcoming events to keep an eye on
Alpha Male Tea Party, Body Hound – Health album launch: Buyers Club, Friday June 23
Having signed to key indie tastemaking label Big Scary Monsters (home to acts including Minus the Bear, La Dispute and Tall Ships) local (instru)mentalists Alpha Male Tea Party now ready the release of their third full-length Health with a Buyers Club knees-up. Joining them on the Yeah Buddy DIY-curated evening is Sheffield math-proggers Body Hound, promising a bizarro evening for all concerned.
Comments
comments