Strange waves of sound vibrations crashed across the O2 Ritz atmosphere and Getintothis' Mark Rowley was there to experience the noise and devastation.
Following on from last year's sell-out Strange Waves psych-fest, which included the likes of King Gizzard & The Lizard Wizard, The Witches and The Big Moon, Strange Waves II included a line-up that read like a celebration of Pitchfork's favourite acts and future recommendations.
With an all-together different feel and ambience, this year's offering boasted a billing to showcase rising talents from across the pond, down under, as well as from outpost closer to home.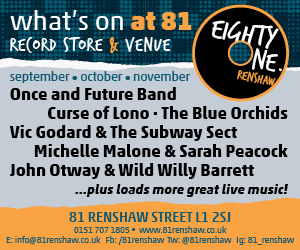 Despite Strange Waves II not being a sell-out (in part, as a consequence of being in direct competition this year with Manchester Psych Fest), it still managed to deliver a show of great magnitude.
Getintothis Album Club #19 – Mogwai, Lana Del Ray, Ex Eye, The National and more
Headliners for Strange Waves II were the inimitable post-punk rockers from Brooklyn, Parquet Courts. With their distinctly-New York sound, clever lyrics and dynamic stage-presence, their show was electric from start to finish.
Kicking off with 'Dust', and immediately followed by 'Human Performance' (title-track from their 2016 album), the band belted out classic tune after classic tune … including 'Outside', 'Berlin Got Blurry' (with its 'Hank Marvin meets Ennio Morricone' lead hook), and 'Borrowed Time'.
Songs from the critically-acclaimed 'Light Up Gold' such as 'Picture of Health' and 'Careers In Combat' featured along with tunes from their 'Sunbathing Animal' album and instrumental EP 'Monastic Living'.
Owing to the lateness of their stage slot (11.30pm – 12.45am), the O2 Ritz audience had thinned out somewhat, but this took nothing away from the band's performance, nor the remaining crowd's reaction, which was ecstatic. It's quite easy to forget just how good and important to music Parquet Courts are. This show provided a slap-in-the-face reminder.
Other acts to grace the Ballroom Stage were five-piece, Brooklyn NY, lo-fi surf rockers, Beach Fossils; Aussie indie-rockers, Rolling Blackouts Coastal Fever; English alt-rock band, Ultimate Painting; Saul Adamczewski's solo project, Insecure Men. All bands to a man (as there were no women present), performed admirably and were worthy of their inclusion on the main stage.
Stage timings were set and impeccably managed so virtually every minute of each set could be enjoyed in full and without clashes. The Basement Stage featured the quirky Atlanta, Georgia art-punk trio, OMNI; London dad-rock outfit, Dead Pretties; the London-based, soulful psych-pop sextet, Tempesst; Canadian slacker-rock outfit, Nap Eyes; alternative indie-pop songstress, Laurel.
Getintothis' Top Picks of Strange Waves II
Rolling Blackouts Coastal Fever
Hailing from Melbourne, Australia, RBCF are most definitely a force to be reckoned with. They created a wall of sound with tight musicianship, precise melodies and intelligent arrangements. Featuring tunes from their 'The French Press' EP and 'Talk Tight' album, their energetic Manchester debut gave a clear indication of the great things that lie ahead for this band.
OMNI
Playing the headline set to a packed out Basement audience, the Atlanta trio's distinctive post-punk sound featured rhythmic drumbeats, brightly twanged strums and heavy bass, interspersed with a unique vocal style and myriad inventive chord arrangements and fluttering guitar hooks. Their sound was both original and immense.
Nap Eyes
A four-piece band from Halifax, Nova Scotia, Nap Eyes served up a wondrous set of dreamy tunes that drew in an extremely appreciative crowd. With a host of influences too numerous to mention, they created their own exceptional style of music, which occasionally awoke from its meanderings to reach a climatic crescendo of guitar clamour, before returning to a gentle slumber. For many, this was the epic surprise of a glorious night's entertainment.
Images by Getintothis' Mark Rowley
Comments
comments