Grab your mulled wine and pop your headphones in, Getintothis' Lauren Wise is armed with three fresh and exciting songs to soundtrack this coming autumn.
First up is a jangly pop song from Baywaves that will have you feeling like summer never ended.
The hypnotic vocals on Down 4 U combined with dreamy solos are the ideal mixture for those who want to shut their eyes and pretend they're in California rather than rainy England.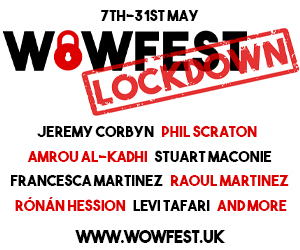 Of the single, Baywaves said: "When we sat down to record it we spent a lot of time geeking with vintage synths and keys, perfecting the vocal effects and working on the arrangements, so it ended up having a catchy 70s pop vibe to it."
However, if you've managed to accept that autumn is without a doubt here, you might just be ready for the more autumnal tones of Haunt the Woods' Beautiful Catastrophe.
A simple guitar strumming begins the song, eventually added to piece by piece. At first a harmony joins, then a rhythmic drumming is layered with a violin and topped off with the heart-wrenching guitar solo.
It's rare that a build up can catch the listener's ear as effectively as Beautiful Catastrophe does.
Wild Front are the South Coast hailing four-piece bringing jangly indie into winter with their single Physics. Released on their EP of the same name, Physics is a memorable track both recorded and live.
A catchy bass line runs smoothly alongside unique vocals and a chugging guitar, creating an instantly recognisable sound. 
Like a classic indie pop band, Wild Front manage to take lyrics of heartbreak and turn them into an easily dance-able track.
Comments
comments