Juanita Stein brings a slice of Americana to The Buyers Club and Getintothis' Del Pike was there for a very intimate gathering of souls.
Juanita Stein has made a fair impact since going solo from Australian indie rockers Howling Bells, and her new material is astounding.
Her performance at The Buyers Club may have lacked in numbers (there were almost as many photographers as there were attendees) but those lucky enough to turn up enjoyed a short and sweet set that was very much worth the effort.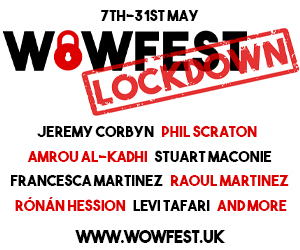 Supporting Juanita was Emilio Pinchi, the Liverpool-based singer-songwriter who normally has a band with him, but turned in an intimate turn tonight on his own.
Stood amidst the dry ice with an audience of ten, Emilio wasn't going to let this tiny gathering put him off. A short set of beautiful songs with titles including An Imitation of Life (not an R.E.M cover), conjured up a soulful atmosphere of folky daydreams.
Sounding very much like the late great Elliott Smith, (as picked up on by Juanita), Emilio set that notion in stone finishing off with a note perfect cover of Smith's The Biggest Lie.
Juanita Stein took to the stage to a slightly larger crowd which swelled to no more than 30. Urged to the front to make it cosier, we were treated to an outing of tracks from her new album, America, and like Emilio Pinchi before her, Juanita was not even slightly phased by the surprisingly poor turnout. If she was it didn't show.
You would never guess that she is Australian as her whole persona shouts out Americana. Without wanting to draw a comparison, but feeling it somehow necessary, she's a low key Lana Del Rey. Her songs don't have the same cinematic scope but are equally as appealing, but possibly just a little too country for the mainstream.
Opener Florence is a classic example of Juanita's oeuvre, sultry lyrics and warm melody, setting the scene for a focused set of songs tonight. Backed by just drums and bass, Stein knows how to craft a tune, and her guitar work is nothing short of seamless.
Similarly I'll Cry and Someone Else's Dime (sounding like Roy Orbison song titles) paint a vivid picture of love in the Midwest, and her journey into cinematic imagery remains very much in the indie vein. It all makes sense when she reveals that Stargazer, a highlight tonight, is based on her favourite film, Paris Texas. Timely too following last week's death of Harry Dean Stanton. The song would fit perfectly in that film and Juanita achieves her goal majestically.
Deep Cuts #11 featuring XamVolo, Pink Kink, Samurai Kip, Lilium, Palm Springsteen and more – best new tracks September 2017
The set slows down with the metronomic It's all wrong and becomes personal with Cold Comfort, a sleepy tune in the style of old country, written by her Dad, Peter Stein, an artist in his own right. Its moments like this when Howling Bells seem but a distant memory and Juanita proves her worth as an artist capable of working on many levels.
It feels right that tonight's set is so short, just 40 minutes.
A perfect choice of songs, concluding with America, the title track to her album. A surging beauty of a song that typifies where this singer is right now. Set done, she gently steps down from the stage and makes for the merch stand. Gigs rarely get more intimate than this and we were so glad we came.
Images by Getintothis' Peter Goodbody
Comments
comments