Staffing the Unknown Pleasures column for this week is Getintothis' Ellie Montgomery, who has unearthed a trio of top tunes for these crazy times. 
Nakamarra – Temptress
I was lucky enough to stumble across Nakamarra at this year's Isle of Wight Festival. Locals to the island, their sensuously good music is yet to reach the mainland.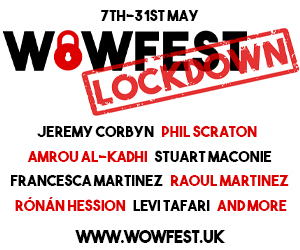 Temptress beautifully collides elements of the fantastical alongside an indie pop beat to create something excitingly unique.
The vocals of Nakamarra's female frontrunner are particularly worth appreciation. Effortless, rich and alluring; no indie playlist should be complete without this track.
New Horror – Nightclub Musik I
This post-punk three-piece from the north east comfortably negotiates somewhere between grunge rock and trippy psychedelia.
Growling vocals on Nightclub Musik resonate alongside a pulsing drum beat to give the track an almost timeless, genre-defying quality.
New Horror are part of the label Soft Verse who often put on events in the north region including Leeds' underground and independent venue CHUNK.
Burly Herd – Control
This is a disco track you can really get your teeth into. A multifaceted kaleidoscope of funky beats is created by the London based five-piece Burly Herd.
While the band maintains a fairly eclectic exploration through their various tracks of everything from pop to indie-alternative, Control brings something refreshingly new to their identity.
In a delightful clash of manic guitars, clunking keyboards and tantalising disco beats, this is a track which belongs both in a 70s dancehall and in the new millennia.
Comments
comments