Getintothis hosts RongoRongo single launch plus an all-star cast of the North West's finest new artists for our first Deep Cuts birthday at the Buyers Club on Friday January 12.
To be honest, it's a wonder why it took us so long. For a website whose lifeblood is championing new boss sounds, it's a bit daft we didn't start gigs promoting the best new music we're raving on about each day sooner.
But hey, we got there. And it's been an absolute blast. From our opening show when Laurie Shaw blew our minds with Scouse Pussy to our December offering when Rico Don turned up late because his DJ couldn't find a car park spec only to rock up to the stage with zero line check and proceed to blow everyone's heads off with 30 minutes of propulsive MC-ing, Deep Cuts has been a real pleasure to present each and every month.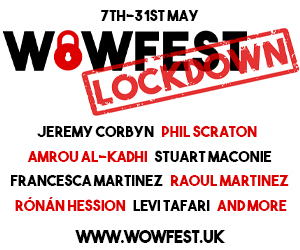 There's been so many highlights; Little Triggers vomiting between songs yet continuing on manfully and karate-kicking their way through Hendrix-driven guitar solos; Ali Horn and Pixey providing more buzz than a bee sanctuary with their debut live offerings; I See Rivers' taking to the centre of the room for a pin-drop a cappella track which left everyone breathless; the room exploding to the news of Jeremy Corbyn's exit polls just as Marvin Powell took to the stage; Nu Tribe's sprung-loaded high jinx hip hop which was both empowering and hilarious in equal measure; the entirety of Dig Vinyl's Elliot Hutchinson's DJ set; and quite stunning powerhouse displays from newcomers Gazelle, Wide Eyed Boy, Mary Miller and Samurai Kip through to the more established VEYU, Rival Bones and TV ME.
Frankly, we've been blessed with great artists and bands every month, and we're super grateful to all of them supporting a night which helps keep Getintothis ticking along. And we're even more thankful to the small army of music fans who've come down to Buyers Club to enjoy the music and take an interest in what we're all about.
To celebrate our first birthday, we've put together a Deep Cuts is ONE epic taking over the Buyers Club on Friday January 12, from 7pm til late. A night which gathers together a flavour of what these nights are about – diverse, wide-ranging innovative new sounds from some of our favourite sets of the year – but we kick off with a headline set from RongoRongo – a band these pages have championed from their very beginnings.
Unclassifiable, RongoRongo are a distinctly singular band, and they're all the better for it. A dynamic juxtaposition of dark, dystopian themes and crunching propulsive rock and roll aligned with a taste of irreverent humour and flavoursome wit – over the past year they've earned their right at the top table of the city's finest live bands. Now entering their second phase, they're readying their debut album, and following opening single Black Rain, Deep Cuts is ONE serves as the single launch to new track Euclid.
Joining them are a veritable feast of superlative sonic harvesters – rock and roll lunatics Jo Mary, the face-melting oceanic heavyweight hitters Pale Rider, majestic goth-folk heads King Hannah, otherworldly freak-poppers Mamatung, hip hop titans Beyond Average, Rico Don and guest MCs, rhythmic scuzz wizards Eyesore and the Jinx and completing the mammoth live billing one of our favourite newcomers, Bill Nickson.
Manning the decks are the father and son winning combination of Bernie Connor and Buddy Floormen plus Sam and Connor from Hail Hail Records.
Deep Cuts is ONE – featuring RongoRongo, Jo Mary, Pale Rider, Mamatung, Beyond Average, Rico Don and guests, Eyesore and the Jinx, Bill Nickson – plus DJs Bernie and Buddy, Hail Hail Records.
Finally, here's a look back at our December Deep Cuts featuring LUNA, Marmalade, Rico Don, Wavey Joe and Samuari Kip – thanks all, it was real swell.
Comments
comments