With anticipation building for their debut album, Getintothis' Craig MacDonald catches up with The Fernweh and brings an exclusive track.
To say that it has been been quite the year for cosmic folk titans The Fernweh would be a slight understatement to say the least.
A little over a year ago, the five piece were barley known to anyone other than a select few, with only one gig to their name before playing our Ten Years of Getintothis party at The GIT Awards.
Fast forward to 2018 and The Fernweh have just become the latest additions to the Skeleton Key family joining Sundowners, Serpent Power and GIT Award winners She Drew The Gun on the ever growing roster.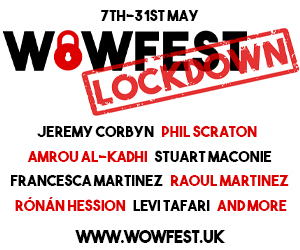 Combine that with touring with Saint Etienne, acclaimed performances at Liverpool Music Week and the release of their exceptional debut single The Liar, its easy to see why many people are tipping them for big things this year.
Having recorded an exclusive acoustic version of The Liar for Getintothis, which you can listen to below, we caught up with guitarist Jamie Backhouse, bassist and singer Ned Crowther and keyboard and sax player Austin Murphy for a wee chat ahead of its release.
Getintothis: So tell us,how did The Fernweh come to be?
The Fernweh (Jamie Backhouse): We talked about doing something like The Fernweh since we played a show at Glastonbury as part of Candie Payne's band. We've all lived in different parts of the country, so it never really happened.
Austin and I were playing together on a project a few years ago and got chatting about how we were a little fed-up of playing other people's music, and that we had a lot of ideas brewing that we really wanted to do something with. So we started getting together, sharing ideas and recording. By the time we got the bones of The Liar together, we knew that this could be good. So it was natural to get more people involved. Ned was the first name on both of our lips – and he said yes straight away. So, off we went…
Getintothis: You've all come from different backgrounds musically, how do those backgrounds filter through into The Fernweh and the sound you create? 
The Fernweh (JB): We come from different backgrounds, but there's a lot of common ground there. We kind of plotted out a manifesto of what we wanted to do and how it was going to sound, some time before we actually got round to doing it.
We always talked about what Fairport Convention did on Liege and Leaf; they took a pretty earthy and arcane aspect of English culture and did something entirely original and exciting with it. We didn't want to re-make that album, but we wanted to take our influences, whether it's psychedelia, British folk or Oliver Postgate and do something fresh and exciting with it all. Most importantly, do it our own way – writing, recording and mixing. And I think we did that.
Getintothis: You've recently signed to Skeleton Key. Tell us how that came about?
The Fernweh (Austin Murphy): The Liverpool scene can be a very small world! Jamie & I used to be in Neville Skelly's (co head honcho at the label) backing group.
Paths have crossed in other ways over the years with the guys from The Coral. They got wind of it quite a while ago now and it just felt right. It's a massive compliment when The Coral tell you they like your music and want to release it.
The Sundowners, Skeleton Key and building a new Liverpool dynasty
Getintothis: Your songs seem to have grown to people very quickly with plenty describing you as hidden gems; does it feel like a whirlwind couple of years?
The Fernweh (Ned Crowther): Maybe more of a cool westerly breeze than a whirlwind! It's taken a while, because we all live in different places, but we're very happy to be considered gems. Hopefully we'll become discovered gems once the record gets out there.
Getintothis: Your songs are beautifully crafted and often touch upon a lot of the tension that we find ourselves in today. What influences your songwriting?
The Fernweh (JB): All three of us would probably give you a different answer to this. Musically, a lot of my ideas come from a dreamy folk idea, usually on a guitar, that then gets taken on a little journey – I'm trying to find a certain place and feeling in it.
The likes of The Liar and Next Time Around began life this way. Ned then seems to inject the right characters and themes into the journey, as if they had always been there. Themes of change and loss, memory and nostalgia are pretty strong, but we're all pretty different characters in The Fernweh, and most of the time we write together, so there will be tension as well as harmony in there.
Getintothis: So what was the influence behind The Liar?
The Fernweh (JB): The Liar was the piece that got the ball rolling really; it was first thing we worked on whereby we felt that we were really on to something in terms of creating a sound and style.
It stemmed from a folky picking idea I had, but we wanted to make it heavy and exciting, rather than just a gentle acoustic thing. So we played around with various synths and drum machines and we got the backing track together in a couple of nights. This is the piece we sent over to Ned to see if he wanted to work with us, and straight away he was into it.
Strangely it last one on the album to be finished. Most of the songs came pretty quickly in terms of writing but this was the hardest. We couldn't settle on it lyrically. Ned had a concept of the Darlington monkey hangers; I wanted to base it around a dreamy Emily Bronte poem, which had a similar rhythm to it. None of them really worked just on their own, so it just sat there as an instrumental for a couple of years and almost ended up staying that way.
In the end we worked through the night until we got it together; we went with a bit of a mish-mash, so you get a Bronte verse and a monkey verse! Plus, we did a few takes firing off stream of consciousness ideas. We tied it all together and, weirdly, it works. For me this was always a key track on the album as it kind of embodies the sound and approach we were going for.
Getintothis: Do you find that creating your songs comes naturally as a group or, because of your past musical ventures, is it more challenging?
The Fernweh (NC): There's always compromise, but creating the majority of the songs was actually a surprisingly natural and easy process. It seemed to flow really nicely once we got going.
Getintothis: You recently toured with Saint Etienne, what was that like?
The Fernweh (AM): Fantastic. We played in great venues and to great crowds and only wish it had gone on longer.
Getintothis: What are your thoughts on Liverpool as a music city now?
The Fernweh (AM): Liverpool has a vibrant and varied musical scene. There are loads of interesting musicians and lots of under the radar things happening. We are lucky to have some great studios like Parr St, Ark and Whitewood, as well as a great network of bloggers, writers and promoters. There is a lot going on, but we could definitely benefit from some more small to medium sized venues though.
Getintothis: Do you feel part of the Liverpool music scene?
The Fernweh (NC): I think we always felt outside a scene. We were pretty much isolated and on our own in the making of this record, but joining Skeleton Key has definitely changed things and we now feel like we're part of a community. The Fernweh can make a contribution to the exciting musical landscape that has sprung out of Liverpool over the years.
Getintothis: You have an album sampler online but can we now expect a full release soon?
The Fernweh (NC): Summer 2018, the news will be with everyone in the coming weeks.
Getintothis: Can we expect any more live dates in the near future?
The Fernweh (NC): Absolutely, we're ready to go. Watch this space.
Comments
comments