This Is The Kit return to Liverpool and Getintothis' Rick Leach found them a perfect cure for the mid-January blues.
The third Monday in January is supposed to be the most depressing day of the year.
Blue Monday.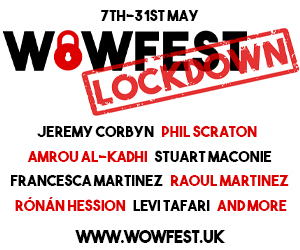 It's the day when everyone is gloomy and miserable. Christmas is well and truly over. The weather is grim, the nights are dark and winter seems to have stretched on for ages. Summer seems a long time away.
What is needed is something to lift the spirits, something to chase those January blues away.
And we got that as This Is The Kit returned to Liverpool and Leaf again, just over 12 months since they were last here and with a critically acclaimed new album, Moonshine Freeze, under their belts.
Moonshine Freeze not only made Rough Trade's Album of the Week upon its release but also pitted highly in many end of year album lists, Getintothis' included.
As a measure of how highly thought of This Is The Kit are and well new album was received, the gig at Leaf was sold out very quickly when it was announced just before Christmas.
There was definitely an air of anticipation among the lucky ticket holders. It was ram packed from the very start and we were all expecting some great music from a band that are really hitting their stride at the moment.
This Is The Kit's Moonshine Freeze made our Top 100 Albums of 2017- see the rest here!  
We were not to be disappointed.
Although Kate Stables is the mainstay and driving force of This Is The Kit and it could be argued that they are a solo act in all but name that would be wrong.
While This Is The Kit as a band are somewhat of a moveable feast that swirls around Stables, with shifting personnel for live gigs and recording, at Leaf they were a team that were more than a sum of their parts.
With the touring band including Rozi Plain on bass, Neil Smith on lead guitar and James Whitby Cole on drums, alongside Emma Gatrill (more of her later) and Marcus Hamblett on brass they are the definition of a tight unit. They treated us to a selection of songs from Moonshine Freeze and Bashed Out as well alongside a few older tunes and it was clear this is a combination of musicians that work so well together.
There's something special about This Is the Kit and how they react with an audience. This doesn't happen that often. But when it does, the connection just feels right.
It's that sort of shared connection, that shared experience, that rarely felt blurring of boundaries, that sense of togetherness.
This Is The Kit didn't need to win anyone over or convince doubters; they didn't need to get us in the palm of their hands. We were there from the get-go.
What they, and specifically Kate Stables, do is "quite naturally and without affectation" is chat with us and not to us, a telling difference and an important distinction.
There were stories of cancelled ferry trips, swanky valves in amps that didn't work, the fact that Stables has never seen Titanic and more.
But all that jabber would have meant nothing if the music doesn't work.
Stables and the rest of the band have now built up such a collection of tunes that they can construct a perfectly balanced set, from quiet and introspective moments to tunes that quite remarkably rock. (It does seem a bit odd to be writing that This Is the Kit "rock"-but they do!).
Earthquake, in particular shows echoes of Tinariwen, rolling and rolling ever onwards and Moonshine Freeze is underpinned with almost funky and lolloping bass from Rozi Plain. Lead guitarist Neil Smith  plays with such tumbling and intense ferocity at times that jaws dropped collectively and he deservedly won a round of applause in his own right at the end of one solo. The brass interjections from Emma Gatrill and Marcus Hamblett added a sharpness and cutting edge to it all.
Speaking of Emma Gatrill, her opening slot accompanied by Hamblett on guitar, warmed things up very nicely with a short 30 minute set on harp and synth, including a delicate and fragile cover of Bjork's Hyperballad. She went down very well and is well worth investigating further. She certainly won a few new fans over at Leaf, including us at Getintothis.
Of course, This Is The Kit ended their set to rapturous applause and seemed genuinely blown away by the reception they got. We weren't surprised one iota. It's only the start of January and everyone that was there may have already seen their gig of the year.
Blue Monday? Not a chance. This Is The Kit turned all those frowns upside down.
Images by Getintothis' Peter Goodbody
Comments
comments