With a new year upon us here's Getintothis' Sinéad Nunes with the first edition of our Arts Diary for 2018 packed with top stuff just for you.
2018 marks ten years since Liverpool celebrated its status as European Capital of Culture.
A decade later, we've voted for Brexit and lost a future of European funding for the arts, but its not all doom and gloom; this week Culture Liverpool began to announce some of the big productions, festivals and events happening this year, proving that no matter the circumstances, Liverpool will always be a top destination for all things creative.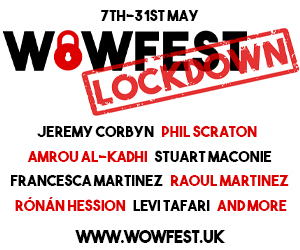 This year, Liverpool Biennial 2018, entitled Beautiful World, Where Are You? is one of the highlights that lie ahead of us.
A celebration of 20 years of the UK's biggest festival of contemporary art, this year sees the Biennial consider a world in turmoil, assessing where we are politically, socially and economically, and asks artists and audiences to assess what this means for our future. Look out for the full list of artists to be announced in the coming months, and a programme spanning the city's most interesting spaces and places.
More immediately, here's our top picks for the next 6 weeks…
The Pier Head – Tom Wood
12 January – 25 March, Open Eye Gallery, FREE
Selected from thousands of rolls of film, Open Eye Gallery present an exhibition of photographs taken throughout the 70s and 80s on the Mersey Ferry.
Whether riding the waves or waiting for the next boat, Tom Wood turned his camera on commuters, families and groups of friends, capturing young and old making the everyday journey across the river. Chronicling over a decade's worth of faces, frustrations, fads and fashion, these images capture the lives of ordinary working Liverpudlians at a time when this style of documentary photography was far less common. Maybe you'll recognise someone you know?

Larry Achiampong, Statement: Relic Traveller
15 – 21 January, 10am – 4.50pm, Tate Liverpool, FREE
Artist Larry Achiampong combines linguistic threads and an original synth-based soundtrack with open cinematic landscapes in this beautiful new film work.
The titular Relic Traveller moves across a desolate but familiar UK landscape, uncovering fragments of audible data as if they were clues to a forgotten empire. Exploring postcolonial perspectives and narratives of migration, Achiampong, who has previously worked with FACT and the FPS game Grand Theft Auto to create immersive narrative works, here uses technology in an innovative and refreshing new way.
Working towards Safer Spaces: Panel Discussion
Wednesday 17 January, 8pm – 9.30pm, FACT, FREE, booking required via Eventbrite
At a time when "safe space" is in danger of becoming a buzzword, and losing its meaning, Liverpool-based music producer Jon Davies (a.k.a Kepla) chairs this panel discussion which aims to create a framework to share with cultural activists across the North West arts scene and beyond.
An opportunity to shares ideas on what makes a safe space, and how we can empower each other to make spaces of expression, creativity, dialogue and joy, the panel includes Tayyab Amin (FACT magazine, Dazed Digital, Come Thru), Michelle Houlston (Grrrl Power) David Jones (Alec Tronik) Sumuyya Khader (Granby Workshop), Shona Paisley (Singer and promoter), and Saad Shaffi (24 Kitchen Street).
Screenings by The Kinematic Film Club
18 January & 15 February, 7pm, MAKE Liverpool, ticket prices vary (memberships available)
Now that Liverpool has lost the much beloved Small Cinema (thanks to endless capitalist redevelopment in the city), its time to welcome a new hub of independent cinema.
Taking place on the third Thursday of every month, The Kinematic, based at MAKE Liverpool in the North Docks offers something different to your usual Odeon fare.
With each event servng up a classic or cult film, this friendly arts collective promise to make every event that bit special. Coming up in January is The Thing, with a surprise screening to be announced in February.
Michela Pelusio: SpaceTime Helix
20 January, 8pm The Lowry, £14.50
Performance combines mesmerising visuals with modular electronic sound by Stratos Bichakis and artist Michela Pelusio conjures a dynamic, transparent, spinning helix wave on stage using her self-designed opto-acoustic instrument.
Exploring frequencies, geometry, sonic visions and perceptions, Pelusio's live kinetic sculpture bends light, matter and sound to create a totally hypnotic and unique experience for the audience.
China's First Emperor and the Terracotta Warriors
9 February – 28 October, World Museum, £14.50 / £13.00 concessions
If the idea of a these ancient, mystifying life-sized models coming to Liverpool doesn't fill you with a sense of childlike wonder and excitement then stop reading and have another rich tea biscuit.
Discovered in 1974, guarding the tomb of China's First Emperor, Qin Shi Huang, these 2000 year old artefacts inspired a whole new area of research for archaeologists and historians. The exhibition includes artefacts spanning 1000 years of ancient Chinese history, exploring everything from the everyday life of a citizen, to the emperor's pursuit for immortality.
This is the first time many of these precious objects have been shown in the UK, making this a must-see show.
The Vagina Monologues
24 February, 8pm, Unity Theatre, £8
What more fitting way to raise awareness about the campaign to end violence against women, than a special edition of this episodic play.
Written by Eve Ensler, the off-Broadway show delves into consensual and nonconsensual sexual experiences, body image, genital mutilation, direct and indirect encounters with reproduction, sex work, and several other topics through the eyes of women with various ages, races, sexualities, and other differences.
Performed by Unity community members, this performance is part of VDay, a global non-profit movement that has raised millions of pounds for groups working to end violence against women and girls. Proceeds go to refugee women's charity MRANG.
Comments
comments