80s prog rock favourites Marillion played Liverpool's Philharmonic Hall and Getintothis' Lauren Wise was there to witness a sold out show of serious cult following. 
To many it may be surprising that
Marillion
 are still touring. It certainly was to the gentleman who asked who was playing at the Philharmonic, then proceeding to shout '
Fuckin' hell are they still going?'
after being told.
Their near-40 year career has seen them put out an impressive eighteen albums with 15 million sold worldwide, meaning there's an epic back catalogue to flick through when choosing a set list.
While we wait to hear what will be chosen, it's a chance for
Roxanne de Bastion
to hobble up to the mic with her crutch and broken ankle.
Compared to the vast array of instruments that litter the space, Roxanne offers a contrasting simplicity as a support act – even performing one song a cappella.
Against the backdrop of an intimidating-looking drum kit, she performs some easy-listening songs with slight nods to the 60s, giving the Berlin-raised singer/songwriter a humble aura.
The theme of change runs throughout her set as she talks about the fear of history repeating itself. As an example, she educates us on the recent protests against the tearing down of the final stretch of the Berlin wall, to make way for luxury hotels. It's clear not all change is for the best.
Highlights of her set include Wasteland and Thicker Skin, both lullingly poetic despite their indicative lyrics.
Courtney Barnett announces new album info, UK tour and Record Store Day release
Prior to Marillion's set, we're greeted by a crew member who begins to give us a short prelude to the set, asking everyone to respectfully keep mobile phones in their pockets. It's at this point that the cult following comes into play, as the majority of people present seem to have seen Marillion perform within the last six months – quite impressive since tickets aren't exactly cheap.
After we've had our briefing about Marillion gig etiquette, the five-piece themselves take to the stage.
They immediately launch into one of their notably prog rock tunes, encompassing all the characteristics of 80s rock with its softening piano base leading up to its excessive drumming swells and guitar screeches.
The lighting and video for the show deserves its own review, with simplistic videos that focus on wider stories and dramatic and effective lighting that knits neatly into the musical performance.
Soon it's time to have a chat, and after just the one sentence of 'It's nice to be in Liverpool' the first heckle of the evening comes tumbling out of the audience – 'IT'S ABOUT FUCKING TIME'. Clearly the Marillion masses were keen for them to make an appearance in the city.  The heckling opens up the floor for Liverpool jokes, after which lead singer Steve Hogarth affirms, 'We love this city.'
As Marillion continue to delve into their hefty back catalogue of songs it's clear that having thrived as a progressive rock band for the past 40 years their musical talent has only grown.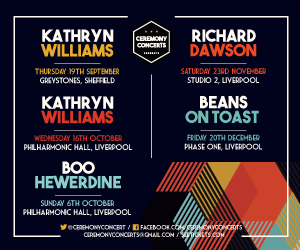 It's also touching to see that it's not just the fans present who would have been there to witness their initial rise to fame, but the next generation too.  Many of the parents (mostly dads) had brought the kids (mostly sons) to the show, clearly sharing a special nostalgic family moment that will no doubt have been a part of their growing up.
This 'global family' of Marillion's is famous for having crowdfunded a whole US and supported them in crowdfunding their website and their own record label. This feeling of warmth is continually felt throughout the night, not only in the cries of "We love you" but with each enthusiastic handclap and mid-song standing ovation.
Some of the highlights of the set include Leavers, The Great Escape and one of their more recent releases Living in FEAR.
So Marillion are not just still going, they're still going strong.
Images by Getintothis' Kevin Barrett
Comments
comments