Beija Flo takes the Getintothis 13 Questions challenge and tells us about immortality, not having a vagina and voodoo dolls of Harry Styles.
Beija Flo produces music that is almost confessional, deeply personal but manages to find a cheeky, mischievous side, pushing at boundaries with her music and her themes seemingly on purpose to test or tease the listener.
Her music and tales can take listeners on a strange journey, telling stories with an incredible power and energy, no matter how laid back the vibe and how quiet the room. Each song contains its own cinematic dramas, complete with its own cast of characters, a quirky director and a brave colourist. The ability to deliver each piece in its own individual style is a joy to behold.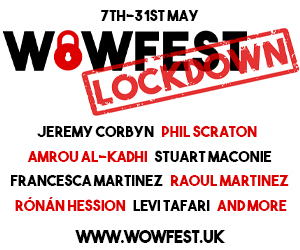 Raw, emotionally-filled melodies meet cabaret burlesque, with sad core doom pop in a immersive and impressive performance, as we can hear on her debut One of Those Things.
If you are intrigued by all of this, you may want to check out Beija Flo at Sound City, when they play Hangar 34 this Sunday, 2.00am.
Getintothis caught up with Beija Flo and subjected her to our latest bout of 13 Questions. The brave of heart can read on.. But you may want to sit down first.
Where are you and what are you doing?
I landed in Essex on Earth in the late 1800's. I've taken up several human vessels but this one has been the best for saving the human beans so far. Alongside saving Earth I've been studying witchery.
What is your favourite film?
'Mon Oncle' by Jacques Tati, obviously.
What makes you frustrated?
Not having a vagina.
Recommend one band or album that you think we should check out?
CXLT (or C*LT), they're new video for WHATS YOUR BBM is bleeding with obscenity. They're fresh, taste good and, of course, in my pocket.
What's your first memory?
The big bang.
What would be your final meal if you were on deathrow?
I'm going to live forever so it's irrelevant, but for fun's sake: Kiwano melon
What was the first gig you went to?
Me Da likes to do a bit of a reccie every time we arrive somewhere new, so we went to Russia in the 60s (19th Century), and we stumbled upon this Tchaikovsky concert which absolutely blew us all away! But in this body – which I haven't had for that long – I was with my parents again and we went to see Kate Tempest and The King Blues support Billy Bragg in Cambridge.
Where did you last go on holiday?
Me and my Mam visited this lovely moon near where we're from on Mars.
Tell us a secret…
I mean it's not a huge secret, but I actually taught Jamie Oliver how to cook.
Vinyl, CD, MP3 or Streaming?
All of them at once.
What's your favourite season and why?
Autumn because all the leaves fall off the trees, it's reassuring to know I'm not the only one fucking falling apart.
Do you have any pre-gig superstitions?
I have to stick needles into a One Direction doll (Harry's) because where I'm from, we believe this will placate the gods of rock and roll who will reward you with a great performance.
Do you have anything else to declare?
I have fifty fags and two bottles of gin in my carry on.
Beija Flo play Liverpool Sound City, Hangar 34, Sunday morning at 2.00am
Comments
comments