Neon Waltz have enjoyed a great last 12 months and lead singer Jordan Shearer chats with Getintothis' Amos Wynn about what is coming up for the band.
With their debut album released, some big support slots under their belt and a list of festivals booked for the summer; the band are now firmly looking towards the future.
Shearer believes that first album, Strange Hymns, was 'a long time coming' and a 'big relief' to release it. After first being signed in 2015, several fallings out with their record label led to the album being delayed.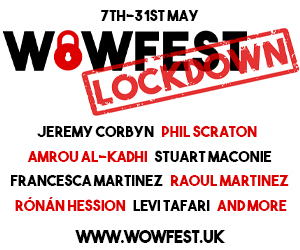 Despite that Neon Waltz's singer says, "I wouldn't change a thing because we ended up with the album we actually wanted."
"You only get one shot at making your first album, so we wanted to do it on our terms, the way it was done was perfect for us. It would've been our worst nightmare if we released it and it became big, then we all hated it."
Shearer describes signing with a big label as 'quite risky,' and admits "I don't know how aware we were of that at the time, we had been doing it as a hobby and never had anything like that before."
Coming from near Wick, high up in the north of Scotland, Shearer believes it can have it's 'drawbacks,' due to the lack of a music scene around them.
Despite this he still feels "the good points outweigh the bad, it has been good for us because we are unique and are not trying to sound like anyone else. Personally, I don't think it has a direct influence on our music but subconsciously it does."
The feedback to the album from the local community has "all been really positive."
"Because we are so isolated from everywhere else, everyone here knows who we are, which is quite cool. Some people think we are really famous, which isn't the case at all. People only ever really have nice things to say."
Not quite everyone is a fan of the album, with Shearer telling a story of a guy in Wick who always comes up to him and says, 'it's not my thing I think it's sh**e.'
Shearer jokes "every time he sees me he says the same thing, I'm like 'I know you don't f***ing like it.'
The singer does admit, "it is quite nice someone saying they don't like it as it's a change from everyone else who is being dead nice."
Since forming, the band have worked hard to expand their fan base. "It has now spread further South, we have good followings in Glasgow, Edinburgh and Aberdeen."
As well as this the band have also played some big shows across the whole UK.
The biggest show the band has done is supporting Noel Gallagher in Manchester, which Shearer describes as 'surreal.' They also supported the likes of the Sherlocks and Milburn.
"You sort of have to realise everyone who is there don't want to see you but want to see the main act, but it is good to play in front of a huge crowd."
He believes supporting others hasn't taught them anything in terms of the way they should set up, but "as strange as it sounds the main thing we have learnt is how to interact with people."
"Me and Kevin will go and sell merch after the gig, and it really means a lot to fans to meet a band and to get photos taken. We could easily take someone on tour to sell merch, but we don't because fans are delighted to speak to us."
It is clear that the Neon Waltz singer certainly has a passion for touring.
"There are certain places that are always really good for us. For some reason Middlesbrough is a magical place to play. It was fucking mental when we went there, people were singing along to songs that haven't been out long; we weren't expecting it at all.They must have really good promoters who trying to build something."
Another place he enjoys playing is King Tuts in Glasgow, "it's hard to pick one specifically but it is probably the best venue we have played, they always go fucking mental for us."
Earlier on this year, the band enjoyed one of their longest tours.
"It was quality, usually we only do two-week stints but this time we did two supporting The Sherlocks then another three on our own. It was by far the best tour we have done, the gigs were rammed and we weren't expecting it all."
Shearer says it is 'strange' thinking back to the first couple of days of a tour at the end, "it feels like a fucking year ago, you have to adapt for it, but I think I prefer it."
The hopes for tours going forward is "to get out of the UK at some point."
"We've played in Europe once before, in Amsterdam, but we are pretty keen to tick a European tour of the bucket list. We've done most UK cities three or four times, so it would be good to get away."
For this summer one of the bands main aims will be playing festivals across the country.
One of the first up is Liverpool Sound City, which Shearer describes as 'a brilliant festival' and notes he has 'good memories' from previous appearances.
"Liverpool is a city that has taken to us really well, we've got a lot of friends there, so I hope to bump into a few.'
They will also appear in Glasgow for one, "it'll be really good, as it's nice to appear on home soil.Festivals are a great way of winning more fans, you definitely recognise a growth. They are just great to do, as you play for half an hour then just enjoy yourself and try not to make too much of a twat of yourself by getting drunk."
Shearer and band mates, Jamie Swanson, Kevin Swanson, Calvin Wilson, Liam Whittles and Darren Coghill have all been in bands from early ages.
"We've played in each other's bands since we were twelve, and at some point, it has shifted from us doing covers to getting together and writing. It was never an official thing, it just sort of happened."
During their time at high school Shearer says, "we were the musicy dudes. We all got into bands like The Coral, The Libertines and The Strokes, then that opens your eyes to other stuff. I wouldn't say there is any specific bands we wanted to sound like, we take little bits from numerous bands."
The front man does admit with six of them there can be 'difficulties' when everyone has a different opinion but believes when everyone compromises it 'works out for the best.'
"There'll be two of us who hates a chorus, two of us who loves it, and two that don't care. Sometimes we leave it to whoever originally wrote it as it is their vision. We are best mates, so no one gets offended if we say we don't like something."
He also adds "it is not just one vision, it is six different head with different tastes, so it is hard to pin-point one thing, but we do agree on a few."
Once the band started to put their songs online, interest began to grow.
"When people started ringing us from London, we knew we had something here and that it had to be the number one priority."
Despite the interest, at that point the band were still to decide on a name.
"We ended up with a list of 700 names that no one could agree on. There was two on the list above each other, one had the word Neon; the other had the word Waltz. I wish I had a better story to tell but them two just fitted nicely. I do think it suits our band and is one of those things you need to get right because you're stuck with it for a long time."
He also believes, "the reason good bands have good names is because they're associated with good music that they produce."
After studying film at University, Shearer makes the music videos for both Neon Waltz and other bands.
"I was quite lucky that I got my degree before all these record labels wanted us, because I don't know what I would've done."
The bands aim for the next few months is to get their second album sorted.
"Darren has just had a kid, so we haven't done much writing recently, occasionally some things come before music, only for a week though."
Shearer is hoping that the album can be recorded by the end of this year but knows from his experiences with the first album that time frames can change.
"The first one got held back with arguments, but now we are working with people who get us there won't be any of those problems."
The eagerness to release the new album is down to playing a lot of the same songs for a lot of the last four years.
"Because it took so long for the last album to come out we have a massive back catalogue of songs as well as the ones we are writing now, which we want to show people."
The vocalist also admits, "we are well aware there needs to be a progression, that's the way we've always wanted to do it as the new album can't sound exactly the same."
With a second album and a European tour on the tick list for the next 12 months, Shearer says "I don't want to aim too high because I will just end up disappointing myself."
But with the success so far, Neon Waltz can allow themselves to be dreamers.
Comments
comments