Desperate to get away from Eurovision, Getintothis' David Hall took off into Liverpool to catch Pinkshinyultrablast.
Russian trio Pinkshinyultrablast are a band that you can't quite pin down to one genre. Google their name and you'll see them classified most often as shoegaze, but they're certainly no My Bloody Valentine soundalike.
Singer Lyubov's vocals might be pure Cocteau Twins, but the droning bass, cascading synths and swooshing, scuzzed guitars are pure dream pop. Add in skittering, restless beats and you've got Russian shoegaze electro dream pop. Are we clear? No? Good.
In support at the Shipping Forecast, Pale Rider first set up their evil groove. Vocalist Ben Russell leering from the stage while over hypnotic psychedelic basslines and spades of guitar noise, a paired down drum kit was thrashed rudimentarily.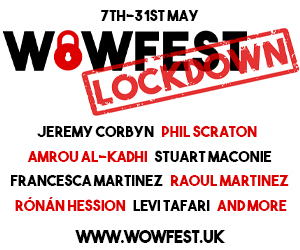 When Louis Dutton's bass riffs reach payoff and drummer Sophie Thompson kicks guitarist Fran Codman into high gear, does any other band in town get quite so carried away by the noise they create? Probably not. A densely populated Shipping Forecast crowded around the stage to catch their set as if Pale Rider were telling an engrossing story, and to an extent they were.
Next Newcastle duo Warm Digits also impressed hugely, playing all-encompassing, mostly instrumental space rock. With a Horrors tinge of psychedelia in their insistent krautrock basslines, addictive auto-tuned vocal samples (The Rumble and The Tremor) wafted over their electronica-tinged rock.
Jacaranda Liverpool reveal new Seel Street music venue and record shop
It sounded like the Tomorrow's World theme tune as played through the loudhailers of a fleet of invading alien spacecraft. We're not sure what kind of Rick and Morty-esque death disco they were trying to plug by closing with the title track of their recent album Wireless World. But Liverpool loved it.
The drumkit was cleared away, and some time later a glitchy trip hop intro sounded out, as we dove headlong into candyfloss fuzz for Pinkshinyultrablast. While their older material is certainly shoegaze influenced, their most recent work – like new album Miserable Miracles – is far more characterised by trancey keyboards and choral synth stings.
So it proved in the Shipping Forecast, with tracks like Dance AM sounding like Chvrches played in a 15th century abbey, the synth reverberating like ghosts, the echoing beats all decaying like pulsars. It was the most packed we've seen the Shipping Forecast in ages, and the crowd clamoured and craned to get a view of the trio.
The synths bubbled and the bass pulsed across frenetic beats, all frothing beneath Lyubov's vowel-dominated, chanted vocal. Reminiscent of M83 at their most blissful and ketted up, tracks like Triangles were like waterfalls of melting glass, and the audience were entranced. Some of the crowd seemed lost in euphoric bliss by the end.
If there's a criticism to level at Pinkshinyultrablast, it's that a lot of the songs all melded into one. That just prolonged the dream-like state they had the audience in, but we accept that it might not be everybody's cup of Russian tea.
There were no stage invasions however, so we suppose Eurovision had this gig beat in that regard.
Photos by Getintothis' Tom Adam
Comments
comments