Following the news that Constellations is to close, Independents Biennial's Laura Brown muses on the need for permanent spaces for Liverpool's creative community.
This week I have mostly been covered in muck. Dusting, cleaning and getting a grand old space ready for public view. The Independents Biennial, sister festival to Liverpool Biennial, celebrates the city region's emerging, established and grassroots art and artists. Of the 70 locations we're exhibiting in, one is the old George Henry Lee's building in Liverpool city centre.
I'm sitting in the basement right now, on one of the seats we're using for our pop up cinema with Empty Spaces Cinema, I can hear one of the lifts pinging, and artists sweeping and hammering upstairs getting ready to open. A lot of people have been incredibly generous with both their time and energy for us to even be in here. We are always grateful because the space for independents is so scarce.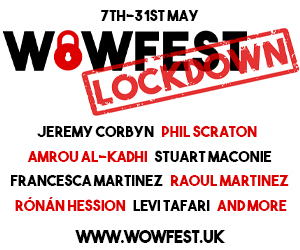 It is always a blow when you hear of a venue closing. Constellations is an Independents Biennial venue, hosting an exhibition by Disparity Collective. Another Baltic Triangle development munches and crunches its way through the city's creative life. Both Becky (Wild) and Nick (Baskerville) have been extraordinarily supportive of Liverpool's creative community, particularly that community based in Baltic, since before they opened. I have no doubt they'll continue to be their awesome selves and create more incredible spaces, like Hinterlands in Northern Lights.
Cities change. They have to to survive. And we look with enthusiasm towards the Fabric District, towards Ten Streets and whatever spaces these communities might have for artists and creatives.
It's not lost on me, though, that I'm sitting in an Empty Spaces pop up cinema in the basement of an old department store, set up by volunteers of Liverpool Small CInema, closed to make way for the Dixie Dean Hotel. It's not lost on me that once Gostins artist studios close, and once Road studios go on Victoria Street there will be few studios left for artists in Liverpool city centre, spaces that are permanent, affordable and accessible.
I talked to some of the artists we have at the Independents to see what they thought. Liverpool is amazing, they said, the collectives that have come from outside of the city. Claire Griffiths from Disparity Collective says the city has been supportive and helpful. Same with Unio Collective – print and photography exhibitions often present an interesting challenge as you need plenty of wall space with good light. For the younger artists – we're exhibiting work from the graduate award exhibitions at Liverpool Hope University, Jessica Rowlands said there's not much in terms of studio space, and we need more in the city centre. Too right.
Manchester promoters Now Wave to open new venue YES in September
The artists working above me in George Henry Lee's are both established and emerging. But I'm conscious we're on a meanwhile lease here. This space isn't permanent. Soon it'll be a luxury hotel. I suppose some corporate PR somewhere will send out a press release at some point saying the art on the restaurant walls is by a Liverpool artist, or that the art in the rooms is. It's more likely, though, that this is the last time any of these artists will exhibit in this building. One last hurrah in one of Liverpool's grandest old buildings before the developers take it over.
We need more than meanwhile. We need more than a bit here and a bit there. Our creative communities are sofa surfing. It's hard to build roots when you spend a lot of time deciding whether a space is inhabitable, whether it's safe, accessible, how much work you need to do to it.
This isn't new. I'm into my third postcode that's been pitched as a permanent home for Liverpool's creative community. I've had all the commitments, all the assurances. I've listened to all the bluster. Developers always win because we're not on permanent spaces, and we're way, way down the pecking order. We can be turfed out at a moment's notice. That's the terms, those are the breaks.
You get used to locking up one last time. You get used to wistfully walking past spaces that once you could get into but are now for someone else. Your personal history is interwoven into these old spaces and you get to be part of the story of the streets, The narrative of the city's history. You get used to saying goodbye.
That doesn't mean you don't lose something every time. We have so few spaces for independent artists. We have fewer people studying art. You wonder, sometimes, is this it, is this the last one. We are physically running out of space, being pushed further and further towards the cliff edge. Sure, the city can buy in all the creativity it wants. It can ship in artists from all over the world. But if we're going to talk about our engineers having a chance to work their way from a flat in Wavertree to the top of their profession at Jaguar Land Rover in Halewood, then we should be able to offer our artists the same opportunity.
Developers could do so much more. We know what animating ground floors does to high streets, artists are not short on colourful, eye catching material (take a walk down Basnett Street and check out the exhibition in the window of George Henry Lee's to see what I mean, nicer than dusty empty shop windows, isn't it?). We need studio space, we need support, and not just self appointed arbiters who are as flighty as the spaces themselves, but real, solid foundations of support. Give us buildings, sign the leases over. What, do we still need to explain to you, here, in Liverpool, the economic impact of culture and creativity?
As we lose physical space we lose visibility. Can you still see us?
Comments
comments