The Orb have announced a UK tour in support of their triumphant new album and Getintothis' Banjo has the details.
The Orb have announced a host of UK tour dates, featuring Liverpool's very own Invisible Wind Factory.
The band, compromising 20 musicians, will be coming to the city on 18 October, featuring support from fellow dance veterans System 7. The tour promises to be a 'Greatest Hits' set, as well as featuring music from the new album.
All of this points to a seemingly revitalised Orb – the dancier tracks they have just released and the chance to hear their enviable catalogue of songs seem like populist moves. This can only be a good thing, as The Orb's expansive vision is better suited to larger venues and bigger canvasses.
The prospect of once again hearing the likes of Towers of Dub, Star 6 and 7, 8, 9 and Blue Room pouring out of the Invisible Wind Factory's PA seem like far too good an opportunity to pass up.  This could well be one of the highlights of the year, especially considering it is almost 30 years since they first started playing together.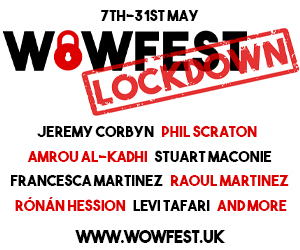 The Orb have been in and out of favour over the years.
The Orb's cracked majesty – Adventures Beyond the Ultraworld at 25
But through it all, their commitment to the cause of furthering ambient music has been unwavering.  Although here the term 'ambient' doesn't quite capture The Orb's sound in all it's glory. For every blissed out soundscape they create there is a dub heavy groove or a dance-friendly beat to go with it. Live, they can squarely take aim at the feet as much as the mind of their audience.
New album No Sounds are Out of Bounds is a case in point. Opening track The End of the End is as catchy and dancefloor friendly as anything they have ever done, a slice of beautiful pop music. But by track 2, Wish I had a Dog, we are back on more familiar territory with an ethnic tinged dub epic. Track 3, Rush Hill Road, echoes their classic Toxygene track with another floor filler.
It is this straddling of genres that is The Orb's strength. They are free to flit across the spectrum of dance music as their whims take them, refusing to be pigeonholed as one thing or another. The same thing has, at times, proved their undoing, as they can be accused of having lost focus now and again.
But once again, they are undoubtedly going through something of a purple patch. The last time I was lucky enough to catch them live was at last year's Glastonbury, where they played the Glade Stage on Thursday evening. They were the first and, to these ears, the best band I managed to catch all weekend.
Full tour dates are:
Cardiff Tramshed, October 11
Bristol SWX, October 12
Newcastle Riverside, October 13
Liverpool Invisible Wind Factory, October 18
Brighton Concorde 2, October 19
Sheffield O2 Academy, October 20
Comments
comments