An audio visual experience from a true pioneer, Getintothis' Martin Hewitt enjoyed John Carpenter in Manchester.
Visceral, gore-filled and packed with pulp-fiction cool, the cinematic oeuvre of John Carpenter has always been well-suited to re-appropriation by wider pop culture. Landmarks of popcorn art, you don't necessarily need to know the ins and outs of the individual narratives to appreciate his stylised aesthetics and iconic moments.
The moving pictures certainly lend themselves to the music video-esque format their creator has opted to use them in for tonight. Every theme plays out to a selection of clips from the original flick, shown on a huge projector behind the stage. Casting an eye around a packed Albert Hall invokes forgotten movie theatres of days gone by. Places where film was presented as an almost-religious experience, the detailed fixtures and fittings of those venues a stark and enviable contrast to today's multiplex eyesores.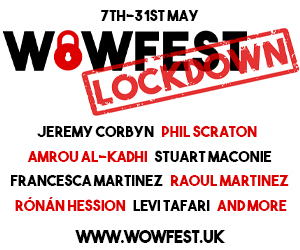 The idea of Carpenter as a live performer might be slightly jarring to some, despite the fact he's been penning scores since 1974's Dark Star – his first major feature – saw the maestro become an early synth pioneer. Perhaps it's down to the fact many of his talkies were considered critical and commercial failures upon initial release.
Written off as bullish trash by the press and academia, the accompanying compositions were similarly overlooked by many. It's therefore fitting that people now pay to hear these soundtracks when the 'flops' that gave birth to them have long since been re-appraised, and are now regarded as genuine cult classics worthy of in-depth study and research.
Over the course of the evening we're treated to almost all the big guns. Assault On Precinct 13's proto-electro is a major highlight, a tune that was so fresh at the time it was made, 1976, 28 years later experimental acts were still crafting re-edits. The honky blues-inspired Welcome To LA, AKA that guitar and harmonica bit from They Live, is set to some of the film's most challenging and thought-provoking messages about conformity. At a time when rich-poor divides widen and the political situation in the US and UK alike resemble silent coups, these statements ring truer than ever.
Dysgeusia Halloween Special – Video Nasties lay bare their horror influences and pick their favourite John Carpenter movies
Over the course of the evening we wander into Halloween territory, some in the crowd donning Michael Myers masks in tribute to the timeless slasher outing. Village of The Damned, Big Trouble In Little China, and Escape From New York also hit the big screen.
Looking away from the visuals to focus solely on the instrumentation, though, offers proof of the prowess in both musical delivery and original conception. As does the evening's segment dedicated to Carpenter's albums of original material— Lost Themes and Lost Themes II, the latter's LP opener, Vortex, arguably the highlight.
As strange and surreal an experience as it is accomplished and unforgettable, autumn 2018 marks Carpenter's second UK tour as frontman on-the-road. It's hard to imagine the set lists from 2016 differing much from this one.
And some might even consider the movie montages that accompany each tune another sign this undertaking lacks serious clout. But then they would be missing the point.
As an outsider artist who has never strayed off a path that alienated him from high brow cinephile culture, despite being one of the finest and most innovative directors the 20th Century gave us, indulging dedicated fans has aways been his priority. Tonight, then, is a triumph.
Images by Getintothis' Jack Kerwin
Comments
comments