Warmduscher are teasing with a heavy set in The Shipping Forecast and Getintothis' Peter Goodbody is refusing to make eye contact with a band who deserve a bigger stage.
'Tuesday is my favourite day of the motherfucking week. Give it up Liverpool!'
Of course, none of this is true. Warmduscher masters of swerve.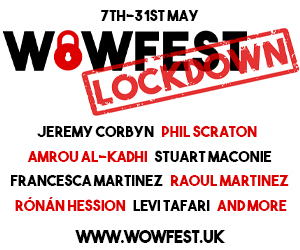 According to the flier on the merch stand, you can have a free T-shirt if you maintain eye contact with Dr Withers for 5 minutes. We didn't even begin to think that was a good idea, such is the lack of energy and angst he exudes. It's not a fair challenge and we weren't falling for it. He was wearing Aviators as well. We call foul.
We saw Warmduscher in the summer at Bluedot Festival. That was in a pretty big tent and an audience of, maybe 1,000 people, poked their heads in to sample the Birthday Party – esque jangly guitars and tricky rhythms of these post punk / jazz alloys.
Tonight in the Shipping Forecast would be a very different proposition. With a capacity of about 150 down in the basement ("The Hold") and a stage that's only about 6" higher than the rest of the room we were expecting to need seriously sharp elbows to get our photos, let alone see what was going on.
Local heads Yammerer start the night off as a three piece, then four, then five at about the halfway point of their first number as the band decides to saunter on stage seemingly at random, or when the mood grabs them.
Once they're all present, however, we get a short, but really enjoyable psych set full of feedback and reverb. And a fair few have turned up early specifically to see this lot (we know because some people told us that). They reminded us of a kind of angry War On Drugs with a rougher edge. And we mean that in a good way.
There was proper appreciation from the audience at the end of their set. Their share price rose appreciably tonight and we'll deffo be back for more.
Dave McCabe's now not so new project, Silent K, provide the evening's sandwich filling for which, perhaps, surprisingly, they don't get quite as many people in the room as did Yammerer. That's a pity because this Zutons 2.0 (yeah, we know that might sound a bit lazy, but it is true) is a fine band.
It's energetic pop / rock from people who know exactly what they're doing and how to do it. If the point needs proving then that was done by the numbers of people dancing in the room. Top quality.
Only niggle is the timings are a bit off by now, but they're forgiven as set closer Set A Date (preceded by a "Nice one Thom, thanks for having us", directed to tonight's gig promoter Harvest Sun) is a wicked cross of heavy guitars alternating with slower rhythms and back again. A great song.
Much as we don't fall for the T-shirt offer, we do fall for Warmduscher. The most motliest of crews take the stage and blow the roof off the basement in the Shipping Forecast (yeah, we know what we've just said).
For all of the reasons we reject the t-shirt scam, we buy into this band. Big time.
Withers takes to the stage wearing shades. He doesn't stare at people. Nobody got a free t-shirt. On the other hand, Clams Baker Jr has the biggest Stetson we've seen, at least this side of the Atlantic, and proceeds to shout at the Shipping Forecast for 40 minutes while the band grind and bash their feedback heavy, staccato rhythms to absolutely gripping effect.
The volume has been turned up too. It's an old trick, but to be fair it works. This is one of the most powerful gigs we've seen in such a small space. Warmduscher need bigger stages than this. Their sound is enormous. And just seemed to get bigger as the set went on.
You may have noticed Getintothis has been on a hiatus recently. This was an amazing wake up call after the break. And the contrast between seeing Warmduscher in a big tent in Cheshire compared with a sweaty basement in Liverpool is marked, but we know which one was better.
But, then again, none of this is true. It's an illusion.
The name of the band is an insult and a reference to a derogatory term in German to those who shun a cold shower in favour of something more comfortable, such as warm one. Tonight was a definite cold shower, but it left us feeling ready for the onslaught.
Images by Getintothis' Peter Goodbody
Comments
comments