Heaven 17 and Propaganda brought a night of 80s pop gloss to Liverpool and Getintothis' Banjo reports back from a brace of bands who can still deliver.
For many of us, the 80s were a golden age. Forget the stereotypes of big hair, puffball skirts and shoulder pads, this was a classic time for pop music.
New ideas took shape, the past was rejected and the future suddenly took shape before our eyes. And in among all this, pop music entered a golden age. Synth pop took hold and the likes of Depeche Mode, Soft Cell and New Order reshaped our world. And no one was more at the forefront of this than tonight's lineup of Heaven 17 and Propaganda.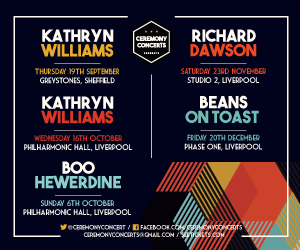 Although Propaganda had fewer big hits than tonight's headliners, it is a surprise to see them in a support slot.  Their A Secret Wish album is full of 80s polish and still remains an essential album for anybody wanting to scratch a little below the surface of the 80s mainstream.
The audience tonight certainly seem to know this, and despite the band coming on stage early, The Academy is filling up. By the time they finish the place is rammed. We don't remember the last time we saw this place so full for a support act, which is proof that there is still a huge amount of affection for them.
Starting with the combative Jewel, two things are quickly apparent. The first is that time has not dulled the edges of their razor sharp sound. But, second, their aloof, ice cold image has faded over the years. Claudia Brucken and Susanne Freytag now seem all too human where, previously, they used to seem above such things as having fun and engaging with an audience.
Part of the reason for this would seem to be down to the Liverpool audience, who greet every song with huge roars and swells of applause. The band seem almost taken aback by this level of affection and can only smile, genuinely pleased by the response they are getting.
Propaganda before heaven 17 in Liverpool tonight pic.twitter.com/pciExF7dGF

— Paul hegarty (@PaulPaulh147) November 24, 2018
Technology has finally caught up with Propaganda and they can reproduce the sounds of their debut album with ease. There are two Apple laptops stage front helping with this, which gives us to wonder how they managed to make such ultramodern music before all this kind of thing existed.
Brucken takes most of the vocals, leaving Freytag sometimes to look a little lost on stage. To help with this, she has a pair of syndrums to occupy her, although the suspicious side of us wonders if they are actually adding anything to the mix. Or if they're even plugged in!
Frozen Faces is a pure treat, still oozing Teutonic cool and Dr Mabuse provides the highlight of the entire evening, a classic single that never grows old.
They finish, quite neatly, with Duel, the counterpart of their opening number. Far too brief a set and far too good to be relegated to a support slot, we look forward to Propaganda returning soon as headliners.
Liverpool gig guide: Christine and the Queens, Pigs X 7, Courteeners, LUNA, Boy Azooga, Mark Sultan and more
Heaven 17 take to the stage and The Academy must surely now be at capacity; two such bands on a Saturday night being too much to resist. They play through The Luxury Gap album in its entirety, in order, meaning song number one is Crushed by the Wheels of Industry, a great start to a show by anybody's standards.
Again, the audience don't hold back in showing their feelings and Glen Gregory is visibly moved and surprised by this. 'I don't know why we bother playing anywhere fucking else other than Liverpool' he beams, smiling wide.
Each track played becomes a singalong and Gregory is amazed all over again that even the more obscure tracks are sang back to them. More huge cheers greet the close of each song; this is one of the loudest audiences this writer has ever been involved in.
Heaven 17 being boiled , brilliant classic, 😀😀😀😀😀at the 02 academy Liverpool tonight pic.twitter.com/AvdZmO1N7b

— Ged Morgan (@GedMorgan) November 24, 2018
Playing the songs in order means that Temptation is placed in the middle of the set rather than at the end, but the cheers it gets threatens to lift the roof off The Academy. Thankfully, Heaven 17 still have some Big Songs left to play.
Gregory is flanked on one side by Martyn Ware, who for some reason is wearing what appears to be a Dickensian Town Cryer's coat, and on the other by two female backing singers. In fact 'backing singers' is the wrong term to use, as they frequently steal the show and are indispensable to the Heaven 17 live experience.
Completing the line up is a multi instrumentalist, Berenice Scott, dressed in something approaching a saucy superhero costume. Again though, she is essential to what the band do, providing keyboards and more, along with Ware.
Again, technology has caught up with the band, although there are signs of a reluctance to change too much.  The sole laptop is relegated to the back of the stage and Berenice plays what must be one of the 80s oddest innovations, a Keytar.
Further evidence of this strange mix of techno luddite approach is demonstrated when they perform three early Human League songs, which Ware co wrote. Gregory tells us that they have brought along the actual synth that was used to record Being Boiled 40 years ago. The sounds it produces are still enough to shake the Academy's foundations and we are reminded of how futuristic it was hearing this kind of thing back in Eric's when Ware and the Human League first started out.
Again, the audience impress, this time by remembering the lyrics to Human League song A Crow and a Baby.  The crowd in tonight are no fair weather fans, but know their stuff.
Fascist Groove Thang still resonates, and is a reminder of when Heaven 17 had a naturally controversial streak running through them. The runout groove of the 12" of this record had 'better luck next time JHJ' scratched into it, a reference to John Hinckley Junior who attempted to assassinate Ronald Reagan.
Amazing concert by Heaven 17 tonight in Liverpool. They seemed to enjoy it as much as the crowd. pic.twitter.com/1MClttGCK9

— CK (@Monkeycat57) November 25, 2018
Finishing with Penthouse and Pavement, Heaven 17 leave the stage to unrestrained applause, the audience insisting on encores. The first song is a surprise, as Gregory briefly returns to his stint with Holy Holy, and plays Bowie's Lets Dance. There is a brief feeling of karaoke in the proceedings, but all concern is blown away as they play the extended 12" of Temptation to close the evening, to predictably massive cheers from the faithful audience.
Forget all aspects of nostalgia, this was simply a superb evening's entertainment, as the crowd tonight proved in spades. Well done Liverpool, you did yourself proud.
Images by Getintothis' Chris Flack and Banjo

Comments
comments