This week's round-up of the finest new sounds sees Getintothis' Mike Stanton feature some infectious post-disco, Polish ambient eeriness and Australian folk-psych rock.
Sounding all otherworldy and a slightly bit woozy, Vanity Fairy's Loverman could have been recorded on big tape spools in the mid 1970's and then locked in a garden shed and forgotten about, such is the throwback sound style on offer here.
Vanity Fairy is credited as Daisy, an electro-pop solo artist with a singular vision and an excellent ear for that late 70's soul/disco/electro vibe that would grace a late-night urban club as much as a house-party turntable. Loverman is a groovy, blissed-out synth treat and is the second teased single ahead of her debut EP Lust For Dust due for release in December. Already being featured on Radio One playlists, Loverman follows on from her debut single He Can Be Your Lady and builds on her heady blend of flickering, infectious post-disco stylings.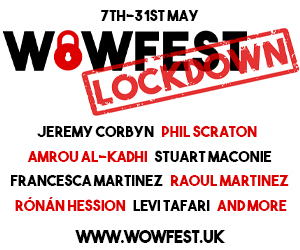 Eschewing a live band and choosing instead to perform solo, Vanity Fairy explains: "For me, every time you play live as an artist, you're kind of covering yourself anyway. Always chasing a version of that first moment of inspiration, or whatever, when you first come up with the idea for a song. I like the freedom of not having to play an instrument; it means I can really do the kind of moves I want to, and get down on my knees and so on if I'm feeling really emotional at a particular point in the set".
Loverman is out now.
A View of Wilderness is an album written by Polish composer Andrzej Nowak, recorded using a technique called "geolocational abstraction". Apparently this process consists of recording the component sounds in separate locations (in this case, cabins that measure two by two by three meters). The sounds are compared, layered and compiled until they coalesce. The choice of locations are deliberately chosen for possessing certain elements; smell, views from the window, fabrics present, ambient sounds, liminal space etc.
The result is an hypnotic collection of atonal oscillations, vibraphonic chimes and collapsing percussive pulses. Are these the sounds of matter shimmering and vibrating in the confined spaces in which they were created or the pressure of atoms exerted on the cabin's exteriors? Maybe both and perhaps neither. Ormusse poses these questions, having been channeled through an osmotic and meditative state of creation.
Odd, endearing and slightly eerie, Ormusse, is Radiophonic, resembling the early works of the BBC's now-closed electronic workshop. The spirit of Daphne Oram and Delia Derbyshire dwell in the percolating tape-bled spirals of sound and sparse textures of noise. Ormusse is spectral and experimental ambience that takes musique concrète beyond found sound concept and into tonal meditations.
Ormusse is from the album A View of Wilderness available on Mondoj Records.
Graduating from the same thriving scene as Aussie heavyweights Tame Impala and King Gizzard and the Wizard Lizard, Perth's latest export, Psychedelic Porn Crumpets, have released their latest single My Friend's A Liquid.
Here they up the hypnotic, folk-psych element and indulge in some alt-rock fuzziness. Jack McEwan (lead vocals, guitar), Luke Parish (guitar), Danny Caddy (drums), Luke Reynolds (bass) have embraced that surreal and psychedelic approach to songwriting, inflecting each note and passage with subtle humour and weirdness that their name plainly demands.
Evidently, there are few acts that can match the Aussie psych rocketeers in terms of audacious, vivid storytelling and as frontman Jack McEwan explains, the inspiration behind their newest track is equally as unique:
"I met a Smurf in the closing hours of 'Party In The Paddock' (Aussie festival) after the final act finished, loin cloth intact, white hat & patchy blue face paint that had been well worn, must have been close to 4am. There were a bunch of other lost souls, myself included, in festival costumes needing a spark of influence to keep the drugs working as nobody wanted to call it quits. We got talking by a performing tree which had caused a good huddle to emerge and he claimed his friend had turned into a liquid. I could definitely relate at the time and the name has always stuck with me, My Friend's A Liquid. I promised I'd write him a track so this is dedicated to that Smurf and all the other poor people coming down after a three-day bender".
My Friend's A Liquid is out and about and should be caught humanely before listening. Available on What Reality? Records.
Comments
comments