As IVW rolled on, The Seamonsters headed up a hefty lineup on Seel Street, Getintothis' Steven Doherty was amongst the fun.
Independent Venue Week seems to be growing with importance every year, and no wonder, if it means giving a helping hand to venue's such as this, fast becoming Liverpool's best room bar none.
This gig promised a high quality bill, and largely delivered on this promise.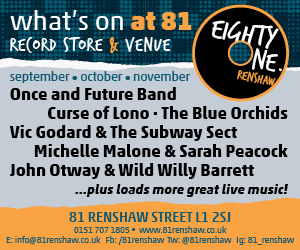 Starting the night (alas, it seemed to more photographers than audience members, although it did fill up as time goes by) were local power three-piece, Good Grief.
Rock trio's are a hard trick to pull off these days. No good, and you're dismissed as a poor man's Cobain and the gang. Luckily, there was nothing to worry about here.
Therapy?, Sugar and a whole host of late 90's-early 2000's influences were firmly at play, and there was much to be said for watching a band that looked genuinely thrilled to be there.
Their best song was the unnamed new track (although, by way of introduction, they quite correctly pointed out "that if you haven't seen us before, they're all new songs").
Guitar-string difficulties mean a slightly shorter set than planned, and a Guided By Voices cover later and they're off.
Deep Cuts #24 feat Yank Scally, Indica Gallery, COW and more – best new tracks February 2019
Then came Nocturnal Coast, for them it could have just been one of those nights.
On the plus side, they had some great tunes trying to get out. Sadly, they were buried beneath a band that seem to be undecided as to who and what they want to be.
There was too much 'schtick', if they stop thinking that they are better than they currently are, they really could be onto something. A mess, but a promising mess.
You wait ages for a rock trio to come along, and then two arrive on the same night. A name that's been bandied about quite a bit in the right places recently, Three From Above were a welcome noisy racket. Like a fierce Muse.
"This is our new single, it's about Goran Ivanisevic" is the sort of sentence only uttered by the sort of band who aren't taking it all too seriously, and are all the better for it.
Not the usual growly vocals you always get with shouting over a thrashing soundtrack, at times it sounded as if Adam Ant had joined Royal Blood. They ended their set with a Green Day-esque annihilation of The Smiths' How Soon Is Now and treat it with disdain and a lack of reverence that good cover versions should have. The joy of youth.
Big Thanks to @cmonstersmusic for closing @IVW_UK at @phaseonelpool in style pic.twitter.com/wSUwWkhMnJ

— AndyVonPip (@VonPip) February 4, 2019
Describing themselves as glitter indie, headliners The Seamonsters are also a band on the right trajectory. The Sheffield six-piece crammed themselves onstage and instantly exuded a air of quality, Wonderland being an early set highlight.
The crowd were onside from the off, unwittingly making the band cut one of their songs short by applauding too ferociously in the mid-song break. A special mention must go to Ciara the drummer, seemingly the hard-working heartbeat of the band, who never let up throughout the set (and was also wearing a splendid Housemartins t-shirt).
The only low-point was when they had to admonish an audience member for wolf-whistling them. Wolf-whistling. Jeez.
The Seamonsters are a joyous pop noise, vocalist Naomi swirling and shimmering like a young Clare Grogan, and their latest single Blue Movie Baby could be to one to elevate them into the mainstream. They ended the night by dragging one of their mates up to play tambourine with them, they were evidently now having as much fun as the crowd.
All in all, a lovely Sunday night. Hopefully, we won't have to wait until next year's IVW to enjoy such a repeat.
Images from Getintothis' Warren Millar
Comments
comments