As The Capstone Theatre hosted their latest weekend of contemporary jazz music in an intimate setting, Getintothis' Max Richardson brings the lowdown.
A regular feature in the Liverpool music calendar, Liverpool International Jazz Festival returned for the seventh consecutive year in February, boasting an impressive roster of artists from all edges of the spectrum of jazz.
Jazz-lovers of Liverpool were gifted with a diverse bill of artists, ranging from experimental London trio Strobes through to the more traditional Darius Brubeck Quartet, fronted by the son of jazz royalty Dave Brubeck.
Thursday night saw the opening of the festival with a sensational performance from David Helbock's Random/Control, supported by Slow Loris, with both performances serving as an excellent introduction to the festival, with the contrasting styles of the two groups ensuring that the evening retained freshness throughout.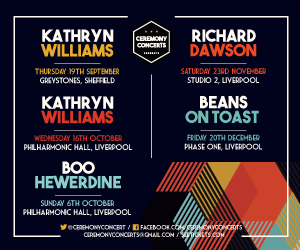 The second evening performance of the festival came from the sensational Strobes, supported by Lancaster-based Kollega.
Kollega's performance of well-constructed electronic jazz delved into the far fringes of music technology, combining electronic synthesis with acoustic instruments. This suitably complimented the equally explorative Strobes, who have a heavier reliance on guitars in their music.
Strobes' set was an excellent example of experimental contemporary jazz, fusing guitars with keyboard instruments with fluid ease.
Daytime performances of the festival were also a true treat, with performances from artists including Kit Downes, After The Flood, Ancient Infinity Orchestra and even a collaboration with Liverpool-based Indian classical music specialists Milapfest, fusing Indian classical music with jazz musicians.
Saturday night saw one of the highlights of the festival, the Darius Brubeck Quartet, who played through the entirety of his father's legendary Time Out album, mixed with his own compositions. Of course, the groundbreaking Take Five was performed, to a warm reception from the crowd.
Liverpool Arts Diary: Comic Con, Macbeth, space photography and more – March 2019
Midway through the set, Brubeck made a point of championing Atom String Quartet, an ensemble who were playing the following day, and with good reason. Atom String Quartet wowed crowds with fast paced jazz on traditionally classical instruments, and served as another highlight of the festival to many.
The festival was concluded with a performance from Swiss trio VEIN, who performed with legendary British saxophonist Andy Sheppard in a blistering display of technical prowess.
Year upon year, Liverpool International Jazz Festival manages to deliver an excellent selection of some of the biggest names in contemporary jazz. With the festival gaining upward trajectory and continually drawing crowds, it is quickly becoming a formidable name in the Liverpool live scene, and a highlight of the calendar.
Comments
comments