As the news of the BBC 6 Music Festival in Liverpool dropped, Getintothis' Jane Davies voices concerns how this impacts the local grassroots festival season opener.
Last week, suddenly it felt like 2018 again, when Sound City announced it was switching from Spring bank holiday weekend to May Day bank holiday weekend and going head to head with the Smithdown Road Festival.
In that particular clash of David and Goliath, distance was an obvious obstacle to attending both events simultaneously, so audiences were predominantly forced to choose one festival over the other, unless they wanted to be continually hailing taxis.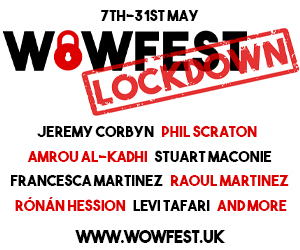 The outcome?
The Smithdown Road Festival returned bigger and better than previous years.  Sound City's Baltic Quarter tenure was hailed a success.  With the clash due to be repeated in 2019 it became obvious that this was settling down to become a permanent fixture.
So is a clash actually necessarily a bad thing?
It would appear that these two festivals are sufficiently differentiated to appeal to different audiences and can enjoy an harmonious coexistence.  The musical offering is similar in some ways, but the huge advantage for Smithdown Road is that it is free entry and picks up a lot of passing trade and is family friendly with activities laid on for children.
So, can this threat be converted into an opportunity for the Threshold?   Did the BBC consider their festival a threat to an existing festival in the first place? 6 Music have actually played a master stroke in branding the Threshold gigs as part of a wider 6 Music Festival Fringe.
As Threshold's producer Chris Kerstad Carney explained: "We always knew that being part of the fringe was the right move to make, especially for how our performers could use this association going forwards in promoting their own paths as well as their set at Threshold.
So we have worked with both Liverpool City of Music and BBC 6 Music Festival to ensure we are getting as much support as possible to keep our audience and perhaps even increase footfall. We can now say it's a positive thing, which has been handled well and might well not have been. It is great to be involved. "
Threshold artists such as Yammmer's Stevey Dee also welcomed the collaboration: "Where was Michael Fish (again), to not predict this perfect storm of the Threshold and 6 Music festivals landing on this fine city?
Fortunately the multitude of arts that 6 Music has been advocating most recently is being represented by the Threshold element of the fringe and we can't wait to be part of it."
It will remain to be seen how and if audiences will be impacted for Threshold on the Friday and Saturday nights. Will Threshold audiences chose to stick with the grass roots artists on these evenings or be tempted to purchase 6 Music tickets to see the established artists?
There is a huge potential for extra attendance Saturday daytime when 6 Music sets up base in the Camp and Furnace and offers scope for their festival goers to venture outside and attend Threshold gigs on their doorstep, providing they allow pass outs.
Music fans not familiar with the area may have a pleasant surprise stumbling upon another festival within a festival with a completely different ambience and purpose.
In conclusion, grass roots need watering, nurturing, tending, funding. From tiny shoots grow the next generation of artists dreaming of and achieving national exposure.
If any staff member from 6 Music takes a wander outside to the Threshold Festival, they may spot some budding talent and hopefully give them the opportunity to flower on a bigger platform.
Comments
comments