Neck Deep created a sea of mayhem in Hangar 34, such that Getintothis' Courtney Hughes can't wait for a repeat performance.
Welsh pop punk band Neck Deep performed their latest album The Peace and the Panic to a sold out crowd at Hangar 34 on this balmy bank holiday weekend.
If you have listened to Neck Deep then you can anticipate what their shows are like. They definitely lived up to expectation on this occasion.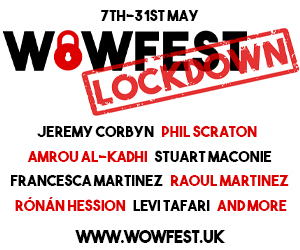 The support act Seaway definitely did the job of warming up the crowd.
The Canadian rock band created a great atmosphere and got everyone bouncing. Each band member's energy seemed to radiate off them and be absorbed by every head in the crowd. Seaway seemed to have brought a large crowd to the gig as groups of people left after their set.
When the members of Neck Deep took centre stage the whole room seemed to have their hands in the air. We have never had the chance to see Neck Deep before but it was then we knew it was going to be an experience.
Deeper Cuts Festival – an interstellar new music happening in Liverpool
And we were right.
As soon as they started performing, it was a struggle to hear the lead singers voice because the crowd was singing so loudly.
Fists were in the air and no one was still. Soon enough a mosh pit formed and people were crowd surfing.
The security guards moved us to the right of the pit so no injury was caused from people being lifted over the barrier once they reached the front. We bruise easily, so we stood clear.
Neck Deep will be on the list of gigs to experience again.
They created a great atmosphere and was thoroughly enjoyable to watch. Ben Barlow has a very unique voice which fits the genre of music perfectly. There was definitely no wonder as to why the gig sold out.
Images by Getintothis' Courtney Hughes
Comments
comments