More than twenty years after the release of Gomez's debut album, Ben Ottewell gives an intimate performance at LEAF Liverpool. Getintothis' Jamie Bowman was there to witness Ottewell's ageless talent.
It feels like history has been a little unkind to Gomez.
Emerging from nowhere (Southport, to be exact) in late 1997, their debut album Bring It On won the following year's Mercury Music Prize with the public lapping up its eclectic mix of everything from delta blues to Beck-esque folktronica.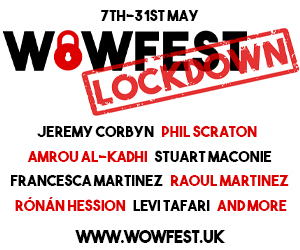 Not as strange as like-minded contemporaries the Beta Band, Gomez were somewhat hampered by their image as student dullards, with singer Ben Ottewell's extraordinary growl of a voice either lauded or derided depending on which magazine you read.
The band proceeded to meander along for at least another decade, finding more appreciation in the US than at home, before splitting in 2011 with little fanfare.
Things began to change in 2018 with a 20th anniversary reissue of the band's debut hitting the top 20 accompanied by a rapturously received tour. It was a timely opportunity to reassess a group who were always far more interesting than their laid back demeanour suggested.
Gomez's ace card was always Ottewell and the 43-year-old has quietly maintained a solo career since their split, releasing three albums and plying his trade as the kind of travelling troubadour he was born to play.
Recovering from an early setback in the shape of a misfiring guitar, Ottewell is soon dominating LEAF's stage, with that famous voice still having the ability to stop you in your tracks.
Deep and raspy, it's a baritone which lends weight to solo tracks Steal Away and Rattlebag and adds gravitas to the political undertones of A Man Apart. 78 Stone Wobble is the first Gomez song to get an airing and the thought occurs that perhaps it was the sheer strangeness of hearing Ottewell's voice emerge from such a callow youth that accounted for so many of those critical doubts.
Two decades on and he's grown into his voice, matured and perhaps so have we, which makes for a mutually beneficial tone to what slowly turns into a stunning performance.
A delicate cover of the Grateful Dead's China Doll betrays the band's psychedelic influences with a brand new Gomez song called What Do Kids Do Now also getting an enthusiastic airing.
It sounds a worthy addition the cannon.
Gravitating between his replacement guitar and a smaller guitalele, Ottewell's playing is never short of exemplary and after reminiscing about recording Gomez's first two albums in nearby Parr Street, he closes with Bring It On and a beautiful rendition of Tijuana Lady.
The latter's references to "Old Mehico" and a "silky poncho" once sounded frankly ridiculous coming from a bunch of 20-year-old northerners but now they sound imbued with experience and a certain charm.
It all makes for a revelatory and hugely enjoyable night.
Images by Getintothis' Billy Vitch
Comments
comments