Here's another week of live guests to keep you entertained in these times of no fun, no flour and no gigs, Getintothis' Matty Loughlin-Day brings the schedule.
Getintothis Live, our ongoing three-times weekly chat show continues to provide certainty in a time of deep unpredictability.
The live stream, which feature discussion, debate and occasional live music or spoken word is acting as a go-to point for those looking to satisfy their cultural needs at a time when going to gigs, spoken word events or any other event that involves standing near other humans.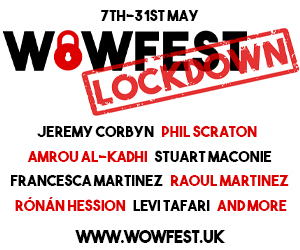 Steering the ship as ever are Getintothis' captains, Roy Bayfield and Simon Kirk who will be discussing the latest news and features at 8pm tonight (Saturday), Monday and Wednesday, accompanied by Getintothis' Peter Guy.
Tonight sees the team joined by an embarrassment of talent, including Abi Woods, member of one of the region's hottest bands, Seatbelts, artist and sculptor Ruth Dillon, and Paul Simpson, author and member of the seminal Wild Swans.
Also around the (virtual) table will be Gareth E. Rees, author of Car Park Life, one man's odyssey through the nation's retail car parks and main man in garage band The Dirty Contacts.
Things go live at 8pm and with a cast as varied and rich as this, it is a must for anyone with a passing interest in all things cultural.
Come Monday, Getintothis Live won't be slowing down, as the team will play host to Jenny-Lee Summers, longtime champion of the local music scene and BBC Merseyside presenter.
The ethereal Hannah Peel, who alongside being Emmy nominated musician, broadcaster and presenter for Radio 3, also moonlights in the Magnetic North.
Joining them are Tony McDonough, former Liverpool ECHO business journalist who now writes for numerous titles including Liverpool Business News.
Topping off the bill finally is the proprietor of Liverpool's finest hidden bar Hobo Kiosk, Tristan Brady-Jacobs.
Looking further ahead to Wednesday and the forecast is equally as dazzling.
Getintothis Live plays host to music journalist Simon Price, who has written for everyone from Melody Maker, the Quietus and Guardian and also wrote the Manic Street Preachers biography Everything.
Erika Rushton, cultural economist and chair of the vital Baltic Creative, local singer-songwriter and founder of the Wordsmith nights at Prohibition Studio, Katie Nicholas.
Plus musician Paddy Steer, whose work has been likened to "a Swiss cuckoo clock made of egg boxes and horsehair, glued together by an African Moog player in a Vietnamese iron monger's shop".
Blimey. See you there.
Getintothis LIVE special guest listings – all shows at 8pm – unless stated otherwise

Saturday, May 23: Paul Simpson, Abi Woods, Gareth Rees and Ruth Dillon with Peter Guy and Roy Bayfield

Monday May 25: Hannah Peel, Tristan Brady-Jacobs, Tony McDonough and Jenny-Lee Summers with Peter Guy and Roy Bayfield

Wednesday May 27: Simon Price, Erika Rushton, Paddy Steer and Katie Nicholas with Peter Guy and Simon Kirk
We're encouraging readers to get in touch, leave comments on the Facebook live stream to ask our guests, and in future we'd like to invite readers, musicians and music lovers on to Getintothis LIVE to join the debate.
Getintothis LIVE is streamed on Facebook, like our page to be keep up to date and watch here.  
Comments
comments