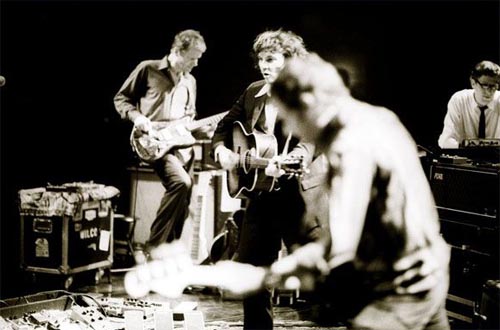 A round-up of the week's ear busters…
Minus Story: My Ion Truss – Album of the Week
Jagjaguwar
Remember in 1998 when Catskill Mountain beatniks Mercury Rev seemingly emerged from their cavern of dust with the otherworldly mini-epic Deserter's Songs.
An album enriched with fantastical tales and surrealistic fantasies but drilled with enough intimacy that a whole record-buying public immediately fell in love with Jonathan Donahue and his cosmic cohorts.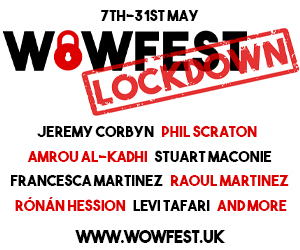 Well, Minus Story's My Ion Truss could easily be Deserter's bastard offspring charting an ocean of styles and atmospheres enveloped in chief vocalist Jordan Geiger's beautifully fragile vocals.
Opener In Line is a humming ode to soldiers 'marching by, like stars' they 'explode and die' before dissolving and crashing album highlight Aaron ignites. Announcing itself like Comets On Fire; a crescendo of frenzied guitars and impenetrable wall-like drums trade among barbaric blusters of brass. But where Comets take the extreme route to extended spacerock jams, Minus Story rein in their glory with pop-like precision.
Its a trait that works well throughout – the LP clocks in at an exhilarating 34 minutes – yet the expansive racket never gives the impression of brevity. The complete opposite in fact – Minus Story are a monster.
The propulsive Stitch Me Up, with its twinkling piano offset by what appears an army of guitars drenched in feedback is matched in the noise stakes by Beast At My Sides' electronic glitch-like stomp. Comparisons to The Rev are most evident on The Battle of Our Lives; a majestic showtune with Geiger pleading to 'tell me no lies', and The Way Beyond with its marching band procession of drums and weeping strings.
Relief from the cacophony arrives by way of the alt-country Parachute which sounds like Canyon at their most wistful. Penultimate track Pretty in the Light encapsulates why My Ion Truss is such a marvel – for all its glorious din, rattling treated vocals and glistening sleigh bells it never feels overcooked. For together with producer John Congleton (the man behind Explosions in the Sky) Minus Story have created a magical mini masterpiece.
Listen.
8/10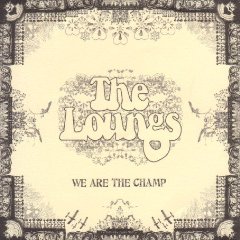 The Loungs: We Are The Champ
Akoustik Anarkhy
On the face of it, St Helens is hardly renowned as a creative musical hotbed. But steadily over the last decade – together with the town's collective and arts centre The Citadel – there's been much juices a flowing in a town more famous for its glass than its boys with guitars.
Testament to this was the recent release of the Collective's third CD (read my review here), and now Manchester-based indie label Akoustik Anarkhy have snapped up scene leaders The Loungs.
Perhaps even more surprising than the town's prolific musical inhabitants, is that given The Loungs (pronounced 'Lungs') dreary backdrop, they've delivered 2007's most sun-filled release. Such is its infectious radiant nature and Beach Boys harmonies, you'll be disappointed to find no free bucket and spade included. Seriously, they make Dodgy sound like Leonard Cohen.
Electric Lights is a razzmatazz toetapper complete with wurlitzer and squelchy keys, trumpet-laden Armageddon Outta Here is baby brother to every feelgood House Martins ditty and Throughout It All is a luscious Celtic seashanty The Decemberists would be chuffed with. Centre-piece I'm Gonna Take Your Girl is a blistering blanket of horns with a rash-like chorus. Its pure joy.
The only problem with all this dizzying amount of glee is that it can become somewhat knackering. But really, with summer fast approaching, to criticise a band from Tellinz desperate to inject some warmth into our hearts would be churlish, and after all the Loungs deserve full credit for including a song entitled Googly Moogly and pulling it off with panache.
6/10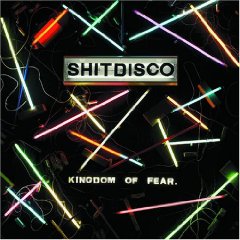 Shitdisco: Kingdom of Fear
Fierce Panda
If ever a scene were created for purely marketing terms and so that NME would shift more papers its the woefully contrived new rave. A hole in which pigeons are unfairly shoehorned if they so much as go near a cowbell or were perchance spotted adorning fluorescent pink pantaloons on any given Thursday down the local discotheque.
The only genuine characteristic that the four bands featured on this year's new rave tour shared was the fact that none of them were too fond of being pelted with glosticks.
Which brings us to Shitdisco – a band so intent on embracing this preposterous tag they've foolishly gone overboard and ticked every cliche-ridden box associated with it – daft name, garish clobber, moronic beats and a shelf life of approximately two months. Hell, they've even decorated their LP cover with neon lights. Finger on the pulse, or what?
Its a pity t'Disco have aligned themselves so closely with this abortion of a label (notice other so-called new ravers Klaxons, CSS, Sunshine Underground etc have cleverly distanced themselves altogether with the 'genre') – as Kingdom of Fear does contain some belting tunes.
Sadly, they only really know how one way to deliver them, resulting in a pretty one dimensional, albeit raucously fun, record.
Best of the lot is corking double A-side lead single I Know Kung Fu which employs Gang of Four's throbbing post-punk dynamic with a bouncing bass beat and lyrics about trying to hide your erection. Lovely.
Glostick action
4.5/10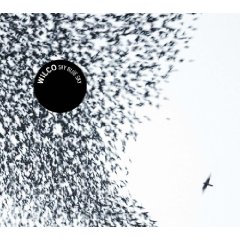 Wilco: Sky Blue Sky
Nonesuch
Ah, beloved Wilco. You wonder what bearded ladies, melancholic young men and the entire Uncut readership have done without their blessed alt-country icons since their 2004 tour de force A Ghost Is Born was released. Some will have retreated to the hills and become bedside companions with grizzly bears, others will have hibernated in their log cabins armed only with anti-depressants and Glenfiddich. Gram Parsons only knows what the Uncut readers will have subjected themselves to.
But worry not, Uncle Jeff Tweedy has returneth! Halle-bluegrass-lujah! But what's this, Jeff and his Chicagoan brethren are seemingly happy. Gone are A Ghost Is Born's discordant flirtation with kraut and drone, replaced with an MoR shuffle of Neil Young-lite. Bugger!
Now, don't get me wrong, everyone wants to see Jeff (a recovering addict to painkillers) banish his demons blah, blah, blah, but for a band who from their very inception has consistently topped their previous work with every release, its somewhat galling to find Sky Blue Sky retreating into the comfort zone and for the most part content to rehash ideas they've previously mastered – with ease.
Of course it is hard to berate a band of such accomplishment for re-hashing a brand of music they've injected with such vitality – carrying the baton from Godfathers Young, Parsons and Hank Williams – but having listened to them blossom into genre-straddling wizards with the likes of the Spiders (Kidsmoke) their latest effort can't help but fall flat.
Of course, there are numerous highlights – this is after all Wilco, we're talking about. Opener Either Way is a John Lennon-tinged ballad with swirling mellotron while Walken has a deadbeat bluesy charm.
Then there's Impossible Germany a magnificent guitar feast with its aching elongated refrains which could be stripped straight from Cortez The Killer.
But sadly, there's little to entertain a restless ear in search of new Wilco territory. Shake It Off is a chronic barroom mess with croaky vocals, Hate It Here is bland beyond reason rivaling Ocean Colour Scene in the dadrock stakes while Please Be Patient With Me almost sums up the records overwhelming feeling of stagnancy as Tweedy confesses 'I'm not well, there's nothing I can do, to make this easy on you, please be patient with me…' How apt.
With their track record, we'll hang on in there with Wilco, but Sky Blue Sky is decidedly grey.
5/10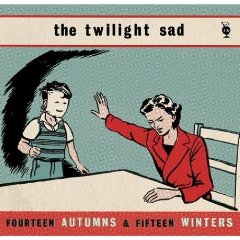 The Twilight Sad: Fourteen Autumns Fifteen Winters
Fat Cat
From a young age, I've always been attracted to dialect. From growing up in a household which mixed the thick rasp of Kirkby scouse and broad Lancastrian tones, language and how we use it fascinated me. I remember completing a loose anthology in junior school with help from my Clitheroe born-n-bred Grandma and upon its completion I knew little of what it all meant but found it intriguing, emotive and utterly hilarious. Peter Kay was obviously taking notes.
With that in mind, there's few details more beguiling in music than a vocalist who let's rip in their native dialect, whether it be Bjork's playful Icelandic shriek, Kurt's Seattle drawl, Liam's Mancunian rasp or Morrissey's accentuated Englishness.
Add to that list, Twilight Sad's James Graham, a singer who puts the 'och', into rock.
From the moment Graham's thick Glaswegian announces opener Cold Days From The Birdhouse you're gripped. For while the music recalls My Bloody Valentine, Ride and another assortment of early shoegazers cobbled together with a stadium grandiosity, Twilight Sad are forever set adrift from ever becoming traditionalist because of Graham's impassioned Highland cries. It also helps they add to the mix with recurring washes of organs and droning accordions.
Thematically, Graham tells tales of adolescence and a bruising childhood. On Talking With Fireworks/Here, It Never Snowed he declares 'N Doos ye feher no groow when ye see that ye no mine, wi a knife in ye chest!' as the bully pushes him against the wall amid a Sigur Ros-esque landscape complete with cascading guitar and shuffling beats which trigger a battalion of noise. Someone's gettin' chibbed.
That Summer, At Home I Had Become The Invisible Boy tells us the 'kids are on fire in the bedroom,' and its hard to establish whether they're being burnt alive or consumed by steamy naughtiness, either way as the doomy backdrop persists they better stop soon for fear of scorching reprisals.
Walking For Hours is most akin to the shoegaze squall of MBV; with guitarist Andy MacFarlane applying thick layers of smoggy noise and echo as Graham intones "Cos yoor so fwar fa hame and yoor where…' Or summat.
Amidst the deafening racket its hard to really understand exactly what its all about, but while most shoegaze-related bands drown out or distort vocals, here Graham's are thrust high into the mix adding to the accessibility and arms aloft stadium atmospherics.
Perhaps most excitingly you get the impression there's so much more on offer from The Twilight Sad; similar sonically to fellow Scots Mogwai – its not beyond the realms of possibility they could produce an audio apocalypse akin to Mogwai Fear Satan, on the other hand such is their way with melody they're more than capable of 'doing a U2' while not compromising any of their innovative drone.
Whichever path they trod, let's hope they continue to deliver such an evocative Celtic clamor.
Prime Scottish howling here.
7.5/10
Comments
comments