The Kissaway Trail, Strategy, The Twang, 65daysofstatic and Black Rebel Motorcycle Club all drop onto Getintothis' playlist…
Strategy: Future Rock – Album of the Week
Kranky
Music criticism concerning dance music is notoriously fickle. There are numerous reasons, but primarily the lack of lyrical content – the very essence by which a composer narrates their tale, or sets the tone, or sprinkles in some humour to balance the mood – somewhat compounds and restricts the writer's ability to recount the action.
There's an over-reliance on setting the scene by way of describing the atmosphere without actually pinning any emotion to lyrics or indeed 'what the musician are really saying.
This can lead to dance/electronic music being dismissed as novelty, transitory or lacking in substance. All of which is wrong. Some of the greatest records of not just the last decade but 2007 – the year electronic music went supernova and truly crossed over in terms mainstream fashion, culture and media – have come from the dance sector. LCD Soundsystem, Digitalism, Justice, Shy Child and Klaxons have all ploughed the electro-indie furrow taking their music from the remix B-sides of singles, compilation mash-ups and the shit-tip indie discos on to our TV screens documenting everything from kids TV to Match of the Day goal of the month's and slots on prime time music shows. And now leftfield uber-label Kranky are getting in on the act, adding Portland, Oregan's Strategy to this growing breed of electronic pioneers.
Strategy, aka Paul Dickow (not to be confused with Manchester City and Blackburn striker Paul Dickov), comes from the same school of thought as the likes of Four Tet and Chris Herbert, rooted in laptronica and mixing found sounds and samples, Future Rock is a swelling mass of programming and tightly-knitted grooves ideally suited for post-rave wind down. Or alternatively the groove before the big hit.
Modulating, rolling synths are employed throughout, see Phantom Powered with its thick chocolaty loop or the nine-minute ambient release of Running On Empty which slowly unravels and a wash of glacial organs hover recalling the trip hop of early 90s Bristol.
Better still is Can't Roll Back – the most pop track on display – choppy guitars are twinned with treated almost-there vocals before transmogrifying into a tribal voodoo ooze rumba last heard in the maroon-lit dungeons of Berlin.
Future Rock's nine-minute glitch-funk is pure Chicago house and given a kick up the arse would happily feel at home next to the classic dancehall cuts of Maceo & The Macks or Creative Force. In between the shimmering electro there's moog last heard on Stevie Wonder's Innervisions.
At the other end of the spectrum is Red Screen, another weighty nine minutes – but this time more in terms of ambient drone ala Brian Eno's Music for Films, but with added balls. Looped reverbing keys and yet more modulated vocals and effects play off a disorientating mass before a tidal wave of Kraut gushes forth and deep drum machine thuds engulf. And then abruptly it stops. The effect is dizzying, puzzling and captivating.
Outro I Have To Do This Thing acts as gateway to the other side, partly dragging you to end with its unsettling blips, and partly soothing, leaving you gagging for more. As commander in chief of the highly respected Community Library, Paul Dickow, has an armoury of artists, sounds and collages at his disposal. You suspect Future Rock is just the start of his extraordinary electronic renaissance.
8/10
Strategy for download here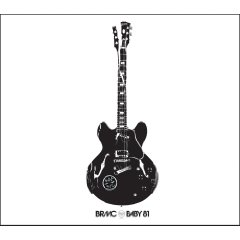 Black Rebel Motorcycle Club: Baby 81
Island
Let's face facts – Black Rebel Motorcycle Band are quite possibly the most basic meat & potatoes rock band on earth. They make Cast seem innovative. They have one song: sometimes it's turned up loud and fast with vocalist Peter Haynes vaguely drawling out of the fuggy haze and less commonly the volume's reduced and Robert Levon Been will drag his bass sludging long and thick until inevitably either style concludes in a wall of hiss and leather garage plumes of billow.
For one fleeting moment conservative sections of the media called their third album a 'departure' because Howl was essentially this song played either way with a dirty stripped down pedal steel slide. Heck they even included a choir. Sheesh, even tricky Dickie Ashcroft employs acoustics and gospel singers.
Though limited in the creative stakes (this also stretches to their wardrobe, haircuts and you'd imagine choice in breakfast cereal), BRMC are nonetheless effective, albeit unpredictably, in their one-song address. And predictably so, this unpredictability extends to their fourth cut, Baby 81.
When good they scale heights not visited since their yet to be bettered self-titled debut. This usually revolves around the fatter, revved up meaty chunks of primal rage exemplified in lead single Weapon of Choice and album opener Took Out A Loan.
Elsewhere American X is a nine minute one-riff stomp which while hardly threatening in any vague Kraut/avant-rock – it stays pretty much on the garage plateau – it's nice to see the boys ride on, and on, and on. Berlin and 666 Conductor condense this blueprint into tight, blues ditties we're more familiar with.
Sticking to type though, like a Happy Mondays member in a fast food kitchen there's plenty of stodge. Not What You Wanted is boogie-woogie to make Jools Holland vomit, Lien On Your Dreams wouldn't seem out of place as an Oasis B-side circa Heathen Chemistry and The Likes of You is the aural equivalent of spending four days on Johnny Vegas' couch ingesting he and his mate's stash – without toilet breaks.
5.5/10
Garage stodge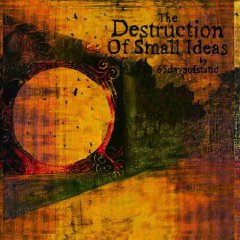 65daysofstatic: The Destruction of Small Ideas
Monotreme
Anyone can be loud. Check how easy it is for the likes of Snow Patrol to sound as towering as a mountain range but equally contain the depth of a puddle. So much of rock's stadium slayers are peddling their ASDA anthems to the masses by way of highly compressed, skilful production and cranked volume rather than songwriting craft, let alone soul.
Save for the almighty Fix You where will Coldplay's self-proclaimed 're-invention of the wheel' XY stand in terms of lasting appeal or artistic credibility in the annals of time? An easy question to answer. For them, and so many of their ilk, they can only dress up their glossy sheen so much before the mask slips and the production carries a band desperately treading water.
No, the real test of ability in today's climate of technology over creativity is how much can a band hold back? Restraint can be everything. How much a band can lock up before unleashing is testament to a bands creative threshold and thus how much they can move the listener.
Sheffield four-piece 65daysofstatic know exactly when to cock the trigger and when to fire, and on third LP The Destruction of Small Ideas, they've mastered their punishing post-rock doctrine.
Clocking in at over an hour, TDOSI is heavy duty artillery, but there's a careful temperance which makes for a joyous listen. The opening salvo of When We Were Younger & Better and A Failsafe displays their trademark fuzz tone post-rock with Rob Jones' hurtling drum rolls amid a storm of glitches ala Aphex Twin. Don't Go Down To Sorrow and Wax Futures perfectly juxtapose the opening couplets with the former conjuring up images last seen on the Beeb's Blue Planet as the cleanest guitar sound since Mike Oldfield's Tubular Bells decorates neat piano while the latter is a condensed take on Explosions in the Sky's wintry beauty.
Events take an even more interesting turn come the midway point when having been beguiled by the string-swept These Things You Can't Unlearn, which eruptes just as you're in the comfort zone, Music Is Music As Devices Are Kisses Is Everything takes the entire record on a completely different trip morphing from horror soundtrack Godspeed! to psychedelic kraut of German innovators Popol Vuh.
The symphonic scope is on first listen an altogether heady brew, all the more so when the aptly-named The Distant & Mechanised Glow Of Eastern European Dance Parties throws Bavarian ambient techno into the mix, but perseverance is power.
Out on the other side, White Peak/Dark Peak captures the very essence of TDOSI, with its mini suites of Kate Bush like piano and flutes toying with discordant guitars. The Conspiracy Of Seeds wraps up in startling fashion with a succession of violins, Balearic beats and Drew Speziale and Kathy Coppola (from Circle Takes The Square) viciously attacking the mics.
Like Oceansize and Rock of Travolta before them, 65daysofstatic have expertly mastered the golden rule of when to give and when to take away. When to retreat and when to obliterate.
8/10
Hear this here.
The Kissaway Trail: The Kissaway Trail
Bella Union
Isn't it funny what Arcade Fire have done to the modern musical landscape? Once upon a time unless you were from Canterbury and prone to bouts of outlandish progressive whazz-outs, having multi-instrumentalists and a reliance on the epic was considered a tad naff.
Suddenly, everyone's at it. The latest in this line of Fire-alikes are Danish minstrels The Kissaway Trail on perma-great label Bella Union (home to Midlake, Dirty Three, Lift To Experience and countless other rock deities) and clearly they've been taking notes.
Everything from the Tracy Maurice album artwork to the polyphonic symphonies of brass and big-band strained multi-vocals shares a common bond to Montreal's finest.
Where they deviate – and I'm not subscribing to the current hipster trend to have a pop at Arcade Fire – is their lack of stadium grandiosity. The Kissaway Trail, for all their eccentricities and whimsy, are rooted in pop.
Take Smother + Evil = Hurt – it's no surprise this was the lead off single as this will be hard pushed to be bettered in terms of the perfect three minute feel good hit of the summer. Joyous in every respect, from the paegent of orchestration and the dewy-eyed romanticism of Thomas L Fagerlund's lyrics – We stood still, and buildings were spinning, our kisses were lost, and always windy'. Throw in a 'na, na, na' coda and you've the ideal soundtrack to get the holidaying festivities under way.
Though this diamond is never bettered on this their self-titled debut, it's run close throughout and it is a testament to their cute songwriting that while running in at a sprightly 41 minutes, The Kissaway Trail seems over far too quickly, thus prompting instant playback for more aural pleasure.
61, surely another single in waiting, takes Arcade Fire's blueprint of driving oddball instrumentation – in this case a heavily strummed banjo – which rockets and nosedives before firecracking into a crescendo of drums and organs and yelps. Uplifting is an understatement. Sometimes I'm Always Black trades pans for drums, and 12-strings for lap steel guitars which recalls a more rustic version of their Danish contemporaries Mew, with a 'yeeeoowweeooo' choral whoop.
It's not all a carnival though, with its woodblock clipperty-clop and sunset calmness It's Close Up Far Away is a lullaby Michael Stipe would be keen to mumble, while Eloquence & Elixir shares a cosmic fragility akin to Mercury Rev as Fagerlund's falsetto implores, 'Come home Tracy come home!'
In Disguise is a minor hiccup retreading similar grooves elsewhere, but the finale patter of Bleeding Hearts with its post-rock-lite magnificence ensures The Kissaway Trail can be neatly filed alongside their fine stablemates ensuring Bella Union continue to uphold their cracking reputation and remarkable consistency of fabulous contemporary finds.
7/10.
Like Arcade Fire, you'll love this.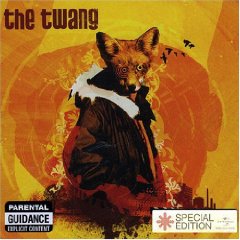 The Twang: Love It When I Feels Like This
B-Unique/Universal
It's kinda hard not to feel some form of sympathy for the boys of Brum. They are Frankenstein's monster in modern day musical form.
Similarly to so many before them, this beast was built from a concrete wasteland of spare-part ruffians – some on the dole, the bright one holed up in a HP Sauce Factory. But all marched forth spouting tales of excess and general naughtiness – 14 Ribena's, half a line of sherbet dib-dabs and handful of dishwaster tablets. The intelligent one even had a brush with the Law while brandishing a samurai sword.
Predictably, Dr Frankenstein, or NME as he's known to his father, drooled at the arrival of another Great White Hope, lashed it in front of the masses, sprinkled it with hyperbole and then slapped on a flashy rosette marked 'The Next Big Thing'.
Weeks later when the monster showed signs of all-round rubbishness Doc disowned his aborted creation – declaring 'you're a mere six, and I wanted a ten, be gone you dirty little herbet…'
As an interesting aside, the following week Dr Frankenstein backtracked by way of a response to a damning letter from the public to said denouement. The whole furore reeked heavily of political appeasement as the mad professors at NME HQ clearly know avoiding the monster is now an impossibility. It's out there – roaming free, and by golly, many have taken to it's uncouth slobber.
But then just because The Twang were elevated to such a platform of notoriety and expectation shouldn't really taint our own critical perception. Many bands have been in this 'build 'em up, knock 'em down' scenario before and lived to tell the tale. So it was to my horror when playing Love It When I Feels Like This for the first time just what a hideous creature has been spawned at the hands of the Doctor's hype machine.
The brace of opening singles Wide Awake and Either Way are MoR pub anthems, both by a countrymile the best on offer; the former an echoing Stone Roses (and I use that comparison loosely) sonic blast, the latter an Embrace cheeky lament with an hilariously cartoonish 'I luv yoooooow!' delivered by chief Twanger Phil Etheridge.
Both are heavily indebted to their Britrock influences and this is fundamentally the ruin of the entire record. Ice Cream Sundae, with it's echoplex delay, is Northern Uproar doing U2, Push The Ghosts, all angular and black glasses is their take on Echo & the Bunnymen – it's shameful. Loosely Dancing is (you guessed it) Happy Mondays' Loose Fit with lazy wah-wah – a further embarrassment.
Two Lovers recovers a smidgeon of integrity as they pull off a caricature of The Smiths, all Johnny Marr jangles, frisky rhythms and aching strings. But poor Etheridge is sadly on a different planet to Moz, his attempt at romanticism is wince-inducing: 'They're on the grass they fumble round like a flower their loves grows, and by the flower grows a weed – not the kind you smoke…'
Worst of all is the unlistenable Don't Wait Up and the simply laughable The Neighbour – a woeful tale of battering a fella who asked them to turn their music down (I wonder why?) which attempts to do a Streets, but sounds more like the Grange Hill rap. You simply have to hear the chorus' 'I said, what the faaaaaaaaack! Just do one – woooahoo!'
By the end of this hogwash you're left wondering who to blame, the monster or his makers?
3.5/10
Twonging
Comments
comments