Don't worry, Pete will be back soon with tales of Glastonbury 2007. Until then, here's the last lot of his memories of his last trip down to Somerset..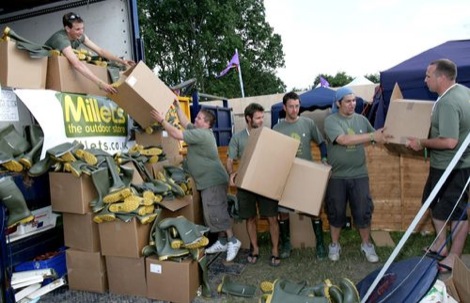 Sunday June 26
So to the last hurrah—the final day until 2007. And appropriately the sun decides to put in an appearance. Having finally managed to acquire a pair of wellies (the freedom is near-indescribable) we take in the annual joys of the Yeovil Town Band before the Bellydance Superstars & The Desert Roses spread some colour and vivacious posturing. Brendon Benson and James Blunt please in equal measure—all very Sunday; acoustics, balladry and Supermarket pleasantness—without ever overstretching the ear, while Thirteen Senses contrive to pull off the drabbest show in musical history.

Ambulance Ltd (standing in for Cake) flatter to deceive with a blinding Crazy Horse-esque instrumental to open before strumming monotonous whimsical audio-dishwater for the remainder of their half hour. Having met up with Liverpool Echo music correspondent and all-round good gal, Kate, we decide it's an apt time to take a stroll and take in some of Glastonbury's non-musical delights.
The circus is our first port of call passing mud-divers, an Indian-come-medieval military pageant and ghost train. Highlights in the circus include a violin playing tightrope walker, certifiably-insane stuntmen hurtling around on a giant hamster treadmill device while 60 feet in the air and a colossal football flattening dozens of human skittles in a nearby kids field. We idle away the afternoon to the sound of Zulu-jazz funk Oojami and the uncharacteristically underwhelming The Dears before retreating to the Pyramid for the sun king Brian Wilson. If anyone was in their element at the festival it was the former Beach Boy—not that the great man knew it of course! Shepherded in behind his piano, Wilson looks every bit the cracked and frazzled surf cowboy, but from the opening bars of 'Then I Kissed Her,' Glastonbury is alive with the sound of California.
It's the weekend's second truly magical moment—everyone is bopping away with smiles as wide as the heavens. Every tune is of course a winner and the sight of watching grown men reach for the high notes during the likes of 'Barbara Ann' only adds to the amusement. Like Macca last year, Wilson sticks to the script showering the crowd with hit after hit, from the delirious early days of 'Fun, Fun, Fun' and 'I Get Around' through to the lost classics of 'Heroes and Villains' and 'Our Prayer', backed by a dazzling array of top draw sessionists.
And what musicians they are. While Brian, bless him, taps his body in a heads-shoulders-knees-and-toes routine cooing the odd lyric, they hold the fort expertly. 'In My Room' flouts and swoons, 'Wouldn't It Be Nice' shimmers with elegant innocence, 'Sloop John B' is the ultimate pub jukebox anthem, and nothing all weekend receives a bigger cheer than 'Good Vibrations'.
Feeling merry on life (and spicy cider) we catch up on food before soaking up the grandiose showtunes of Rufus Wainwright. Resplendent in a violet and pink floral three-piece suit, he cuts a dashing figure in the evening sun and it's an idyllic way to spend Sunday evening. Feeling in need of more alcoholic stimulation we decamp to a nearby beer tent where who should we stumble across but Steve Beta Band Mason—RESULT! Premiering new material, no doubt from an upcoming King Biscuit Time project, he throws out clattering stoned-out groove armada's and even tossing in the odd Beta tune to boot. An added and most welcome bonus to the weekend—only at Glastonbury! Such was the wealth of talent on show; the next hour became a manic mess of scrambling between stages.
First up: The La's; aka The Why's? That was the question running through my head for the 30 minutes I lasted. Firstly, why had they reformed? Judging by the evidence on show there could be but one reason—filthy lucre. It certainly couldn't be attributed to an abundance of spanking new material or indeed a rejuvenated will to thrill as neither were forthcoming. What was delivered, however, was a skeletal reconstruction of tracks from their one and only 1990 eponymous LP. So, this inevitably brought to mind a question which has often been subject amongst friends. Why is this bunch of rag-tag scallies so revered and eulogised? For their performance on Sunday should surely have heralded some kind of epiphany. Sadly, what materialised was an unremarkable, rather insipid affair that could quite easily have been re-produced in the backroom of any Ormskirk public house.
Sure, there's no doubting the bombast and verve of 'Son Of A Gun', the timeless beauty of 'There She Goes', the swirling vastness of 'Looking Glass' and the throwaway charm of 'Doledrum,' but, and it is a big but, why is Lee Mavers (and I do mean Mavers, for this was no second coming of the original line-up, save for an understandably bemused-looking John Power, we had a faceless bassist and Maver's chum Jimmy 'The Pig' who adds more comedic value than musical with his standing drumming routine) back? Sadly, it's a question which will remain unanswered. For pockets of the crowd—mainly the alcohol-addled—you'd think Jesus Christ had been reincarnated as a leathery-skinned 40-something. For me, however, the mythical Mavers appeared all too mortal amid a performance which was all-together unnecessary.
Leaving not a moment too soon we sprinted like a p***** lolloping ostrich to catch LCD Soundsystem before racing up the hill to catch the last drunken hissings of the Scream Team. Where James Murphy's disco punk funk represented an invigorating futuristic clatter, Primal Scream's frenzied maulers stuck firmly to an all-out smash n' grab f***-up with unashamed sniping from an inebriated Bobby Gillespie—everyone from Kylie to Basement Jaxx and the cows in the sheds were on the end of a Glaswegian tongue-lashing before the plugs are pulled just as Mani's bass thumps the intro to 'I Want You Back.' Blasphemous, rock n roll of the highest order.
And so to Ian Brown and 'I Wanna Be Adored'—what a way to bring down the final curtain. Armed with more charisma than ALL the artists witnessed over the course of the festival it's impossible not to be bowled over. Throw into the mix more solo hits than virtually any artist featured all weekend and you have a recipe for total pandemonium. And that's without even mentioning 'Sally Cinnamon', 'Made Of Stone', 'Waterfall', 'Where Angels Play', '(Song For My) Sugar Spun Sister' and 'She Bangs The Drums'; tunes which rather than stand out like novelty props to add weight to his set, are instead glistening gems adding decorative effect to an hour and more of rock solid gold.
Critics are always prone to jump on Brown's infamously wayward tones but tonight they aren't given the chance as every note is hit, whether driven home with powerful exactitude or whispered with a soothing ebb and flow. Further, while the renowned relics from his Roses past provide the idyllic swansong of Glastonbury—the finest moments of his set are unquestionably tunes from his present. For all the sludge beneath our feet 'Golden Gaze' still manages to create a bass-induced earthquake underfoot, 'Keep What You Got' is a 22nd Century indie-disco anthem, and 'Longsight M13' is the sound of RZA colliding with Jimmy Page. The finale sees Mani stagger on for Roses Reunited juncture before his crowning glory, 'F.E.A.R.', transports everyone into the cosmos. He swaggers on for one fleeting moment to apologise as the curfew prevents him from going on; it matters not a jot. We're spent and completely fulfilled.
Comments
comments