Peter Guy is hanging around a stone circle at Glastonbury at present. Just like he did in 2005. And, given the weather of 2007, it seems that wherever Pete goes, the mud goes too!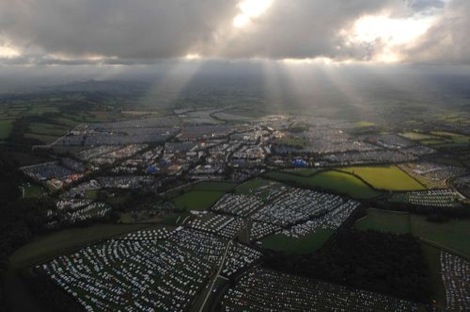 Saturday June 25
There are few sights worse than skanky feet—and it's fair to say that upon waking up we're not impressed when surveying one's own shrivelled mud-encrusted efforts. Squeezing into my boots, which now resemble formless blocks of clay, is agony. With every push I can feel blisters popping—the feeling is akin to scraping your skin along barbed wire.

Sadly the ground still resembles the swamps of Arboria and the painstaking task to reach the toilets and washing facilities doesn't bode well for the rest of the day while the prospect of legging it to catch (much-loved) The Engineers doesn't even enter my head. Instead we decide a leisurely start is a must, and food, drink, banter and the faint strains of a distinctly average KT Tunstall aside it's not until 2.30 PM that we find ourselves returning to the Peel tent to watch the DIY indie of Art Brut.
Sadly their post-modern supposed irony fails to amuse. Cries of 'I formed a band' make me wish I had a gun so that I could join in with a call and response of 'I killed a band,' instead they drag until mid-afternoon before The Rakes enter the fray and guess what it's another, yes ANOTHER, Wire/Joy-Division/post-punk/new wave ensemble. I close my eyes and think of Explosions (no, I'm not quite ready for acts of terrorism) in the Sky. And just when I'm getting into track five off The Earth Is Not A Cold Dead Place I'm rudely interrupted by some stout white-bearded announcer dude that resembles an extra off Saturday Afternoon Wrestling. It becomes apparent that Bob Geldoff has been spreading his Gospel over at the Pyramid but in homage to Mr. Peel's disdain of 'hippie sh**' a chorus of boo's aimed at the G8 leaders echoes around the tent before (sigh) Wire/Joy-Division/post-punk/new wave ensemble The Departure launch into more of the same.
It's around this time I start fantasising about elevators, lifts, and intergalactic portals in the vain hope that some kind of TARDIS may descend from the heavens to whisk my weather-beaten frame over to The Other Stage to engage in some Futureheads action. It's just not happening, so we rather cheekily steal a garden chair from a nearby unoccupied campsite (they got it back!) and plonk myself centre stage and wait for Canadian country-pop quartet Rilo Kiley.
And thank the Lord, they were worth waiting for. A world away from skinny ties and angular riffs RK are spunky, radiant and, rather ironically, sunny. The brassy squelching of 'It's A Hit' finds me discarding my seat and one look around reveals a mass arse-shaking session (bonus!) while 'I Never' finds the effervescent Jenny Lewis in full vocal swoon. Best of all is killer single 'Portions for Foxes' –a summer anthem if ever there was one, with its horny guitar licks and sultry "Baby, I'm bad news!â€? kiss off chorus. Phew hot stuff!
With the day finally slipping into second gear we head to the tent for some liquid refreshment passing an animated Coral, (who are in dazzling form—'Skeleton Key,' 'Pass It On,' and 'Dreaming of You' just a handful of aces in their now well-stocked armoury), and catch up with the gang back at HQ. Having removed my sodden boots, and with little hope and no desire to fill them once more, desperate measures are called for—bin-bags, string, and gaffer tape. And a good move it was too. The added mobility gives me plenty of time to scarper just as British music's nadir, Keane take to the Pyramid.
The evening's first nightmare clash—Interpol/New Order/The Earlies—sees us plump for the latter and the move proved just as the 11-pieceMancunian/Texan ensemble pulled off the weekend's finest show. Pigeon-holing is a pointless exercise for a band that boasts three guitars, flute, mellotron, various percussionists, brass and a cello-playing dude in a dress with a blonde bouffant, but on this evidence it's music that should, albeit probably won't, appeal to the masses.
It's a spectacle, and the music, taken predominantly from These Were The Earlies, is there to match. The harmony-laden 'One Of Us Is Dead' is an ethereal funeral procession mantra which explodes into epileptic shotgun drones—with trumpets! '25 Easy Pieces' gently glides along before a succession of twinkling crescendos chime around the tent. 'Wayward Song' sees all 11 members 'honey-soaked vocals chorus atop of glistening piano and parping clarinet which climaxes in an aching rush of oozing electronica. Similarly to the likes of Arcade Fire or even the Polyphonic Spree, each song eases into motion before catapulting into orbit—latest single 'Bring It Back Again' a perfect example, with its giddy strings and gargling bass that stutters and thrashes before flute and jet-engine powered guitars release a sonic rush. 'Morning Wonder' and 'The Devil's Country' conclude a remarkable hour of music—the former a Beta Band whirl of kitsch synths and shuffling beats, the latter a triumphant marching stomp with a woozy refrain and mammoth gonging keys. It's a transcendental experience and a true Glastonbury moment to cherish.
Next up—Kasabian. After the meditative effects of the Earlies, the Leicester lunatics couldn't have been better timed. "Oi, oi, ya f******—how's the f***ing mud. If anyone gets in your way, push em over," barks Tom Meighan. True to form, Kasabian are up f'rit and determined to carry Oasis' baton. All the hits are banged out with murderous precision and the light show is up there with anything Pilton Farm has ever had to offer. Newie 'Stunt Man' (an ode to Evil Knievel) is a dead-cert single and the 10-minute kraut-rock odyssey 'Ovary Stripe' is a fitting conclusion to a bombastic set of cocky brilliance.
So to Coldplay. It's fair to say that the hype, fawning adulation, hyperbole and rhetoric that's gushed in their direction since X&Y hit the shelves is unmatched since the heady days of Be Here Now. It's also fair to say that, not wishing to miss 'a defining moment in Glastonbury folklore' we wimped out of witnessing (the far more appealing) The Go! Team in favour of The Chris Martin Band. Attempting to find a square inch of room proved a farce so we retreat to the viewing platform and park our behinds on a welcome bench. It seems rather appropriate that we find ourselves sat down to watch the daddies of British MoR and while the weight of expectancy could never be realised we hoped for a set of musical magic and the unexpected.
What we got was neither. From the opening hammering of 'Square One' to the closing beatific 'Fix You,' Coldplay delivered a grand, if formulaic, run through, which could be summed up in one word: Predictable. Sure there was reason to be there—'God Put A Smile On Your Face' rattled with menace (honestly) and 'Everything's Not Lost' melted with tender grace (take note Gary Lightbody et al—you cannot, will not, touch this—not now, not ever) while Martin ad-libbed the lyrics of 'Politik' ('Give me weather that does no harm / Michael Eavis, Worthy Farm') and aimed an aside at the Crazy Frog during 'Speed of Sound.'
But live gems like 'Shiver,' 'Spies,' and 'Trouble' are discarded in favour of forgettable newies ('Swallowed in the Sea') and more forgettable oldies ('Warning Sign'). For all their promise to re-invent the wheel, Coldplay have merely retread the past. If they wish to cement their place in terms of sales figures and global domination they've certainly gone about it the right way. But I doubt that's their intention.
If they wish to 'do a Radiohead' then they've missed their opportunity, and rather ironically it's a Radiohead lyric which sums up Saturday's show – 'no alarms, no surprises.' Coldplay were everything I expected. Nothing more.
Comments
comments