Peter Guy's getting muddy in Somerset. Not one to queue up for hours to charge his mobile phone, he's instead left behind his memories of 2005. Or, at least what he thinks he remembers from Glastonbury 2005.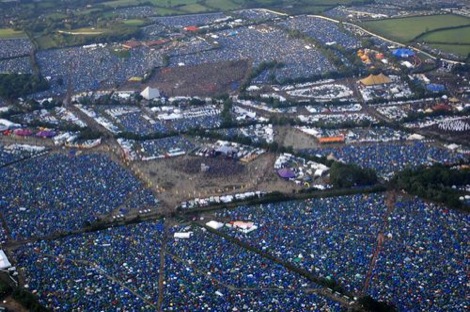 Thursday June 23
That waking feeling couldn't arrive sooner. We beat the 7.30am wake-up call by a good half hour, springing into life to put the finishing touches to an already bulging ruck-sack. It didn't weigh this much last year, surely?

Photo ID—check, ticket—check, money—check, wellies—screw that, who needs wellies, I don't even own wellies.
Famous last words

Having successfully negotiated train and taxi (via the offie for 32cans of the finest amber nectar) we sidle in next to Mike on a radiant June morning in preparation for a winding five-hour coach trek to Somerset, taking in some of the finest countryside God has had the pleasure to sow. Worthy Farm arrives surprisingly, and pleasurably early.
The aforementioned rucksack and accompanying assortments do their damnedest to slow us down, but as the beads of sweat turn to rivers we reach Big Ground (overlooking the iconic Pyramid Stage) to be greeted by familiar faces wide-eyed and beaming like the sun above our heads.
Devouring a fast-food feast, which after our travelling, ambling, and tent-fixing, tastes like one of Delia's specials, we reacquaint ourselves with Avalon—taking in an selection of acts on and off the band stand ranging from a giant bat-man on stilts, mini-Godspeed post-rockers and crusties with violins—before making our way atop the Stone Circle.
Mounting a sacred rock our senses are alive to the sights (dozens of glowing lanterns floating into the darkness), sounds (the frantic beating of drums coalescing with regular cheers of glee), and smells (hemp, hemp, hemp, everywhere!) of the Glastonbury Festival of Performing Arts—it is truly an honour to be back.
Comments
comments