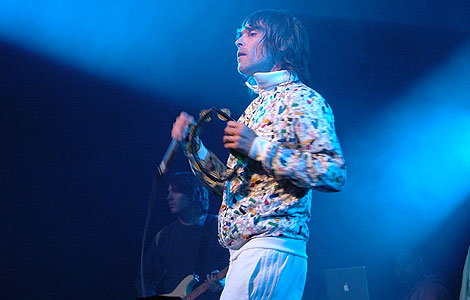 Getintothis' Alistair Houghton is serenaded by the vocal equivalent of a Mersey tugboat – and he laps it up.

A BELIEF I've always stuck to is that an indie disco is only an indie disco if it plays I Am The Resurrection in full. Let the guitars pour out, I say, while the revelling shufflers shuffle and slosh beer to their hearts' content.
And, thankfully, it seems King Monkey Ian Brown agrees. Because, towards the end of a rapturously-received and almost entirely greatest hits-based set at Liverpool University, his version went spiralling away into indie dance ecstasy with Brown pumping up the audience like Madchester went away.
As the Roses fell away in the 1990s, Brown's solo career was more or less written off before it started, in the shadow of his comrades. But instead it's Brown who carries the band's flame and, if Friday's gig was anything to go by, the adoration of a whole generation of fans.
As soon as he comes on stage the bassline to I Wanna Be Adored kicks in, the crowd gleefully hollers the rhythm, then, bang – he doesn't even need to sing the first lines as the crowd wont let him get a word in.
As the song roared on I was sucked in to the euphoria, my vision changed and eyesight transformed and everything seemed brighter. Then I realised I was standing on my glasses.
Vision restored amid the crowd's euphoria, Brown went straight into Dolphins Were Monkeys. He's still in powerful, though tuneless, voice and still eerily young in appearance. That's not susprising, given as when he's not pumping his hands in the air or leaning over the front row in communion with his audience, he energetically runs on the spot.
A third through, Brown announced the arrival of 'one of Manchester's finest', and on sauntered ex-Smiths bassist Andy Rourke. Despite looking like Radio 1 DJ Mike Read he anchored the band as the first bassist switched to brass. Things then got a little, for want of a better word, mariachi, with jaunty brass backing for songs like Lovebug and Time Is My Everything.
Brown's harmonica was whipped out for a shuffle through the brilliant Corpses before he started marching on the spot for a storming My Star complete with a final snatch of Dear Prudence to honour some local heroes or other.
I say acapella, as given his none-too-dulcet bellow and microphone distortion set to stun it was more like being serenaded by a Mersey tugboat. But he's never been famous for his Celine Dion-esque vocal acrobatics, and anyway he's so much easier to sing along to.
Back on stage for his encore after Resurrection, he announces "special request� time. The crows hollers suggestions before he grins and obligingly sings one line of Mersey Paradise. Then it's a stomping Sister Rose, from new album The World Is Yours, before the familiar intro to Fools Gold breaks out. It's another moment of euphoria in the crowd, then Brown starts singing
.the lyrics to The World Is Yours, over the tune to Fools Gold.
So, that's Brown refusing to rehash his past even while we're all free to party like it's 1990. Then it's one last blast of FEAR before home.
There were new songs, including the lyrically Sting-esque Street Children, but not as many as you might expect, with Brown instead focusing on his string of solo hits bookended by the Roses epics.
With the somewhat samey The World Is Yours receiving lukewarm reviews, the greatest hits focus was hardly surprising, but it does leave you wondering how his future setlists can live up to this one.
But live for the moment. So Ian Brown – yes, he's better than most indie discos in Hull, but much more than that he's still one of rock's most compelling frontmen. That Roses legacy is in safe hands.
Comments
comments