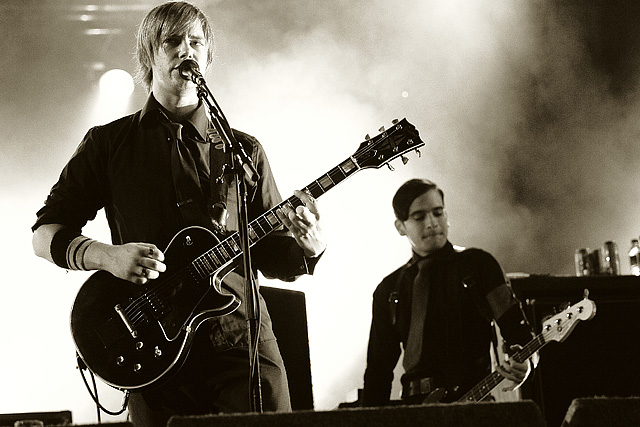 Greg O'Keeffe swaps the bright lights of Brooklyn for Blackpool to see a band very close to his heart.

I'VE been intoxicated by Interpol since Narc came on in a shop three years ago and I was rooted to the spot until it finished.
We were in their home city, NYC, and within half an hour I'd bought Antics from a tiny record shop in Greenwich Village and had myself a new favourite band.
Since then I've returned a couple of times to the back-yard of Paul Banks, Daniel Kessler, Sam Fogarino and Carlos D – but never had the chance to see them play live.
That's why I took a rainy, arduous trip to Blackpool last night to watch them perform for the first time at the Ballroom.
I won't bother moaning about why they ignored infinitely preferable venues in Manchester or Liverpool. They just did, so I had to get on with it and unsurprisingly it was worthwhile.
Support Blonde Redhead caught me cold. I'd heard their clever name and meant to check them out before but haven't and I've been missing out.
They are fantastic. Also from Brooklyn but made of two Italian brothers and a foxy Japanese chick called Kazu Makino.
It was easy to see why they'd been picked to support because there are similarities with Interpol in their mesmeric guitar lines and propellant drums.
Sonic Youth is the easy reference but I heard flashes of Mogwai, Interpol and even Sigur Ros.
Standout track Elephant Woman (which plays out David Slade's Hard Candy for film geeks) made the biggest impression and I'll be back for more of these lot.
Interpol drummer Sam Fogarino came on for their last track and helped create a spell-binding five minutes with Makino's ethereal howl floating over a beast of a track called Publisher.
The headliners didn't leave us waiting long after that and kicked off with Pioneer to the Falls, which opens latest album Our Love to Admire with a grand old flourish.
It's a slow-burning, epic (like the album) which showcases all that is great with Interpol's glacial, compelling charm.
They followed it with a flawless rendition of C'Mere (probably still my fave) and barely took a breath before the mournful lament of Next Exit which opens Antics.
As a lyricist, Paul Banks takes some beating. His surrealistic musings get me every time; from "You wear those shoes like a dove� (The Heinrich Manoeuvre), "Touch your thighs I'm the lonely one� (Narc) and "The subway is a porno, and the pavements they are a mess, I know you've supported me for a long time, Somehow I'm not impressed� (NYC).
My only regret was that the beautiful highlight of debut Turn on the Bright Lights, NYC, was missed out. They even decided to skip it from the encore (Stella was a diver…. was preferred).
I remember an Observer Music Monthly piece which compared Interpol's playing to the ultra-efficient performance of a top world football team. The pressure to perform difficult techniques flawlessly can sometimes dampen the joie de vivre, it alluded.
Well Interpol are virtually flawless live, and in truth, somewhat joyless.
But then they have never been predisposed to banter – We Love you Blackpools – and the sheer force of their music got my adrenaline going and mind racing.
Paul Banks doesn't introduce songs or interact at all aside from a polite 'thank you'. This may leave some newbies a bit cold but it's part of their mysterious appeal.
I'd still hope to catch them playing in Brooklyn one day, but until then this was near perfect.
Comments
comments