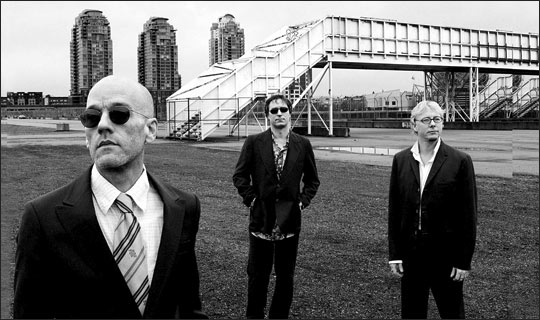 Alan O'Hare explains why Up is possibly REM's most important record to date.

It was the fur coat and sunglasses that did it.
When REM toured Monster back in 1995, I was 15 and pleaded with my Mum to let me go – the band had become mine in the preceding couple of months and it was all down to the enigmatic Michael Stipe. I was obsessed with him. Loved him, even.
Still do, truth be told.
Anyway, I didn't end up getting there – my older friends all went to the McAlpine in Huddersfield and came back with tales I didn't really want to hear.
"Yes, they are that good,â€? etc … Bastards.
Fast-forward around three years and REM no longer occupy all of my time – other, more simple props, like Oasis, Shack and various great bands from the North of England are on my radar these days and I no longer walk around singing It's The End of the World all of the time.
Michael's picture still has pride of place on my wall though – two, to be precise: the famous "Buck, Mills, Berry, Meâ€? one and (outside of any images featuring Springsteen and his Telecaster) my favourite rock image ever: Stipe in the water, from Automatic For The People. Then came Up.
Well, first was an MTV clip of the new, "three legged dogâ€? REM, opening their set – in a stadium, I might add – at the Tibetan Freedom Concert, with Airportman: all lush keyboards, funny noises and Brian Eno craft.
I hated it – and Stipe looked stupid in a skirt too.
News was coming through of the much-anticipated new record – their first without drummer and songwriter Bill Berry – and the word was, that they had struggled.
I felt like Bertis Downes probably did when he first heard Airportman – I was shitting myself, in case one of my old favourites weren't gonna' cut the mustard anymore.
Little did I know, that REM were about to become my new favourite band again …
Up worked its way inside my heart and soul something wicked – it's a real headphones album and not one to be sat through at the stereo. So, night after night, I fell asleep with it.
I remember thinking it was different at first – but completely REM-sounding and I couldn't figure out why … until the band performed the singles Daysleeper and Lotus on the likes of TFI Friday (RIP) and Later and the penny began to drop.
Michael's voice – it's more REM than any Mike Mills harmony or Peter Buck Rickenbacker riff and I'm talking about vocals and guitar lines that have changed my life here, too.
Songs such as the snake-like Suspicion, the declaration of faith that is Walk Unafraid ('I was brought into this world a little lamb / … now I'll Walk Unafraid') and At My Most Beautiful ('I count your eyelashes … secretly') became my best friends.
Indeed, At My Most Beautiful charmed its way inside my heart so much, that it became my favourite ever REM song. Until I listened to Find The River again. Or Nightswimming came on the radio. Or … well, you get the point.
Up gets a hard time these days – but it's possibly the most important REM album ever; think about it: after Berry left, they could have called it a day and they went through enough crap making it, that friendships nearly ended and that would have been the end.
But it wasn't – and it's because Stipe's singing was like a deep, dark and truthful miror, that made the songs on Up sound as vital as they had to be, as the group headed into a new Millennium.
"Great opportunity …â€? Stipe sings on Airportman (I love it these days, by the way!) and that's exactly what 1998 and Up proved to be, for REM.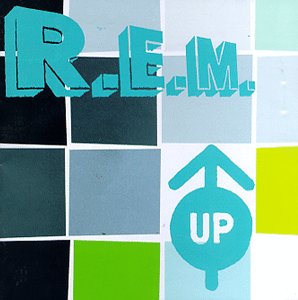 1. Airportman – 4:12
2. Lotus – 4:30
3. Suspicion – 5:36
4. Hope – 5:02
5. At My Most Beautiful – 3:35
6. The Apologist – 4:30
7. Sad Professor – 4:01
8. You're in the Air – 5:22
9. Walk Unafraid – 4:31
10. Why Not Smile – 4:03
11. Daysleeper – 3:40
12. Diminished – 6:01
13. Parakeet – 4:09
14. Falls to Climb – 5:06
Comments
comments