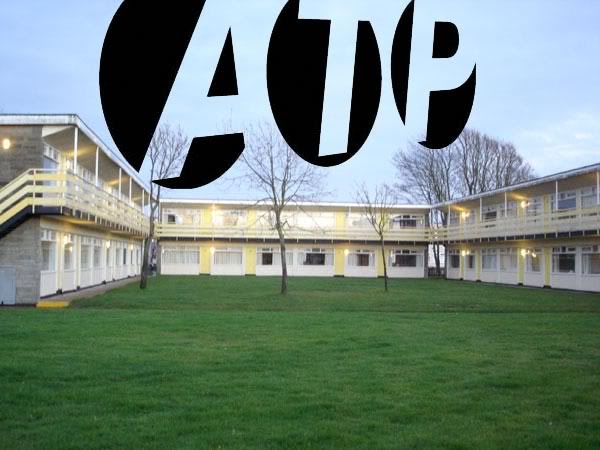 This weekend Getintothis undertakes our third outing to the holier-than-indie festival All Tomorrow's Parties – an event which picks one band to curate and choose the entire line-up. Well, imagine if you were given that honour… Who would be your selections? Choose wisely.

So, this weekend we're off to All Tomorrow's Parties – an alt-rock festival held at Butlins (wahey!) where one band – in this case Explosions in the Sky – curate the event and pick who plays.
Previous hosts have included Mogwai, Sonic Youth, Yeah Yeah Yeahs and even maverick film director Vincent Gallo.
But what if you were given the chance to pick your dream festival line-up.
Be imaginative. Think of a theme. Kinda like Fantasy Music Festivals.
Getintothis will review and post pics from this weekend's event when we return next week, but in the meantime here's our fantasy ATP, please include your own:
1. Oceansize: Maybe the best live band from Britain, bringing dark epic prog to the party.
Listen
2. !!!: Stole the show at Glastonbury 07, and they'd be ideal to keep things bouncing late into the morning. Twenty minute drum solos and plenty of nakedness – say no more.

3. Bear In Heaven: One of the LPs of the last couple of the years was served up by this Brooklyn collective. They've yet to tour the UK, so let's get em on.
Listen.
4. Boredoms: This lot started out playing gigs by strapping circular saws to their backs, cutting cats in half on stage and driving bulldozers into walls. Now while that's unlikely to happen at Butlins, something half as insane would be lovely.
Listen.
5. Kate Bush: We'd probably have to break the bank to get little miss nutcase out of her English country mansion, but it'd be way worth it. Preferably to do the whole of Hounds of Love from start to finish.

6. Ennio Morricone: This genius – and I use that word very rarely – would be just perfect to chill out to mid-afternoon, maybe while lunching it prior to a quick game of ten-pin bowling. And I bet once he played the theme to The Good The Bad & The Ugly everyone on site would be wondering round whistling it all weekend. Ace.

7. Sufjan Stevens: Another who could put on one hell of a show – with his pageant of musicians, ra-ra girls and good-time Yank singalongs, Stevens would be perfect for ATP.
Listen.
8. Minus The Bear: Another inspirational new(ish) stateside band. Think intricate guitars and polyrhythmic beats with an added Foo Fighters-anthemic stadia sound.
Listen
9. Robyn: Probably the best pop star on the planet right now. Feisty, edgy, great tunes. Nuff said.
Listen
10. Funkadelic/Parliament: How cool would it be to see George Clinton and his funk space cadets dock The Mothership at Butlins!

11. Yeasayer: Probably my favourite band right now.
Listen.
12. DJ Shadow: A favourite from my youth – Josh Davis could spin tunes into the early hours as we come down from some serious all-day partying.

13. Frightened Rabbit: Another great record in 08, this lot would induce lighters in the air and a jolly good sing song.
Listen.
14. AC/DC: WADDYA DO FOR MONEY, HONEY, HOW'D YA GET YOUR KICKS?

15. Do Make Say Think: I've seen most of the Kings of post-rock but these have passed me by.
Listen.
16. David Holmes I caught this cat while at Leicester and his mixes are incredible; old school soundtracks weaved seamlessly into Iggy and Percy Faith. Great one for the early hours while on the dancefloor.
Listen
17. Comets On Fire: This lot would be perfect at around 9pm to really ramp up proceedings – beers flowing, whatever else takes your fancy and guitars, horns and monolithic drums pounding like prehistoric mammoths reverberating round the Butlins ballroom.
Listen.
18. Beta Band: What a lost talent. One of only a handful of bands on the bill I've seen before, but oh what a joy it'd be to hear the likes of Inner Meet Me, The House Song and Dry The Rain again.

19. Sleater-Kinney: Another I'd pay through the nose to get em to reform. Plenty of nasty big riffs and carnage on stage.
Listen
20. Talk Talk: I'd throw loads of wonga in the direction of Mark Hollis and get this lot to reform and let them round off the festival at 3am blasting out the whole of Spirit of Eden with The Rainbow to finish. How incredible would that be?
Listen
What a whopper that'd be. Reet, now your turn.
Comments
comments